A beautiful blue Mitsubishi Montero LS, Spotted in China in the great city of Guangzhou in Guangdong Province. Montero, meaning 'mountain hunter', is an alternative name for the Mitsubishi Pajero. The Montero name was used in Spain, India, and the Americas bar Brazil. The second generation Montero was manufactured from 1991 until 1999. It was never exported to China so how this fine example ended up in Guangzhou is a mystery.
The vehicle was in a good overall shape. Clean as a fresh fish, nothing broken, and not a spat of rust in sight. Interior was all right. Seats looked rather worn but that can be fixed cheaply in China. Floor mats are a typical Chinese addition. Super hard black plastic won't break or fade.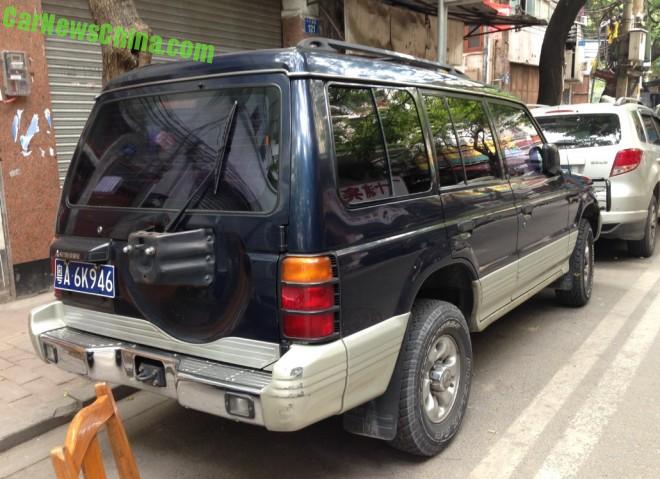 Sadly the spare wheel was missing completely, likely stolen by the look of it. Darkened windows go very well with dark blue body and light gray bumpers. Interestingly, said bumpers house the reverse lights. Huge and very usable roof rack. The second generation Montero was available with various engines, including the famous 2.4 liter four that powers so many Chinese SUV's until today, and including a fatass 3.5 liter V6 that was the base for the completely mad Pajero Evolution.
The LS was a mid-range trim-level with some extra luxuries added, such as mentioned leather seats and electric windows.
Let's hope this great example will remain on the road for a long time coming. Fortunately parts are not hard to get. The second generation Mitsubishi Pajero was actually manufactured in China by Changfeng Auto where is was called Changfeng Liebao. The vehicle is still in production today (!) as the Changfeng Liebao Q6.