A speedy Pontiac Firebird, Spotted in China in the great city of Shanghai by Reader Antoine Chalendard, thank you for the pictures! The 'Bird looks fantastic in the winter sun, painted in fiery red, fitted with a body kit, and standing on super large wheels with matte gray multispoke alloys.
Firebird trying to sneak away in heavy traffic, but Mr. Chalendard never gives up. The fourth generation Pontiac Firebird was made from 1993 until 2002 with a facelift in 1998, this red monster is a pre-facelifted example. The Firebird was available with a 3.4 liter V6 or a fatass 5.7 liter V8, which delivered 335hp is its most powerful configuration.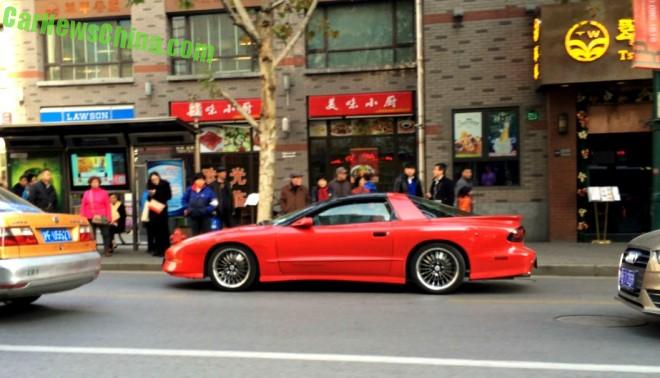 Fire!, or a Firebird?
No Pontiac Firebird has ever been officially exported to China by GM, but some cars arrived via the gray market or other misty channels. We have a small but precious collection: black third generation, and the others are all fours: a Ferrari, a wedding car, a red convertible, and a yellow coupe.