A totally top Toyota Reiz sedan, Spotted in China just outside the eastern section of the Fourth Ring Road in Beijing. The good Toyota is lowered to the max for those low riding nights, and further too'd up with a virgin white paint job, black windows, a black B-pillar, an extra shiny 'Mark X' grille, a badass body kit with a super low front spoiler, and racy tires with ready-to-pit five-twin spoke alloys.
Alloys in a slightly lighter white than the body, which is laying very low indeed.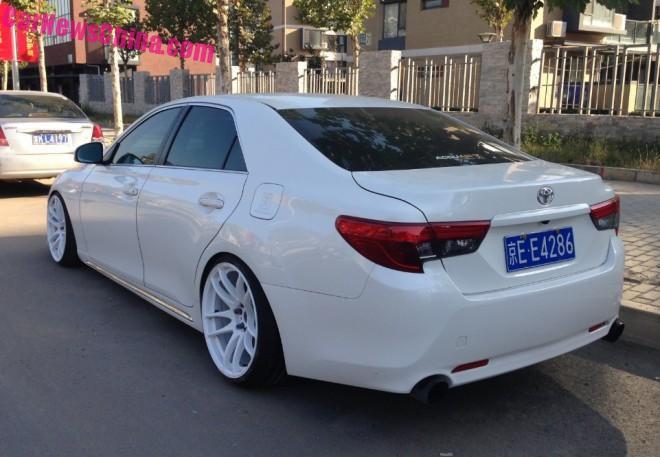 The kit includes a heavy rear end with two nasty black exhaust pipes sticking out from under the body work. Black windows for a perfect contrast with white body. One of the best Reizes we have seen in China so far!
The Toyota Reiz is made in China by the FAW-Toyota joint venture. Price of the current car starts at 209.800 yuan and ends at 314.800 yuan. Engines: 193hp 2.5 V6 and 227hp 3.0 V6, both mated to a six-speed automatic gearbox sending power to the rear wheels.
The Reiz is a popular car for customizing; here is our Famous China-Toyota Reiz Collection™: low riding with Crown, wine red, matte blue, race car, matte gray, best body kit ever, orange,  Xiali N3, lowrider, blue-pink, zebra, black & white, with girl, and with very big balls.