Yes it is springtime again, traditionally the best season for supercar crashes in China. Today we have a red Ferrari 458 Italia that crashed into a tree on a country road in the suburbs of Jieyang City in Guangdong Province. The driver lost control of the Ferrari while trying to overtake a slow-running SUV, he then bumped on a barrier and hit a tree.
The driver, wearing wufty bag-pants and a shiny purple shirt, makes a phone call. The 458 stands straight on the barrier, front wheels in the mud and rear wheels on the road. License plate is reading 4584T, and that is one of the best license plates we have seen on a Ferrari 458 in China.
Time now, for our Famous China Ferrari 458 Italia License Plate Collection™: license (458E6), license (458TI), license (FE458), license (458TK), license (B·IC458), lucky license (PG888), license (MF458), license (KF458), license (OD458), license (FM458), license (458Z8) license (458F1), license (FF458) license (458OY), license (458AX), license (458MW).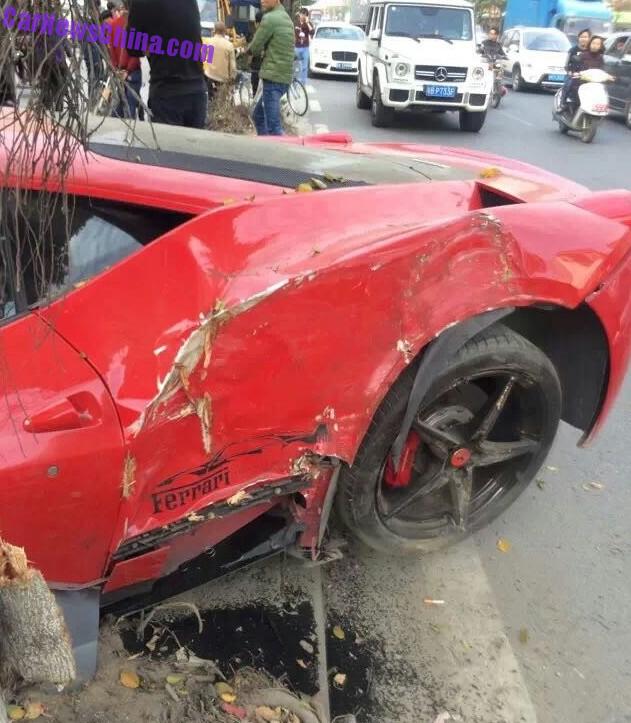 Ferrari decals on a Ferrari. Tsk tsk. But black five spoke alloys with red center and red brakes are cool. The body seems heavily damaged and something is leaking there. Still, this Ferrari can probably be saved, but it won't be cheap. A new 458 Italia goes for 3.88 million yuan ($630.000) and repairs are famously-Ferrari expensive.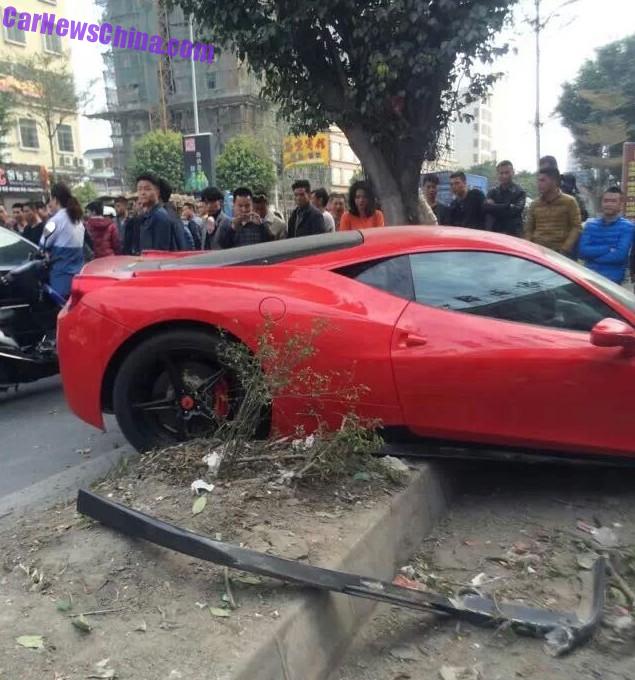 The right side of the car seems all right.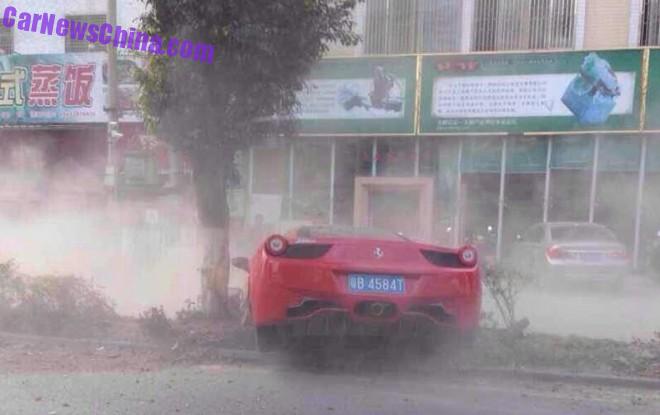 From another source, taken right after the impact, with dust hitting the air.