A very flashy Ferrari 458 Italia supercar, Spotted in China in the great city of Shenzhen in Guangdong Province. The ferocious Ferrari is painted in banana yellow and is further porned up by an all-red interior, darkened windows, black detailing on the bonnet and the mirrors, and super speedy black five spoke alloys with red brakes. But even better is the license plate reading FE458, one of the best license plates we have seen on a Ferrari 458 Italia in China. Note Maserati Quattroporte in the background.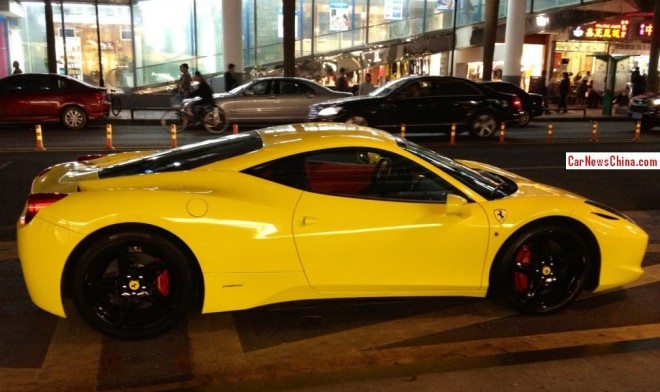 Red brakes in perfect contrast with black wheels and yellow body. Shenzhen lies amid one of the richest areas of China, grown incredible wealthy thanks mostly to the export of all sorts of electronics and household appliances. Shenzhen is one of the biggest markets within China and each and every supercar maker is presented in town.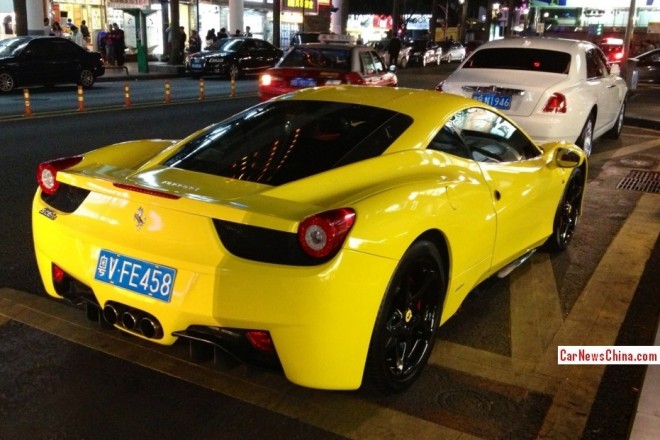 Note Rolls-Royce Ghost in the background. The 458 is a very popular sporty car in China. Price starts at 3.88 million yuan or 636.000 USD. Lotta money, but lotta power. The screaming 4.5 liter V8 poops out 570hp and 540nm. Time now, for our Famous China Ferrari 458 Italia License Plate Collection™: license (458TK), license (B·IC458), lucky license (PG888), license (MF458), license (KF458), license (OD458), license (FM458), license (458Z8) license (458F1), license (FF458) license (458OY), license (458AX), license (458MW).