A fiery red 2015 Dodge Viper SRT, Spotted in China in a supercar shop in the Beijing Tuning Street. The Dodge Viper is not officially sold in China by Chrysler but it is a very wanted car, so the gray market has stepped in, big time.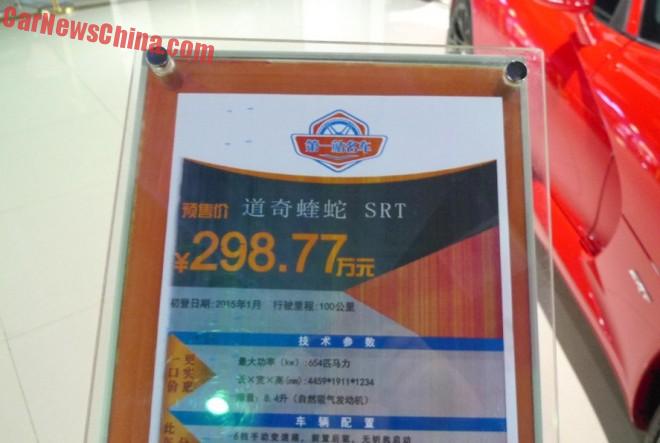 Price for this pretty piece of America: 2,98.77 million yuan, or 482.205 USD. That is four hundred eighty two dot two hundred five dollars. In the United States the MSRP on the 2015 Viper SRT starts at… 84,995 USD. The Viper in China is thus 5.67 times more expensive than in the US!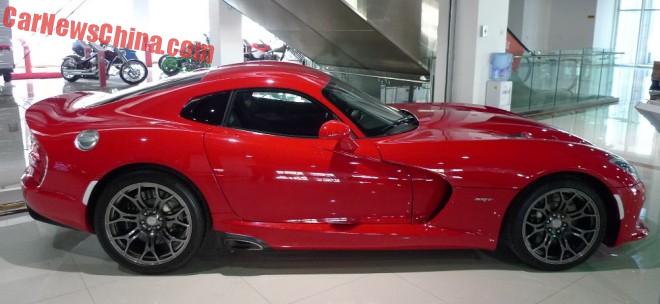 The price difference is partly caused by China's draconian export taxes, 60% on everything with an engine bigger than 4.0 liters, and partly by good old fashioned capitalism; scarcity = fat profits.
Staff in the shop told me they can legally register the Viper, so it can get a license and an insurance. How they manage that is a bit misty though, as the viper was never officially type-approved in China, as far as we know. They also said they already sold three, that they got the cars from dealers in California, and that many more were on the way.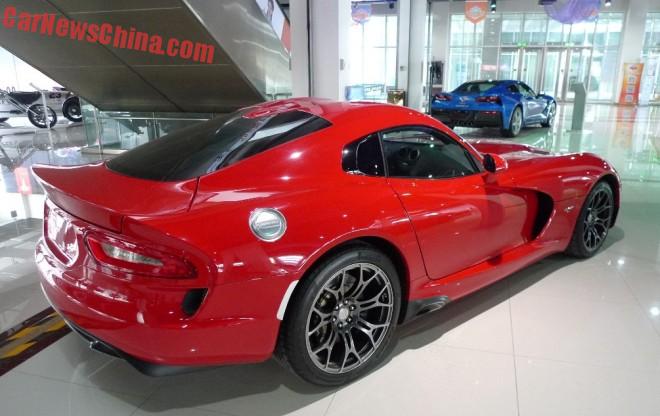 See that blue thing int he background? That's a gray Corvette, selling for only 1.73 million yuan or 280.000 USD. Cheap! But the Viper has a bigger engine and more horses; the SRT is powered by a 8.6 liter V10 monster engine with an output of 654hp and 813nm, good for a 330 km/h top speed and a 0-100 in 2.9 seconds. That will hit the traffic jams!