A beautiful black Hongqi CA7202E3 Century Star sedan, Spotted in China by Reader Anonymous, traveling in the great city of Changchun in Jilin Province, thank you for the pictures! The Century Star, Shijixing in Chinese, is based on the Audi 100 which was made in China by the FAW-Volkswagen joint venture, FAW is also the owner of the Hongi (Red Flag) brand. Red Flag ornament on the bonnet is an after market addition, but not really a wrong one, as the big old Hongqi's had one too.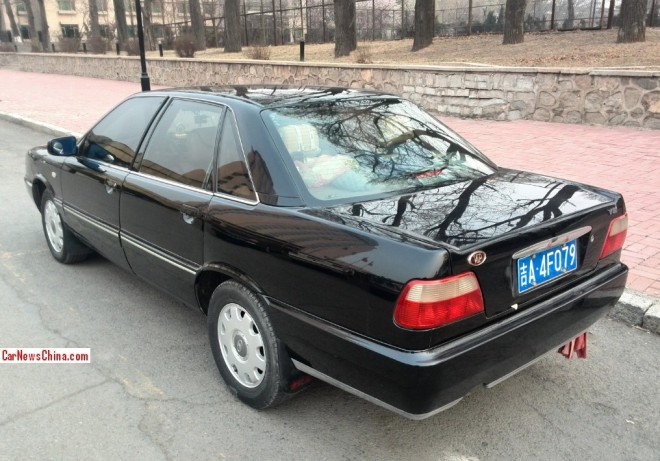 The Century Star was the last of the Audi-based Hongqi's, manufactured from 2000 until 2005. After 2005 Hongqi replaced the good old Audi with the Toyota Crown for the Hongqi HQ300 and the current Hongqi H7.
Hongqi was rather creative in developing all sorts of kinda mad variants of the various Audi-based cars. The Century Star spawned a limousine , a parade car (with astronauts), and earlier on we met the cheapo taxi version.
The Century Star was powered by a 2.0 Nissan-sourced VG20 V6 that pooped out 125hp, which was good for a 175km/h top speed. Hongqi used the Nissan engine because it was cheaper than the Audi engine. The Audi platform didn't come for nothing either, Hongqi had to pay for each platform it used.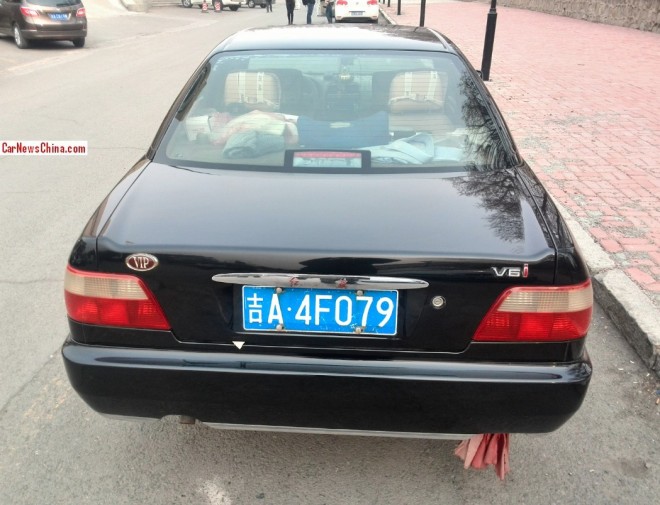 Note subtle fins, a fine design detail drawn up by Hongqi.  Jilin Province license plate. 'i' behind V6 is an after market addition as well. No matter all that!, Changchun car is a fine example of a fine car. And after all those years it didn't move far from home, as the FAW-Hongqi factory stands in Changchun too.