A brilliantly beautiful Toyota Crown Super Saloon 3.0 Twin Cam 24, Spotted in China in the great city of Changsha in Hunan Province by Reader Jordi, thank you for the photos! The good Toyota is painted in a light shade of white, the very first one we see in white, doing a lot of good to the car, much better indeed than all those black ones we have seen before.
The Crown appears to be in superb shape; well maintained, clean as a baby, shiny chrome, no bust or rust, and all parts seem original up until the wheel covers and badges.
The Crown Super Saloon 3.0 Twin Cam 24 was powered by a 24 valve 3.0 liter six-in-line with 204hp and 265nm, sending horses to the rear wheels via a 5-speed manual or a 4-speed automatic.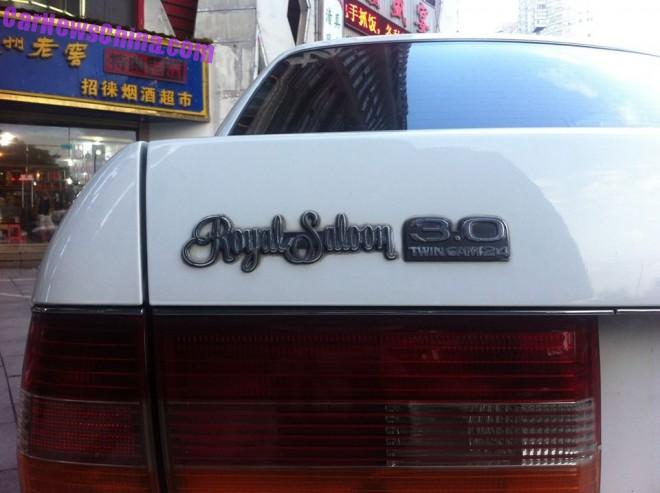 The tenth generation 'S150′ Toyota Crown was manufactured from 1995 until 1999 in Nagoya, Japan. The S150 was never officially exported to China but the Chinese government bought a few thousand units for official duties, and many others arrived via the gray market, diplomatic channels, and even smuggling.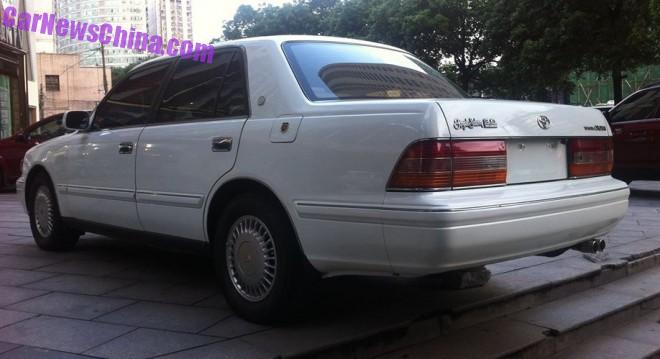 Crown badge on the C-pillar is original, other badge on fuel cap is not. Chrome strip on bumper works wonder well with white body. Double-exhaust pipe tips are probably a later after-market addition, they look different than the pipes we have seen on other Super Saloons, and don't seem to fit very well under the bumper, but they are certainly not bad as an idea!