Electric cars are so good for the environment. Unless they run out of juice, and have to be shipped home by a tow truck, because there are no charging stations. This little white sucker was Spotted in China on the Fifth Ring Road in Beijing, on a smoggy summer's day.
The little white car is an LSEV, or Low Speed Electric Vehicle. They are normally not allowed on the highway, but when they are pulled there is apparently no problem. This particular LSEV is a Kaishang F3 four-door hatchback.
Normally, electricity comes from a 12v100 lead-acid battery, powering a 1.6 hp electric motor. Max speed is 45 kilometer per hour. When we passed by we drove 80, the truck drove slightly slower, sixty or so, which means the K3 is going faster here than its top speed! How wild is the world of electric cars.
Range is 100 kilometer, it seats 3 in a 1 + 2 configuration, but the latter have to be really small. Size of the car: 2700/1250/1500, wheelbase is 1990, and weight is 450 kilo. They are dirt cheap, the new model of the K3 goes for 5800 yuan or 910 USD.
LSEV's are rather rare in central Beijing due to all sorts of messy regulations, but they are quite common in the lawless lands outside the Fifth Ring Road. They seldom venture far from home because there are just no charging stations, anywhere. This little K likely got lost somehow and ended up empty.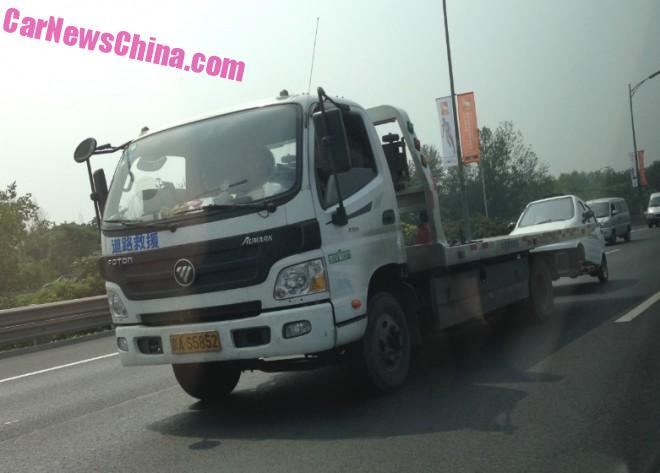 Truck is a bitching Foton Aumark C 360, powered by a 2.8 liter four-cylinder diesel engine with an output of 148hp and 360nm. Can take care of a dozen K3 electric cars, and then some more! With a lotta fine smelling black smoke and squeaking pistons singing like angels…