A sensational Spy Shot of the interior of the production version of the Honqi LS5, the first SUV for China's famous Hongqi brand. Very impressive looks, with loads of beige leather and dark red wood. A large touch screen in the center and an all-digital instrument cluster in front of the wheel.
Sadly it doesn't look as cool as the dash that was fitted into the Hongqi LS5 concept car, which is basically the same as the dash of the Hongqi L5 sedan. There are no instruments in front of the driver, only a large display in the center and a smaller one below.
And even the superbly cool steering wheel has been deleted for the production version. The L5 still has that wheel. The inner half-ring is for the horn, it works by pulling it towards you, not by pushing it away, which is ultra retro and ultra cool.

But we are not that surprise about the demise because the new dash was already announced in the patent application.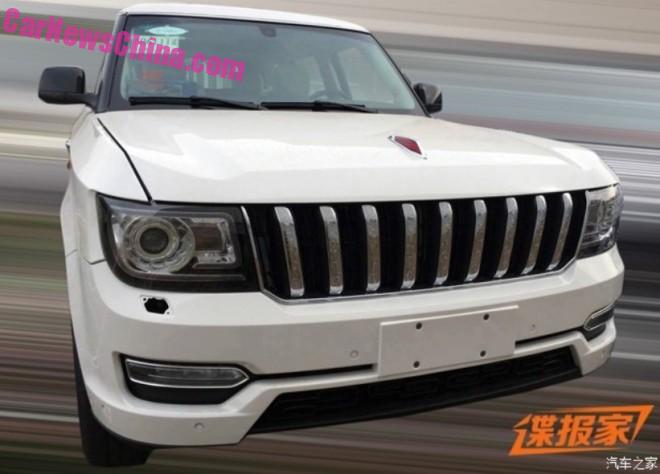 Trial production of the LS5 started last month. It will debut on the Guangzhou Auto Show in November and launch on the Chinese car market in the first quarter 0f 2016.
The LS5 is set to compete with cars such as the Porsche Cayenne, BMW X5, and the Mercedes-Benz M-Class. It is a huge car: 5198/2098/1890, wheelbase is 3060, and that makes it bigger then the outgoing Audi Q7. Weight is a heavy 2850kg.
Power comes from a new twin-turbocharged 4.0 liter V8 engine of unknown origin. The engine develops 381hp and 530nm, and is mated to an eight-speed tiptronic gearbox sending power to all four wheels. Top speed is claimed to be 220 kilometer per hour and 0-100 will be gone in only 8.1 seconds.