The resurrected Borgward brand is showing some healthy ambitions. The production version of the Borgward BX7 SUV will debut on the Beijing Auto Show in April and go on sale in China soon after that. The BX7 will be powered by a 2.0 turbocharged four-cylinder petrol with an output of 201hp.
Next up are the BX5 compact SUV and the BX3 sub-compact SUV. The BX5 will be launched in 2017 and the BX3 in 2018. There are no plans at the moment for any other body styles, which seems to be a sound decision as the Chinese market continuously keeps begging for more SUV's and CUV's of all kinds, while traditional sedans and hatchbacks are loosing market share fast.
Borgward will offer a 'new-energy' variant of each of its cars. The BX7 will be offered as a hybrid with a very hot powertrain, based around a V6 turbo with a combined output of 401hp. The BX5 will be offered as a hybrid too and the BX3 will likely get a full-electric variant.
Borgward is 100% owned by China's Foton Motor, a subsidiary of the Beijing Automotive Industry Corporation (BAIC). Foton Motor (web) is a commercial vehicle manufacturer. They make heavy trucks, light trucks, vans, minivans, MPV's, pickup trucks, and rough 'n ready SUV's. They also have a truck making joint venture with Daimler-Benz.
BAIC is an  endlessly large and endlessly complicated conglomerate. It has passenger car joint ventures with Hyundai and with Mercedes-Benz, it makes cars under the Beijing Auto name, under the Senova name, and under separate joint ventures with other Chinese car makers.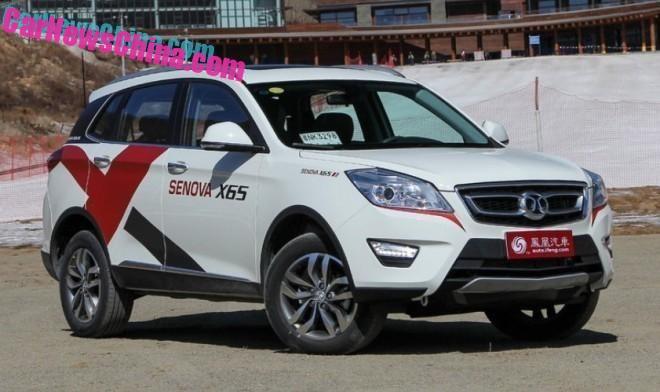 The Borgward BX7 is based on the  Beijing Auto Senova X65. Borgward just changed the front, the back, the badges, and a new car was born. The Senova X65 is a popular donor within BAIC, it also forms the base for the Beijing Auto Huansu S6. The Borgward BX5 and BS3 will be based on existing Beijing Auto platforms too. The BX5 on the Senova X55, and the BX3 on the upcoming Senova X35.
It so appears that Borgward won't be much more than a branding exercise making somewhat more upmarket variants of exiting Beijing Auto vehicles.