An ultra rare C126 Mercedes-Benz AMG 560SEC, Spotted in China on a rainy day on a parking lot near an apartment building in central Beijing. The German monster was in very good shape, a bit dirty and dusty, but what do you expect in the capital..? Otherwise completely original, with a smooth body and paint, all parts in their places, and no bad or bruises.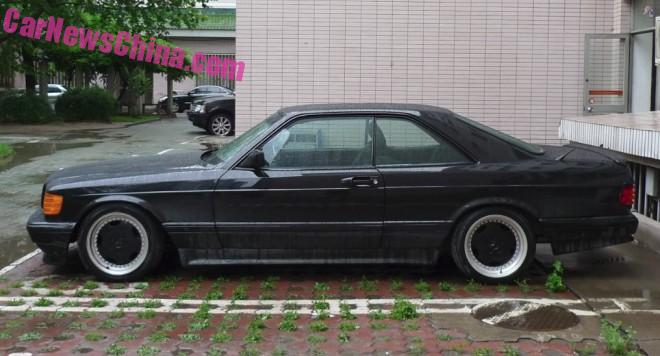 The AMG 560SEC dates back to the days that AMG was still an independent company. It was based on the 1986-1991 C126 Mercedes-Benz S-Class Coupe. AMG offered various body kits, engine-tuning kits, suspension kits, upgraded electronics-sets (!), and interior updates.
They also offered three kinds of completely upgraded cars that were more or less fixed in looks and power: the AMG 420SEC, the AMG 500SEC, and the King of Them all the AMG560SEC.
The AMG 560SEC was available with a standard AMG body kit, like the car we have here, or with a completely crazy widebody kit. But customers could still customize their cars even further, in whatever way they wanted, so not even two are exactly the same.
The engine was built in-house by AMG. It was called the M117-9 6.0 32V, a 6.0 liter V8 monster with an output of 385hp and 566nm. This engine was based on the Mercedes-Benz M117.968 5.5 liter V8 16V, which had an output of 275hp and 421nm (wiki). AMG thus added half a liter, eight valves, and a massive 110 horsepower and 145nm!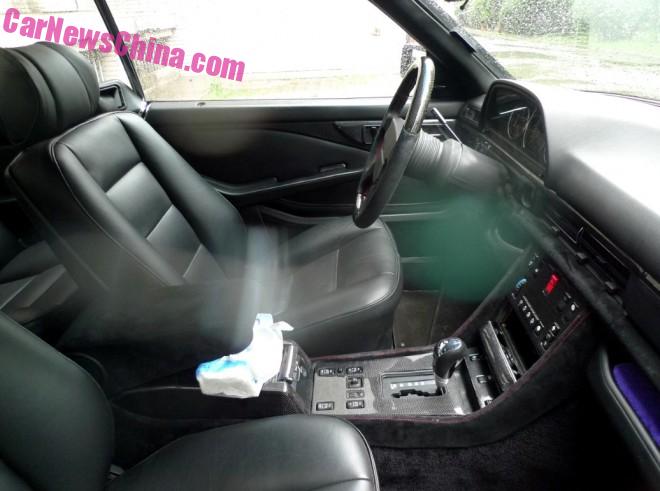 Raindrops on the window. Leather seats and comfortable carpets. Racy AMG steering wheel. Gearbox is a six-speed automatic, by Mercedes-Benz and strengthened for the extra power by AMG.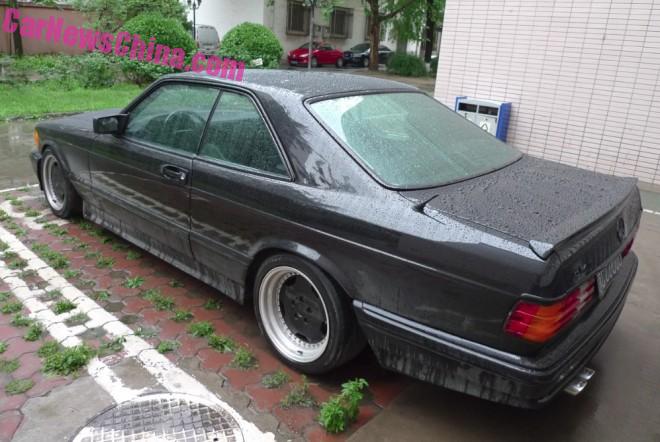 The car was parked with its back against a wall. But I am an acrobat. Spoiler almost too subtle. The shiny exhaust pipe tips are possibly a later addition.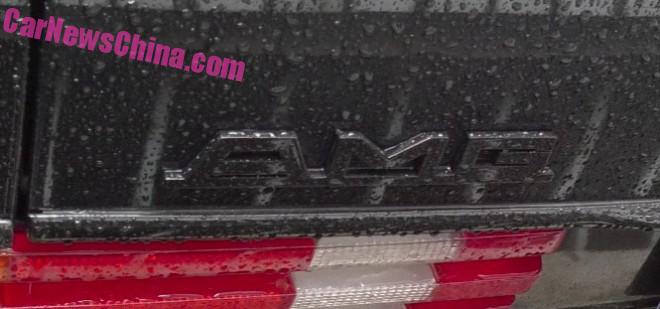 The black AMG badge.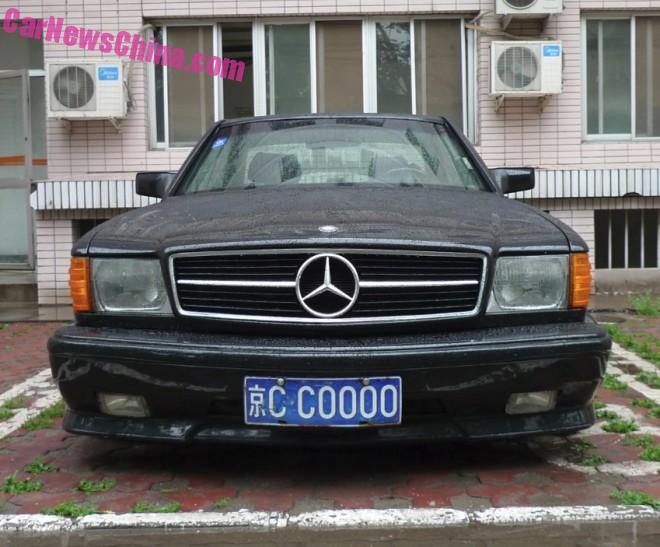 I used to live in the apartment building on the photos. The AMG belonged to a smoothly dressed Chinese man living on the same floor as I did. He had a business importing older Mercedes-Benz cars and selling them on to collectors in Beijing. He was very secretive and never wanted to tell me anything much. He also seemed to have a rather large collection of old license plates, some with very strange numbers, like this interesting C·C0000.
But no matter that, the cars were there and they were beautiful, although they never stayed longer than a few days. His personal car was a black W126 500 SEL. Other cars I saw on the same parking lot were a brown 190E and a green R129 SL500. And something even more special, and much older, which I save for another post.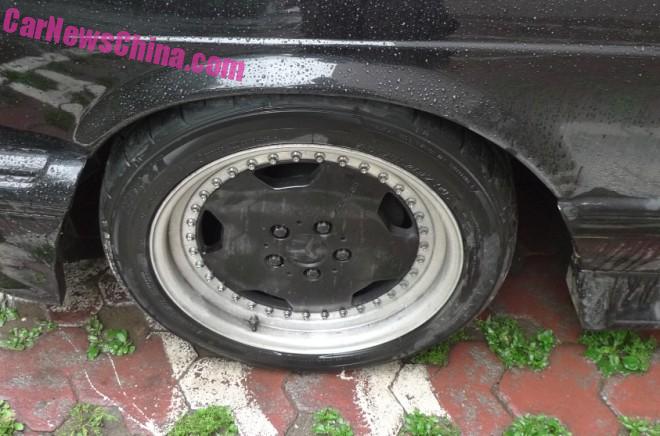 Super wide AMG wheels, in black with a shiny metal rim.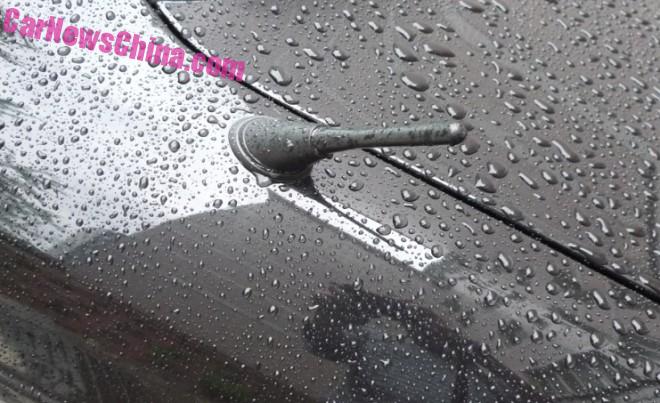 The ultra cool typical 1980's antenna.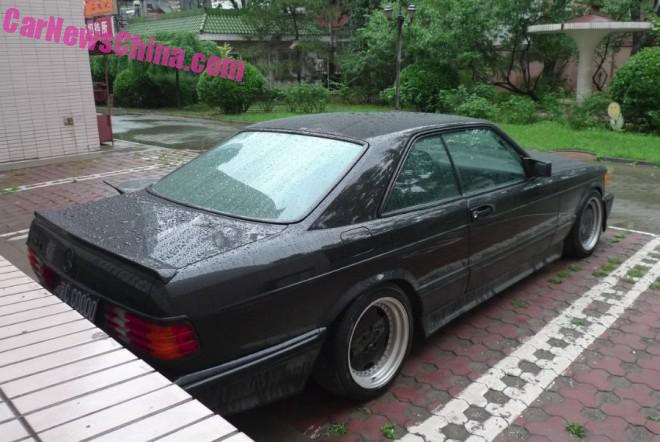 Seen from on top of that wall. Car screams a pure power!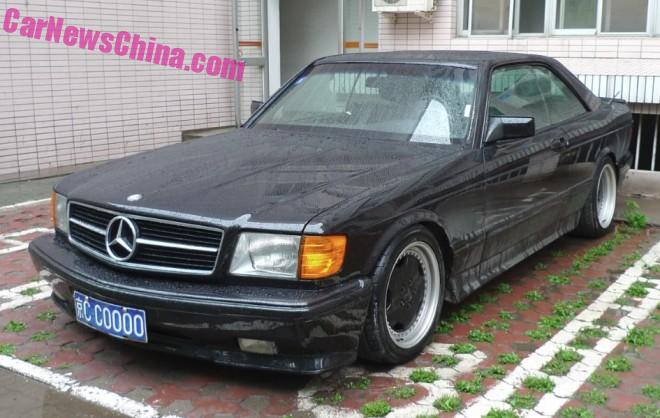 I hope she is out there somewhere on a highway in China, going fast, and forever.