A mid size truck carrying a compact truck transporting a red three-wheeler, Spotted in China on a highway by Reader Robert who is making a road trip from Shanghai to Kashgar, thank you for the photos! The three-wheeler appears to be a mobile food stall, selling snacks and drinks.
Another example of inventive Chinese transport. A Foton truck carries another Foton truck which carries a mini truck. The front wheels of the second truck have been removed to create extra stability.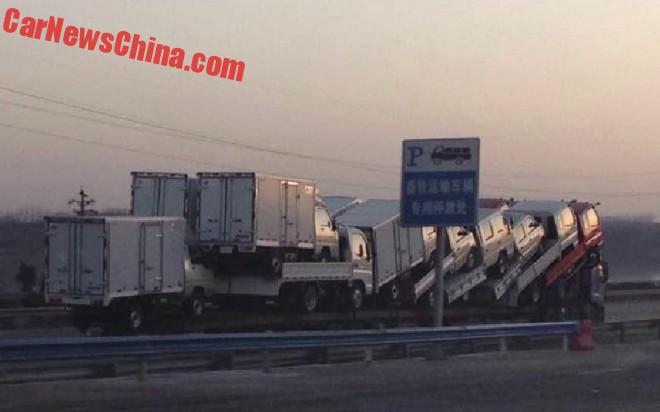 But for now this is the King. A large truck pulling an enormously long flatbed with on it 17 (seventeen) trucks of various sizes. An incredible sight. The truck at the far end looks very ready to fall off, and when that happens the driver probably won't even notice because he won't be able to see a thing.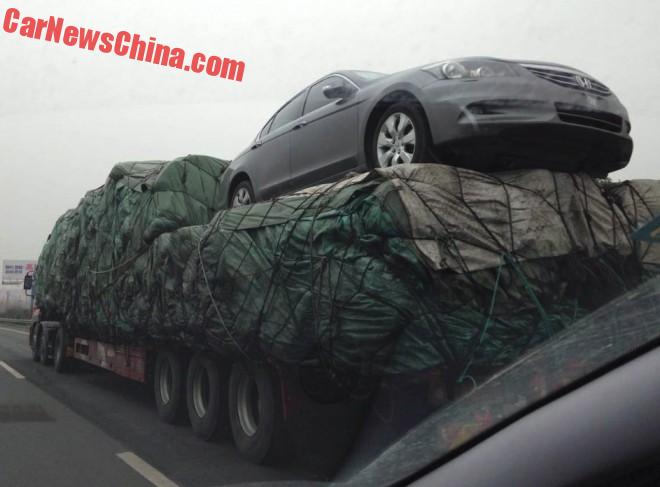 Somebody needed his Honda Accord transported, seen here standing on the back of a large truck carrying an unknown load. There don't seem to be any cables or cord attached to the Accord, so it basically stands loose. May the winds not blow too hard, and may Robert stay away…