Another day, another new car brand from China. Today we celebrate the birth of 'LeSee', owned by LeTV, China's largest internet television company, often compared to NetFlix. LeSee will have its public launch on the Beijing Auto Show next week.
For now the company focuses on two main projects: Faraday Future in the United States and the electric Aston Martin Rapide in the United Kingdom. On the Beijing show LeSee will also debut a new electric supercar concept, above, which seems to be a slightly more realistic variant of the crazy FaradayFFZERO1 that debuted in Las Vegas in January.
Interestingly, on the sketches the car wears 'LeCar' badges. This name would make some sense with LeTV and LeSee, but it also reminds us of a certain French vehicle, which is by the le way completely unknown in China, so maybe LeTV missed out on that.
The LeSee logo. LeSee can be ahcked in two. Le comes from LeTV, and means 'fun' in Chinese. SEE is short for 'Super Electric Ecosystem'.
And that has all to do with the faraway-future plans of the company; they want to build an entirely new automotive ecosystem consisting of electric cars communicating full-time with each other and with the wider world, connected-cars and connected-mobility in one. The cars will use software and networks developed by LeSee, and the vehicles will be manufactured in the United States and in China.
LeSee has a research facility in Beijing and says it currently employs 750 people in the U.S. and China.
LeTV/LeSee is the largest shareholder in Faraday Future, but the exact percentage is unknown. Things seem to go well; work on the new one-billion dollar factory in Las Vegas has begun, and the first car, likely an SUV, is expected in 2017. The company is also expected to make a small-series supercar.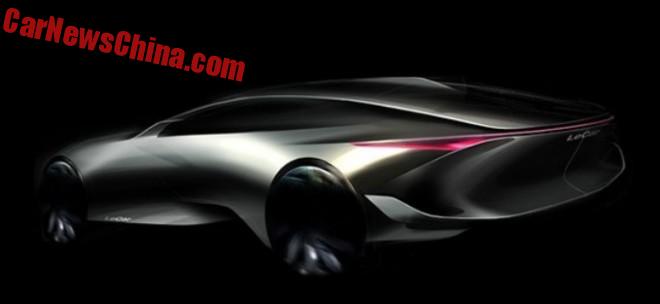 Note LeCar badge on the back.
Developing electric supercars makes a lot of sense from a Chinese perspective. Wealthy car buyers here are genuinely interested in innovative electric supercars with loads of power. This is why so many Chinese automakers are developing such cars. On the Beijing Auto Show we expect this LeSee, a Beijing Auto race-car based monster, the production version of the Qiantu K50, and the manic TechRules 96.
If Apple were to build a one-million dollar electric supercar the Chinese would buy them by the zillion, but Apple doesn't, and neither does Google, or any other tech company, leaving this potentially lucrative market to the Chinese themselves.