We got to go back to the Geneva Motor Show because all the excitement about Borgward and Volkswagen made us almost miss an incredible hybrid supercar from China that had its world debut in Switzerland.
The blue monster is called the TechRules GT96 TREV, it has 1044 horsepower and a 2000 kilometer range. TREV stands for 'Turbine-Recharging Electric Vehicle', basically a hybrid combining an electric motor and a turbine-engine range extender.
The brand is called 'Techrules', which stands for Tech and Rules. Their slogan is 'New Tech New Rules'. The company is based in Beijing and its Chinese name is 'Tengfeng' (腾风). They don't seem to have a website yet.
The company is owned by another outfit called 'China Zhiyue Tengfeng Technology Investment Corporation' (中国至玥腾风科技投资有限公司), also known as TXR-S. They do have a website, but only for the mail.
This company is involved in compressed-air technology for cars, specialty fibers, renewable energy, and aerospace technology. They have close ties with the state-owned space conglomerate CASIC, which is run by the army, and with ChemChina, a large state-owned chemical company.
TechRules is thus well connected and likely well funded, and that makes the possibility of seeing the GT96 on the road not completely unreal. Furthermore, a race version has been on the track already, for a test drive at Silverstone in the United Kingdom.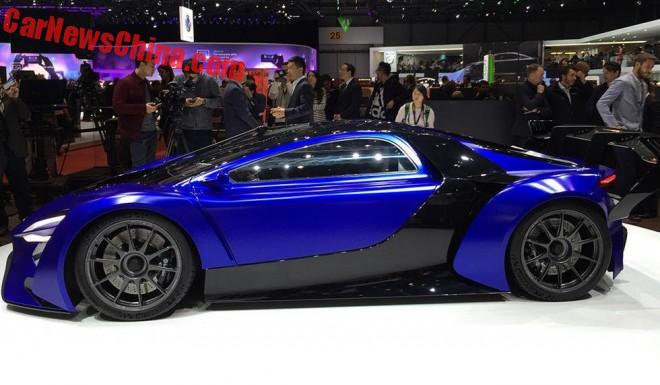 Time for more tech talk: the GT96 has 1044 horsepower and… 8460 (eight four six zero) newtonmeters of torque. Zero to one hundred takes 2.5 seconds, top speed is 350 kilometer per hour, and range is 2000 kilometers. Range on pure-electric power is 150 kilometer. All specs as claimed by the manufacturer.
The GT96 comes to these incredible numbers by combining six electric motors with a gas turbine range extender. Battery is a 720W/20kW lithium-maganese-oxide unit. Each rear wheel is powered by two electric motors, and each front wheel by one. Each motor weighs only 13 kilo. The gas turbine does not directly power the wheels, it is only used to generate electricity for the electric motors. The turbine can run on natural gas or methane gas.
The company claims a 'theoretical' fuel consumption of 0.18 liters per hundred kilometers, but that will only work if the turbine spins at maximum power all the time. In normal circumstances fuel consumption will be 4.8 liters on one hundred, says TechRules.
The body of the GT96 is made out of carbon fiber. The vehicle weighs 1380 kilo, but TechRules say they intend to bring that down to 1000.
The GT96 is currently a concept car but TechRules is very seriously considering a limited production run, followed by two other model ranges, which will be hybrids too, but with less crazy tech and thus more affordable. Interestingly, TechRules wants to make the production version of the GT96 'abroad', as opposed to 'in China'. The Italian government has apparently offered TechRules some form of support. Ferrari will love that.
Sources: CheYun, CheYun 2, Autohome, AutoInfo, Jalopnik, MSN.
The blue car on the photos is the GT96 race version. TechRules also showed an A96 road version with less wings and a more luxurious interior, more about that one in a later post.
The TechRules GT96 is the latest in a string of new Chinese electric supercars of proposals therefore, including the Windbooster Titan, Qiantu K50, the Thunder Power, and the controversial Youxia One. Will even one of them really hit the road..? We sure hope they will.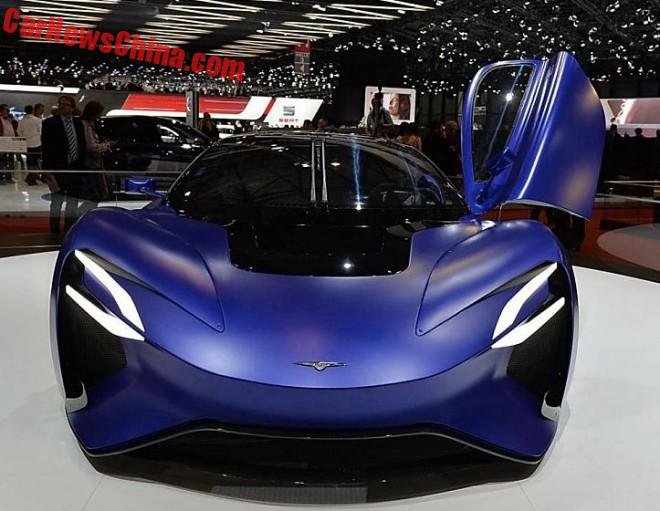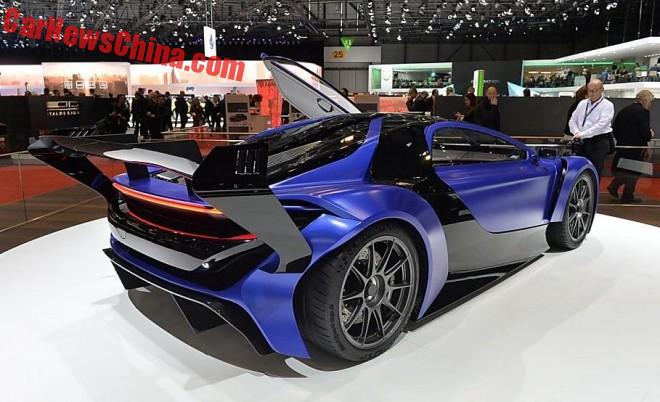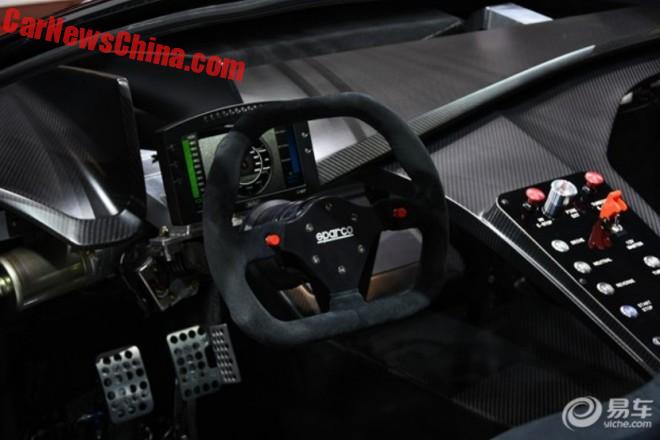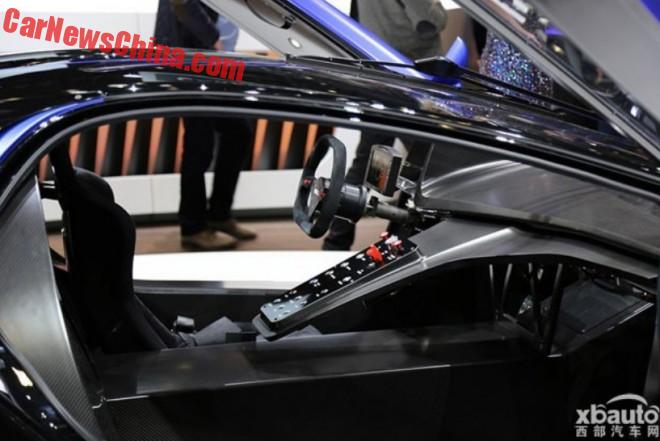 The gas turbine on top. Like a space ship.