The Hongqi S-Concept has been launched on the Beijing Auto Show, looking big 'n badass in black with a huge shiny grille and full LED lights. The S-Concept previews a future mid-size SUV that will be positioned below the upcoming Hongqi LS5 SUV.
The Hongqi 'Red Flag' hood ornament.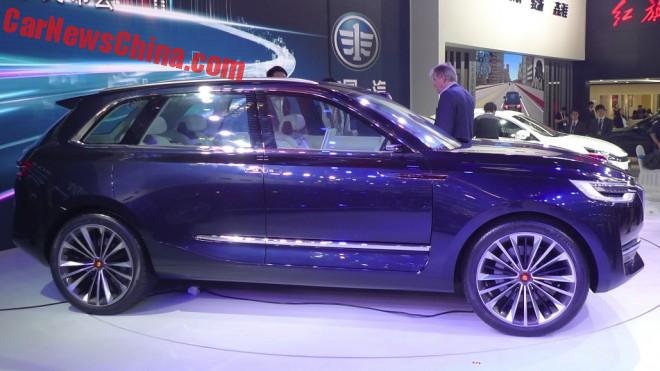 The production car will likely be based on the current Audi Q5, which is made in China by the FAW-Volkswagen joint venture. FAW, or First Auto Works, is also the owner of the Hongqi brand. Audi and Hongqi go a long way back, and the production version of the Hongqi B-Concept will probably be based on an Audi as well, in that case on the A6L.
Hongqi was very secretive about the S-Concept. All they would reveal was that it was a hybrid. They didn't release and other specifications or measurements. Happily we got eyes and the concept seems to be based on a stretched Q5 platform, with the extra space covered by the larger rear door. That would mean the concept is about five meters long.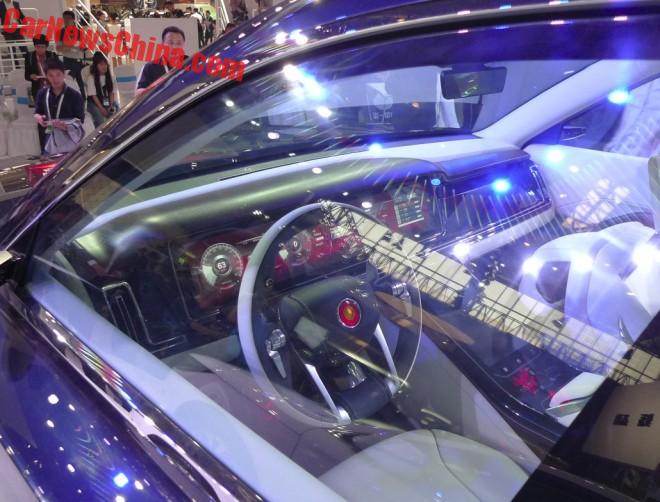 The Hongqi 'Golden Sunflower' badge on the steering wheel. The instrument panel is completely digital, and it was working. To the right of the panel another working screen, and below that a tablet-sized touch screen that was not working.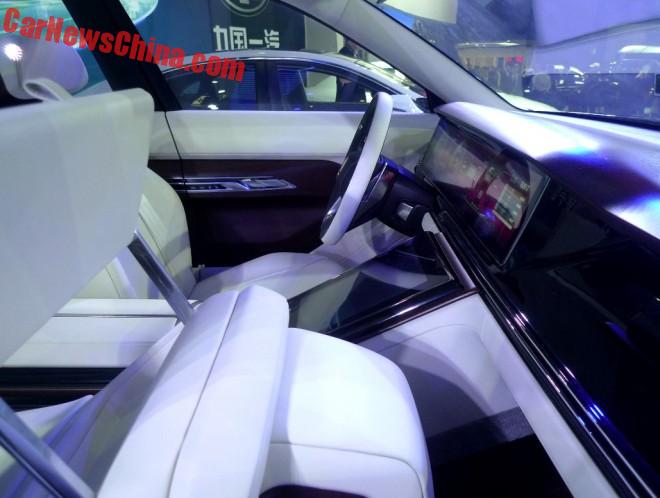 Shot through the window again, showing the tablet-sized screen in the middle.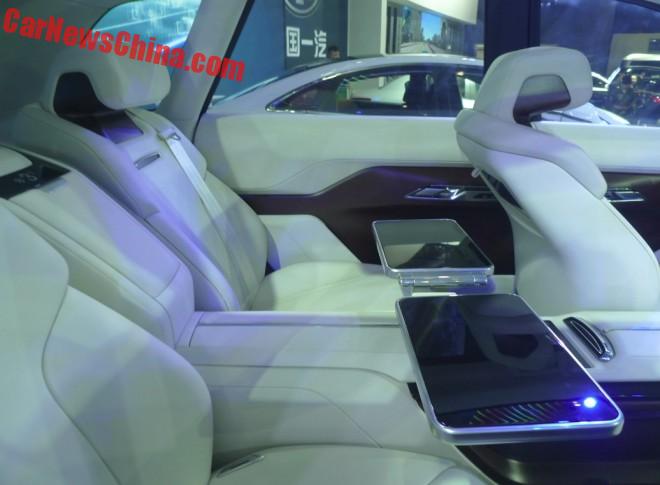 Individual seats in the back with trendy tray tables. The whole interior was dressed in cream white leather and dark colored wood, looking very good.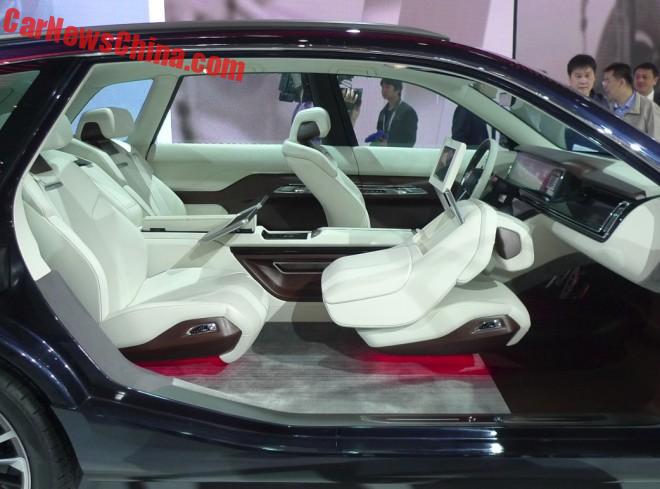 When I came back the next day they had the suicide doors open, revealing a red light under the seats. The front seat was positioned in executive mode, with a flat screen popping up and maximizing the leg room for the VIP. Nice idea, but that poor secretary has to crawl up under the dashboard.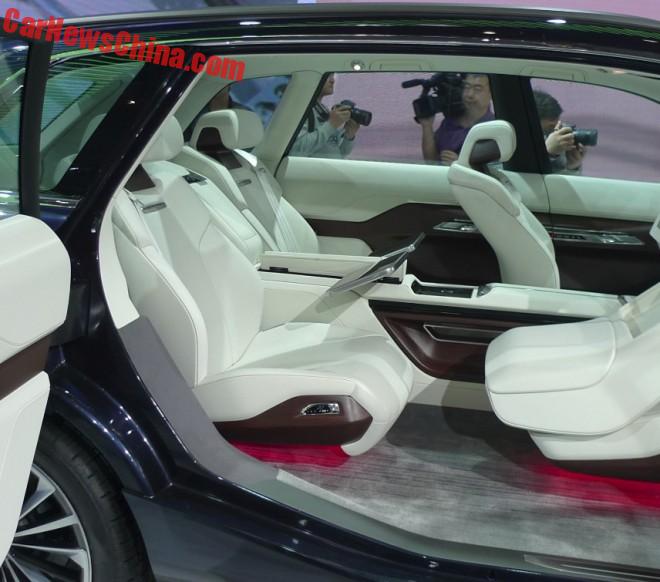 The tray tables were folded in, and instead there was a flat screen control panel for the infotainment. This seems to indicate it is not possible to have the tray tables and the control panel out at the same time. No TV diner in the Hongqi S-Concept!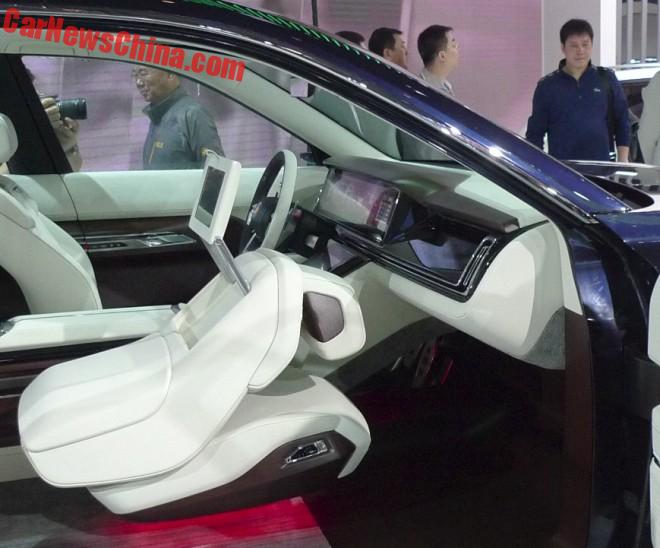 That seat seems to kneel.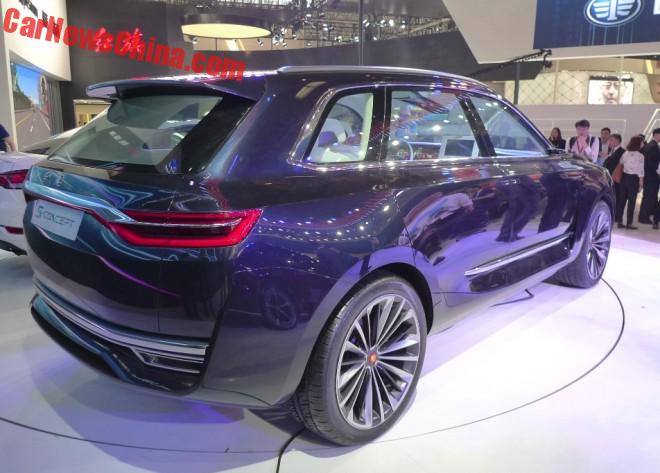 The design of the rear was rather simple compared with the massively shiny front. Rear lights narrow and red, connected by chromed bar. I really like how they designed the bumper, with the exhaust pipe tips located inside each side.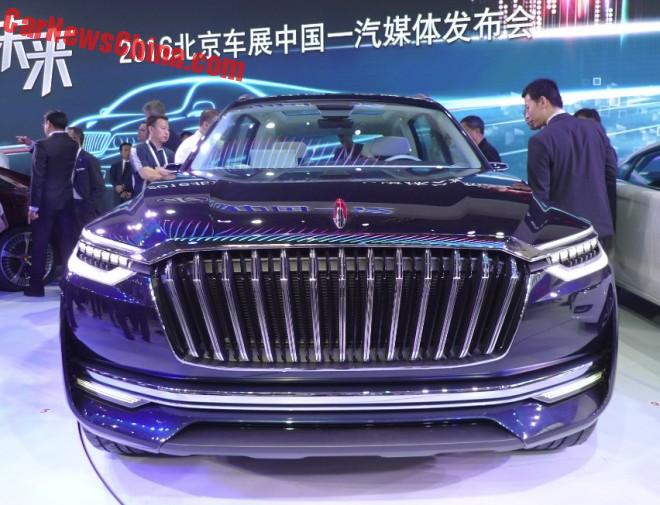 A brilliant looking grille, in Hongqi style. Sadly, the bonnet didn't seem to close properly, looking a bit loose on the left side. But no matter that, the S-Concept is a great car, let's hope the production version will be even better.