The brand new electric vehicle brand Changjiang EV debuted on the Beijing Auto Show, with three cars in tow. First up this fine little brown thing called the eCool, styled in crossover style with big bumpers, wide wheel arches, roof rails for the canoe, and a sweet little lady in white.
The eCool will be launched on the Chinese car market in the second half of the year for about 100.000 yuan after green-car subsidies. Power comes from an electric engine with an output of 34hp, top speed is 136km/h, range is 200 kilometer, and charging takes 7.7 hours on 220V or one hour on a fast charger for 80% battery. Size: 3620/1620/1560, wheelbase is 2400, and curb weight is 1389 kg. It seats five.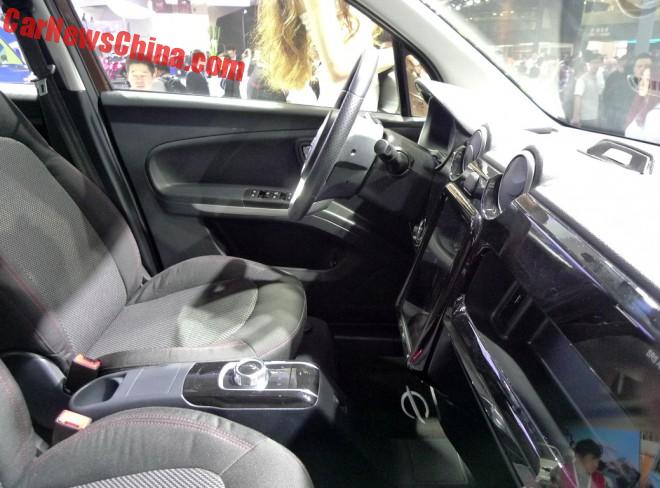 The interior of this car looked rather dull due to the color scheme. It looks a bit better like this. Main attraction is the full size touch screen in the center, and the trendy drive selector between the seats.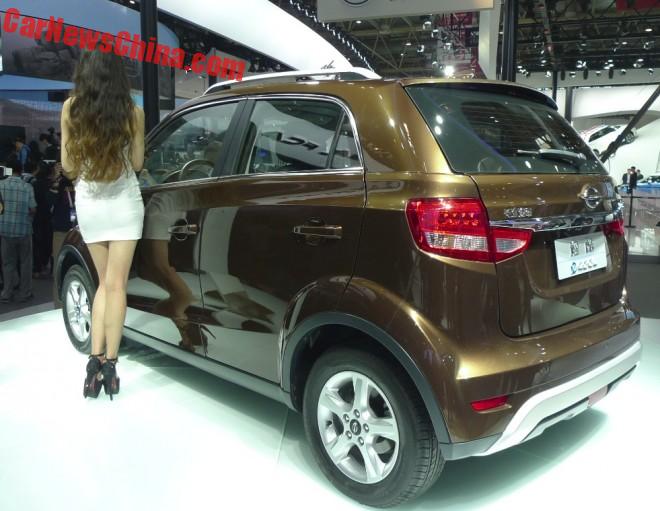 Great looker from behind. Rear lights connected with the  fashionable chrome strip.
Changjiang (Yangtze River) EV is based in the great city of Hangzhou in Zhejiang Province. They are finalizing work on a factory with a capacity of 100.000 cars per year, broken down to 60.000 passenger cars and 40.000 commercial vehicles. Changjiang EV is owned by a large Hong Kong based company called FDG Electric Vehicles (web).
Changjiang EV has already started small-batch production of a series of electric commercial vehicles, including a van, a mini bus, a bus, and a pickup truck. And they brought two of those: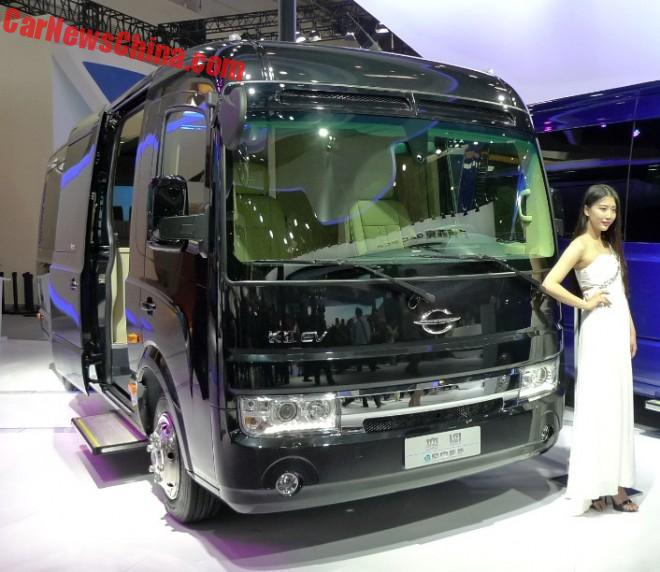 This is the minibus, and it has the best name in the business, it is called the… eBoss. It seats 10 to 25 people depending on configuration. It is just over six and a half meters long. Power comes from a 130hp electric motor, good for a 130 km/h top speed. Range depends on battery, ranging from 200 kilometer to 240 kilometer and even to 450 kilometer for the most expensive model. The eBoss is on sale now.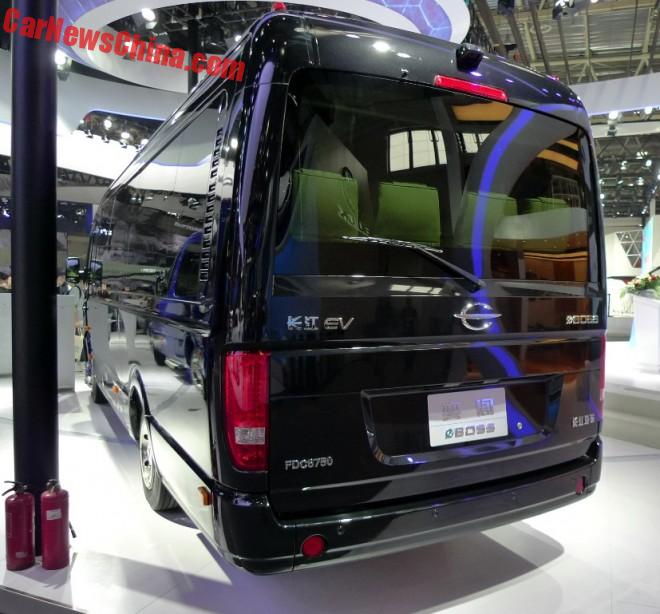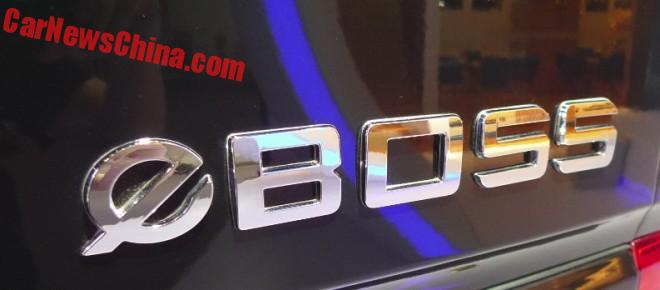 Great name!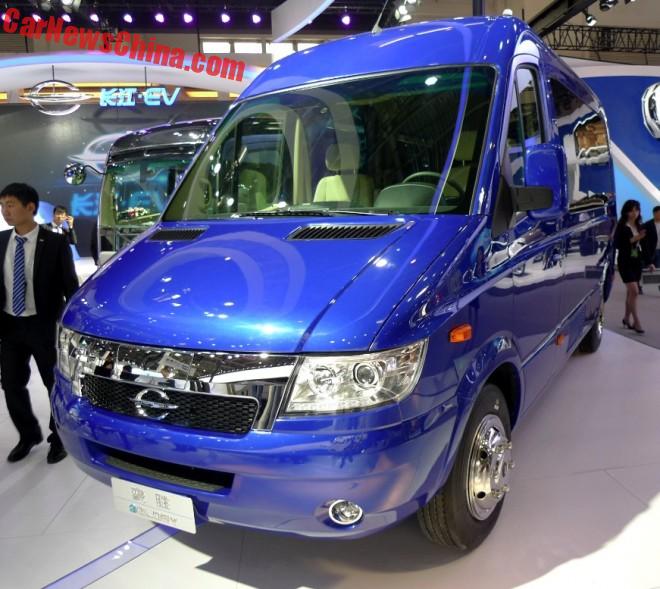 This is the van, it is called eGlory, which is still a nice name. The van can be had in transport and passenger-transport variants. The largest passenger variant can take 20 people. Power comes from the same motor as in the eCool, and the numbers for range are the same too, which is a tad odd as the eGlory is half a meter shorter and just over 400 kilo lighter. It should have a longer range than the eCool.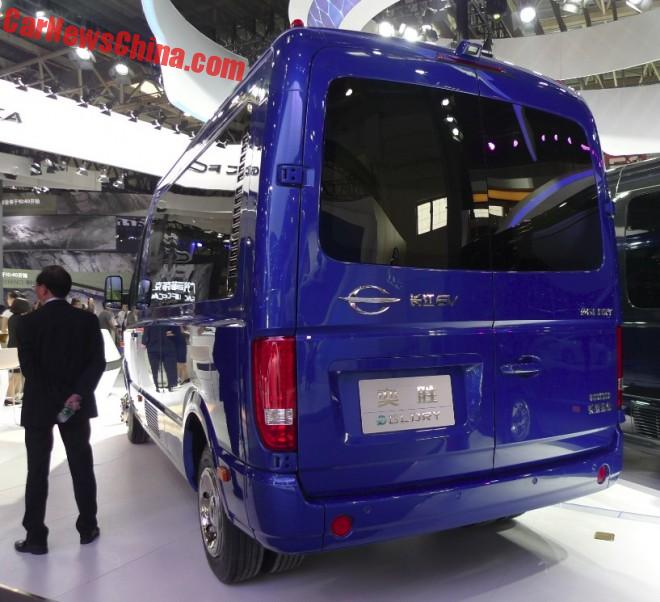 But no matter that, details details… Both vehicles looked solid and well-put together, and they were equipped with a similar touch screen as in the eCool.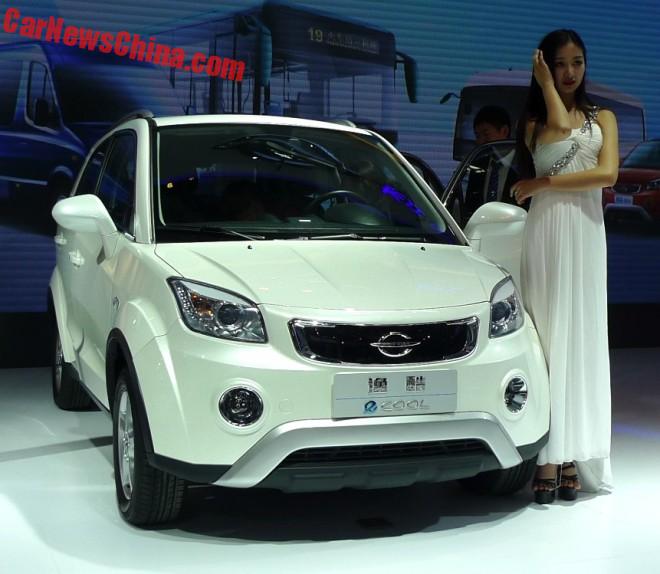 They also had a white one on stage, with another pretty girl. Fuzzily, Changjiang EV was the one and only company that has kinda-sexy models on stage. Got to love Hangzhou.