Hongqi brought an updated version of the LS5 SUV to the Beijing Auto Show. It is officially still a concept, but it is much closer to production than the 2015 concept car.
The List of Changes (LoC) is long: at the front: new headlights, heavier chromed bars in the grille, a new bumper with a proper license plate area, a new lower bumper with a larger air duct and a prominent skid pad. At the middle section: new mirrors, wider side bars, a more pronounced chrome line above the windows, and larger wheels with new alloys. The rear: the rear door now ends above the bumper, instead of in the bumper, a new bumper, taller taillights, a new lower bumper with new exhaust pipe tips, and LS5 and Hongqi badges. The interior: completely new.
It certainly looks different then anything else on the road, with its boxy lines and large greenhouse. No rounded corners or floating roof nonsense for Hongqi! Design somewhat inspired by classic Range Rovers perhaps, with a bit of Jeep thrown into the mix.
Hongqi has released new specifications: the engine is a 4.0 liter twin-turbocharged V8 petrol. Output is 500nm. Hongqi did not release the figure for horsepower. When the first concept car debuted they said output of the engine was 381hp and 530nm. Gearbox in an eight-speed automatic.
Top speed is now 200 km/h and 0-100 takes 8.8 seconds. In 2015 this was 220 and 8.1. The almost unacceptable low top speed is caused by the low output of the engine and the heavy weight, the LS5 does 2950 kilo! Size: 5198/2095/1890, and wheelbase is 3060. The LS5 seats seven in a 2+3+2 configuration.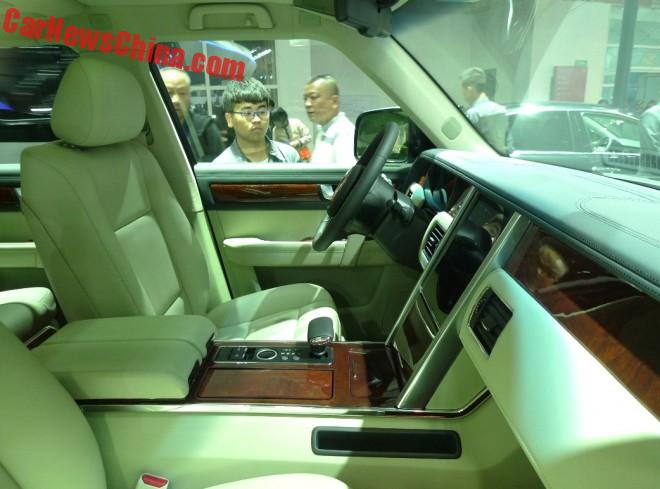 This is the interior, looking beautiful with rose wood panels and cream white leather. The center stack, the instrument panel, and the steering wheel are all new, compare with old. There is a large touch screen in the center, and the instruments are all digital as well.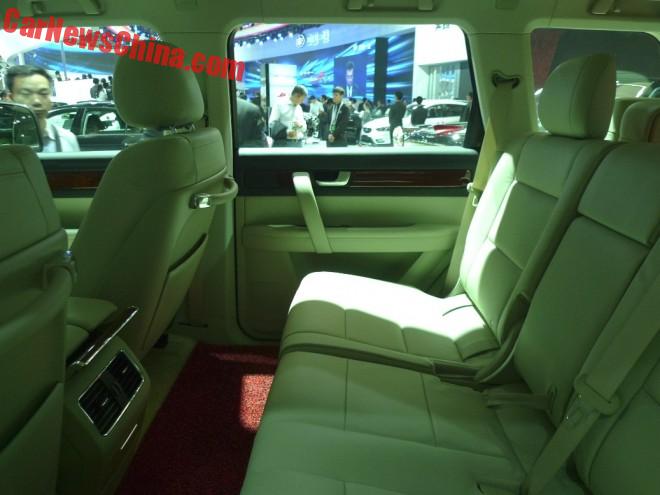 The rear bench is rather flat but the red carpets are great. There seems to be a foldable tray table in the middle between the front seats.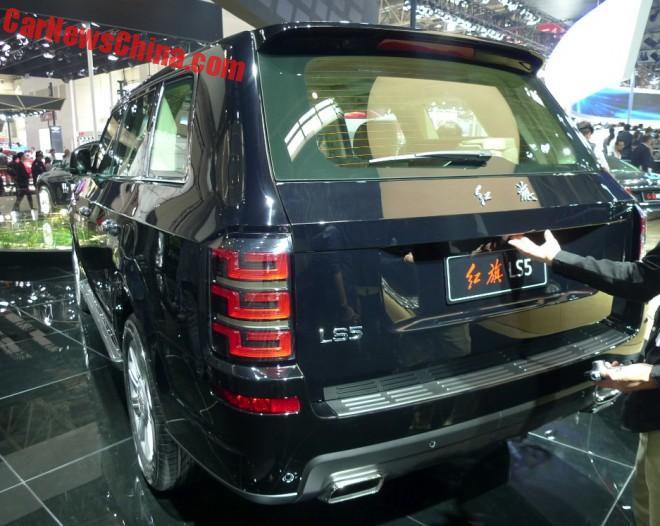 Rear lights in the traditional Chinese 'kuilong' motif. Door looks a lot better than before, but it was sadly locked. Wheels could be a little bit larger and especially wider.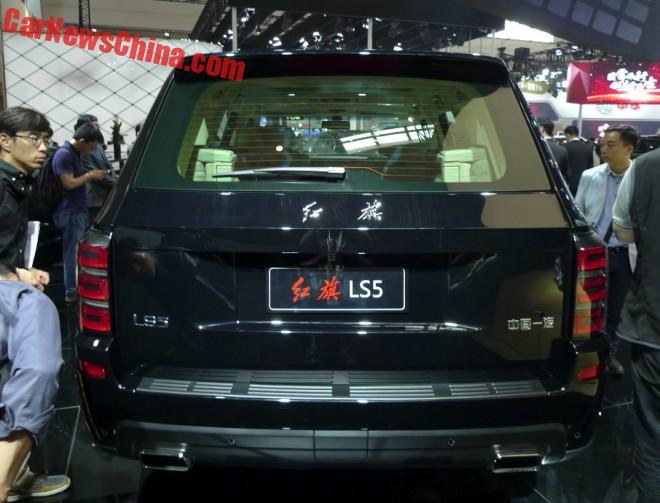 LS5 badge on the left, Hongqi badge in below the window, and a 'China First Auto' badge on the right. First Auto is short for First Auto Works (FAW), the mother of the Hongqi brand.