Last week I went to the Changchun International Auto Show (aka Auto Changchun) in the great city of Changchun in Jilin Province, in the Dongbei. The biannual event is one of the larger second-tier shows, and extra interesting because Changchun is also home to First Auto Works (FAW).
There wasn't really much news but automakers rarely launch a new car on a show like this. It was the atmosphere that mattered, with billions of people and loads of babes. The setup was nicely old school, with, for example, separate booths for FAW-Volkswagen, Shanghai-Volkswagen, and Volkswagen import. It used to be like that in Beijing too, until about 2008.
They also had several dealer pavilions and even some second hand cars, all inside the exhibition halls. The spaces between the halls were filled with all kinds of trucks and vans, I didn't have enough time to see them all but I checked an armored car at FAW and some dancing little ladies.
I went to the same show all the way back in 2003. Then they had a huge booth full with vintage Hongqi's and other old Chinese cars. Sadly, and I really almost cried; they didn't had anything old on display today. But anyway, there was enough to see:
A pavilion for one car: the FAW Senya R7, a new and not uncool compact SUV. Buyers could order it right there, with prices ranging from 68.900 to 79.900 yuan. There was a lot of interest and I did see a few driving around through town.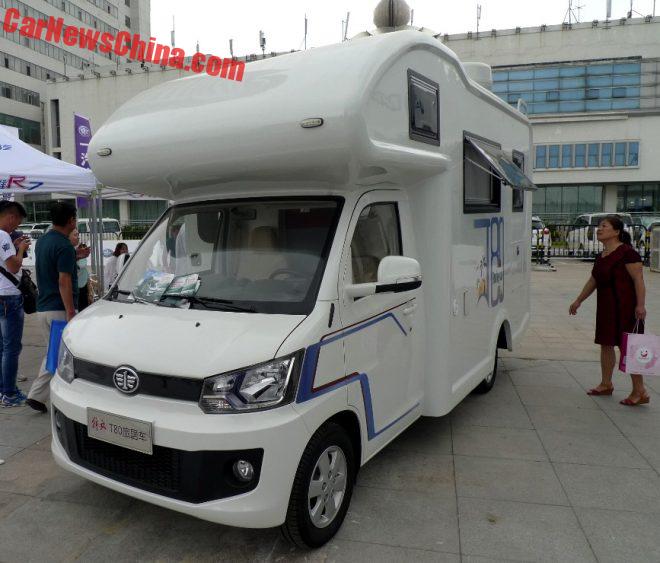 An ultracool FAW Jiefang (Liberation) T80 campervan. It is a real factory production car with a bed, a kitchenette, and even a toilet. It costs 159.800 yuan.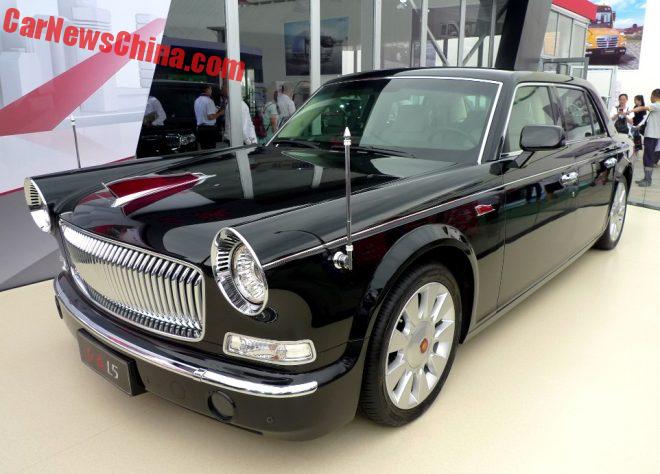 A beautiful black Hongqi L5 state limousine, short-wheelbase version, on the FAW outside pavilion. FAW had the following pavilions and booths: inside, outside, Senya R7, trucks. They are king in Changchun.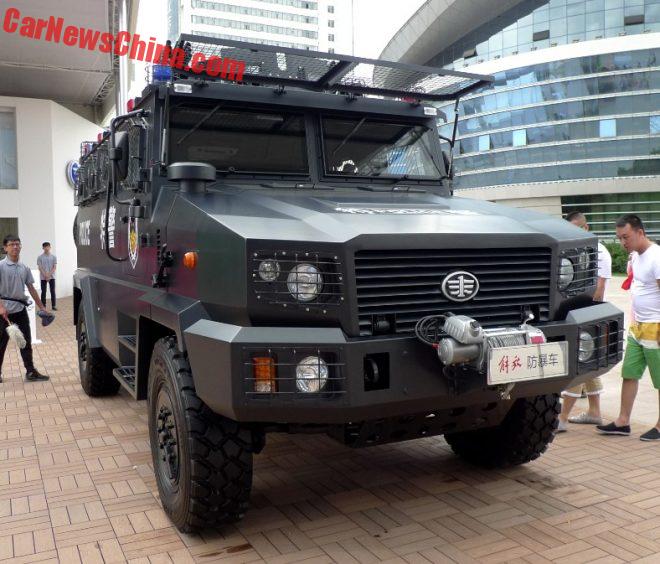 FAW Jiefang armored people carrier for the army. The real bitch. With a gun mount on top, smoke grenade launchers (2×9) and 3 gun holes on each side. It weights just under ten ton. Power comes from a 8.6 liter six-cylinder diesel engine with 1500 Nm. They didn't spec the horsepower, but it must be a lot, because on-road top speed is claimed to be 150 kilometer per hour, which I find very hard to believe.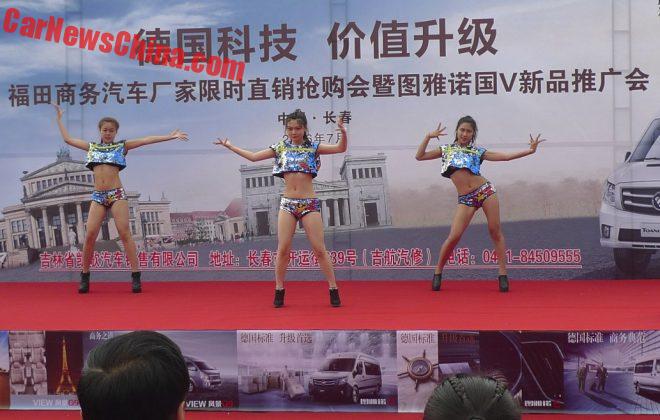 The girls at Foton Vans. Not Foton. Not Foton Trucks. They danced for Foton Vans. The dance was kinda wild with very loud disco music.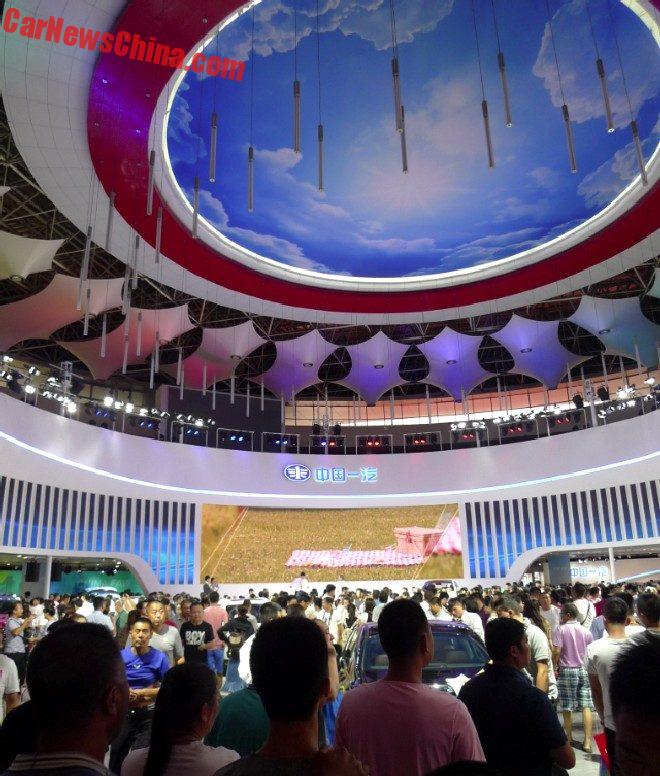 The main FAW pavilion covered the entire main hall of the exhibition center, a large round hall with a spacey ceiling showing a painting of a bright blue sky with white clouds. Back in 2003 visitors could climb up and walk over the balconies, but the stairs were closed this time.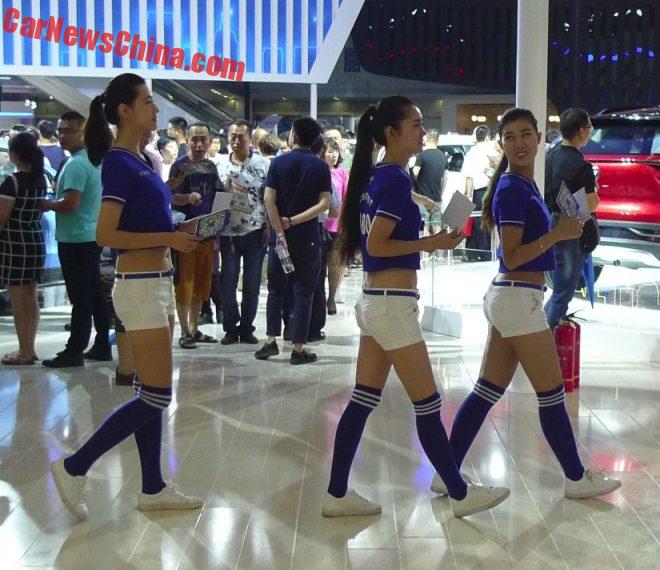 Intruders in the FAW cathedral! Ford babes wearing sporty EcoBoost t-shirts and blue socks.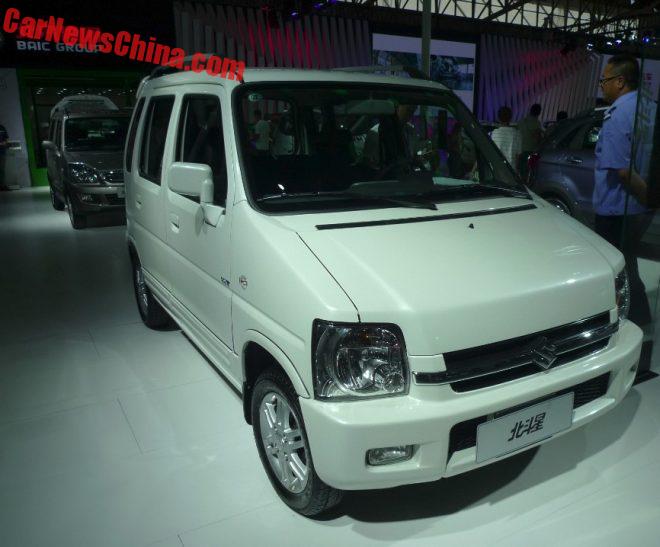 Now some absurd: Here is the Suzuki Beidouxin, a continuation of the Suzuki Wagon R+. It is made in China by the Changhe-Suzuki joint venture. Here it stands, in white, on the booth of Beijing Auto, the current owner of Changhe Auto.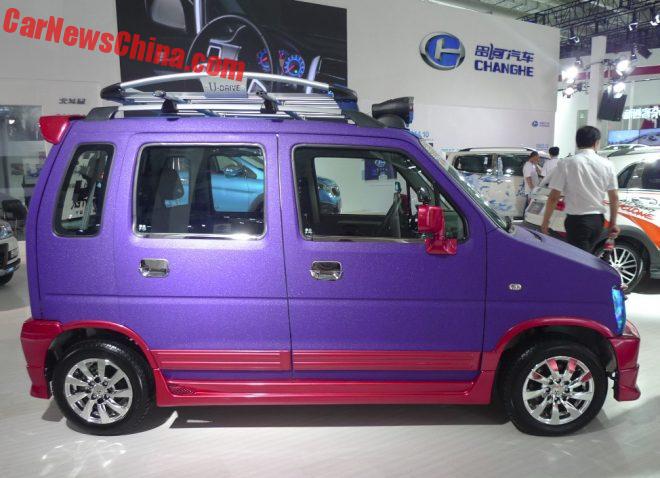 Here is another Beidouxin, in another hall, on the booth of… Changhe-Suzuki. This Beidouxin was dressed to impress, with a body kit, a purple wrap, red bumpers and mirrors, shiny door handles, and a roof rack.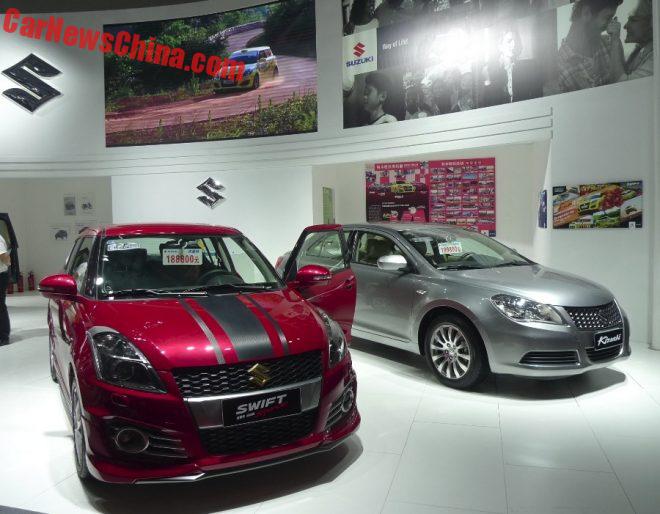 Across the road in the same hall was the booth of Suzuki Import, where they showed the cars that Suzuki imports into China. The Swift on the left is a crazy car. It is the Swift Sport, an import, powered by a 136hp 1.6. It costs, as seen on the show, 188.800 yuan. The standard Swift is made in China. The strongest engine is a 1.5 with 103hp. The top-spec car costs 77.800 yuan!
So you pay a whole 110.000 yuan more for 33 horsepower and a few fancy bits. When it was launched in 2014 I though they were mad but it is still available, so people must be buying it. Mad people. Mad world. Back now for a sec to the China-made Swift. It is manufactured by…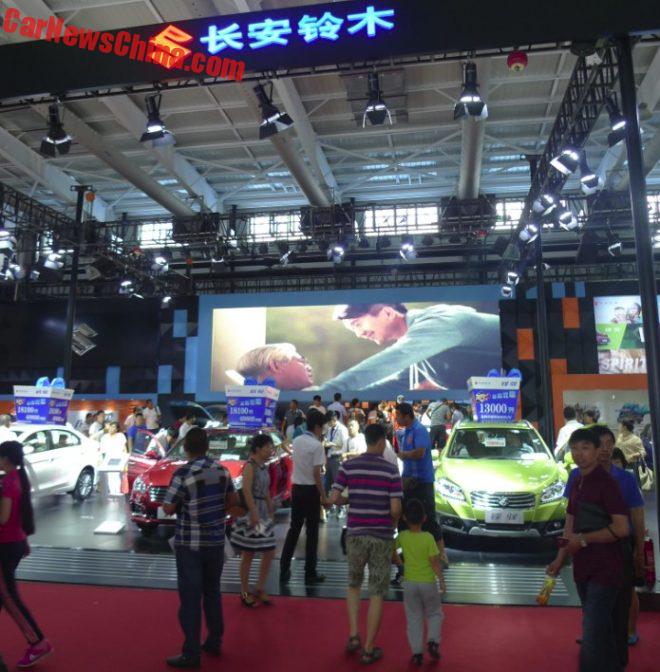 … the Changan-Suzuki joint venture, which had its own booth as well. And so it was with Volkswagen, Audi, Citroen, Peugeot, and many more. The lone exception was Fiat-Chrysler, which had one big booth with all its cars on it, imported and locally made.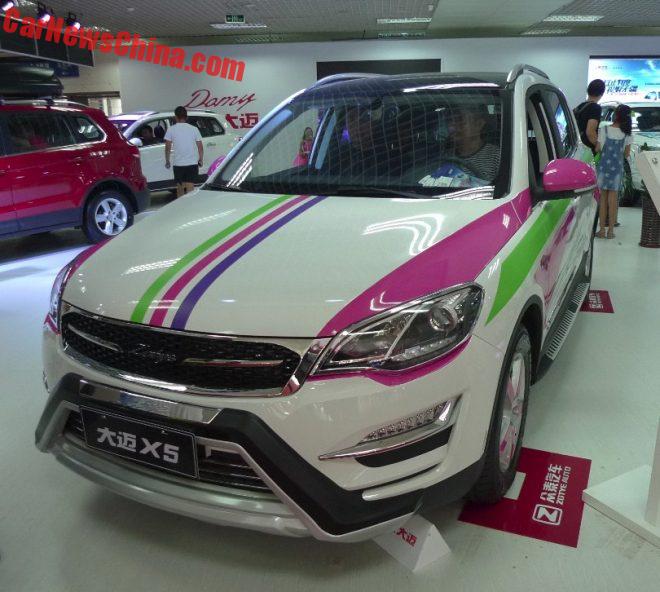 A trendy Zotye Damai X5 with a body kit and stripes, including some Pink, and Pink mirrors. The bumper is especially cool. They had six X-Fives on the booth and nothing else. Last month I went to a Zotye dealer here in Beijing. They had five Zotye T-Sixhundreds and nothing else. Wuzzy company.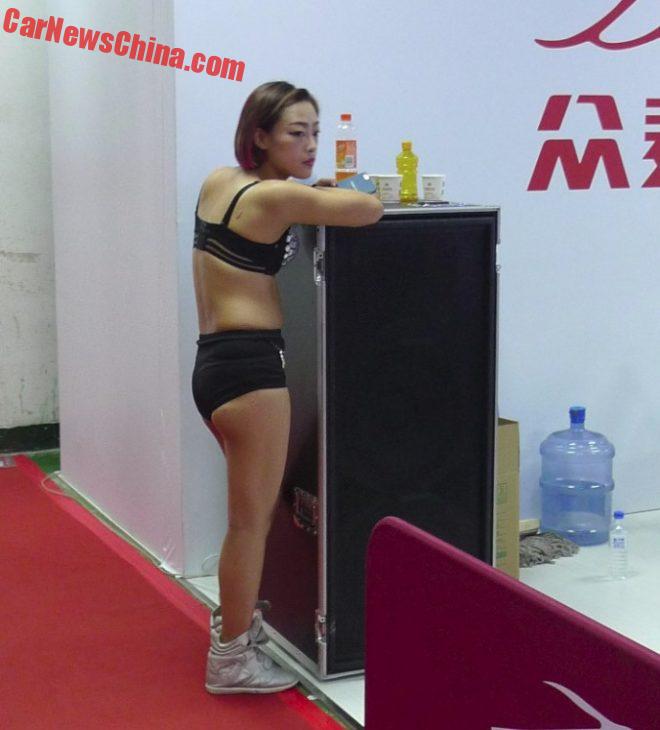 And also at Zotye this pretty dancing lady, taking a break and looking incredible bored. She didn't like me shooting her and ran off. Well, bye then. And to you Dear Reader I see goodbye as well. Part 2 of this Work Report will follow soon and shortly.