It's only mid-April, summer hasn't arrived, and yet, electric vehicles are already on fire.
On March 28, an XPeng G3 caught on fire in Longhua District, Shenzhen, in which the entire vehicle burned down to its skeleton. On April 5, an Aiways U5 caught on fire at a charging station in Jinjiang District, Chengdu.
In the past year, the news of electric vehicles catching on fire is not uncommon. And yet, the sales of electric cars have reached a new high. BYD even announced that it would discontinue the production of fossil-fuel vehicles.
Chinese Electric Vehicle Fire Accidents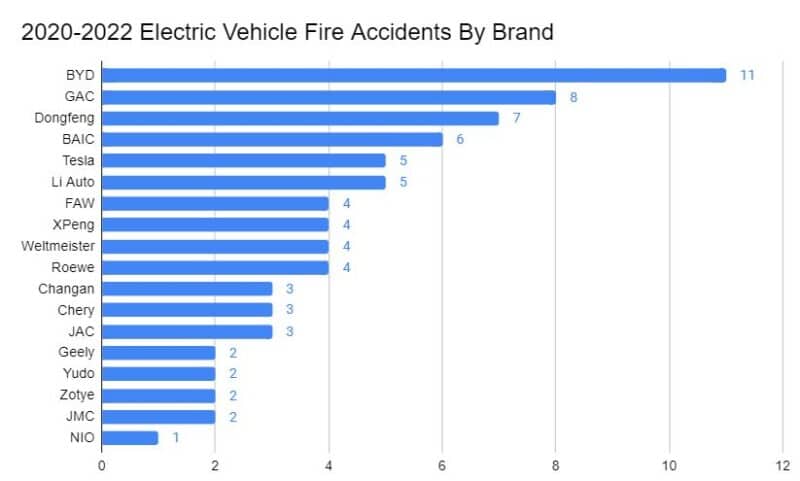 The Chinese media reported only 86 electric vehicle fire accidents in the past two years, averaging one accident per week. However, in the first quarter of this year, 640 electric vehicles caught on fire, a year-on-year increase of 32%, which is equivalent to an average of 7 electric cars caught on fire per day, according to the latest data released by the Chinese Fire and Rescue Department of the Ministry of Emergency Management on April 3 this year.
Whether it is the international giant Tesla, the domestic giant BYD, or traditional vehicle manufacturers such as GAC and BAIC, none of them escaped the burning fate.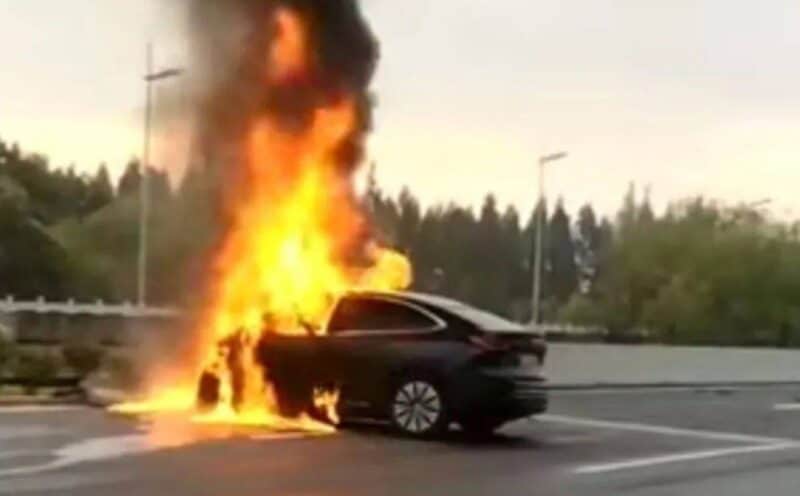 Among the 86 reported fire accidents, BYD came in first, with the most fire accidents (11) involving the E5, E2, Tang, and Qin. Tesla had five fire accidents involving the Model 3 and Model S.
Of course, there is a positive correlation between the number of sales and fire accidents. The February 2022 EV sales data shows that BYD sold more EVs than the other brands. Li Auto sold more EVs than XPeng, while Li Auto came in sixth with five fire accidents and XPeng came in seventh with four fire accidents. Zotye barely sells any cars anymore, and it had only two fire accidents. NIO seems impressive with only one fire.
The latest BYD fire occurred in October 2021 when a BYD Han was seen emitting a lot of white smoke on the side of the road on the Shenzhen Shuiguan Expressway. The last Tesla fire also occurred in October 2021 when a Model S spontaneously burned while parked, and the vehicle was burned to an empty shell.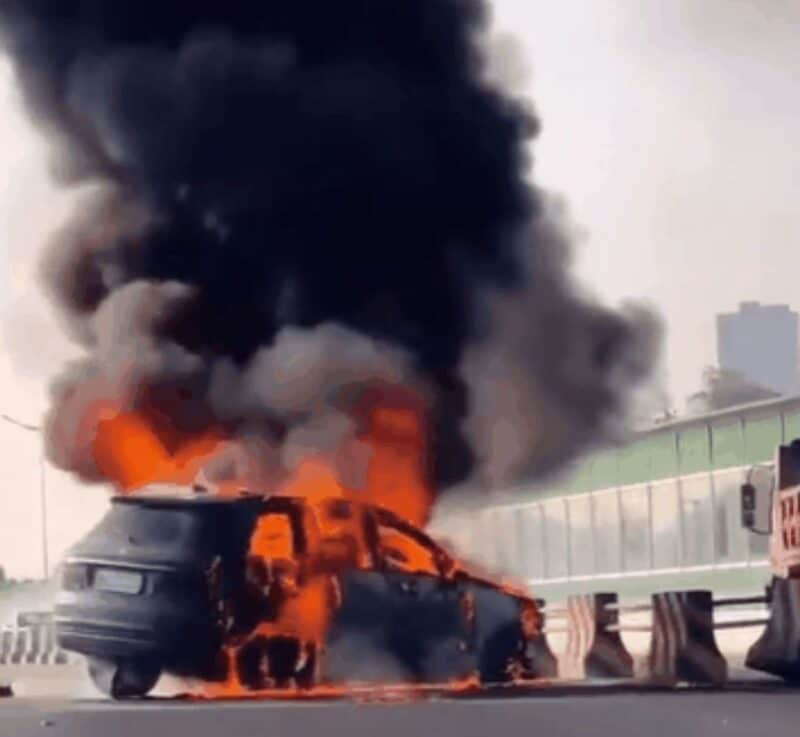 Li Auto had 5 fire accidents all involving the Li ONE. XPeng had 4 fire accidents, 3 of which were the G3 and 1 P7. NIO had 1 fire accident involving the EC6. Weltmeister had 4 fire accidents, all involving the EX5.
Furthermore, 57 electric vehicle fires were reported in the summer months from May to September, accounting for 66% of the total fires reported.
The Causes of Fire
Among the 86 reported fire accidents, the four main types of fire accidents were: fire while charging, fire while driving, fire while parked, and fire after a collision. Among those four types of fire accidents, excluding 7 accidents with unknown causes, 31 occurred while parked, 22 occurred during charging (including fires at charging piles), 20 occurred during driving, and 6 occurred after a collision with other objects. 38.5% of fire accidents occurred in a static state, and 27.5% of fire accidents occurred in a charging state, according to the Beijing Institute of Technology.
When an electric vehicle battery uses DC fast charging under an ultra-low temperature environment, if the electronic control system fails to preheat the battery, the battery is at risk of fire. Another cause of the fire is lithium carbonate precipitation and the formation of lithium dendrites in ternary lithium batteries and lithium iron phosphate batteries. The addition of relatively cheap electric vehicles to car-hailing fleets also represents an additional risk due to high usage and more fast charging.
Additionally, 66% of the fires happen in the hot months of the year and 34% in the cold months. It seems that there is more risk of fire in winter when charging. In summer, there is more risk of fire due to overheating.
Furthermore, when the car chassis is in a collision, the cells in the battery pack are squeezed or punctured, then a short circuit occurs in other components. Gradually, the internal temperature of the battery rises to a thermal runaway, causing a fire, according to Dongshu Cui, secretary-general of the China Passenger Car Association (CPCA).
ABOUT CPCA
CPCA is a non-governmental organization established in 1994 by SAIC Volkswagen and several other sedan manufacturers. Its original name was the National Sedan Market Data Fellowship Society. It is not qualified for automotive statistics or authorized by the government to gather and publish automotive statistical data. It is merely a data exchange platform between automotive companies by collecting data from the reports submitted by these companies.