The Geometry E is a small EV crossover from Geely Holding. It has a hip design, 81 hp, and batteries for 320-km range and 401-km range. It was launched in China with a price range between 87,800-104,800 RMB (13,110-15,645 USD). Now Geometry showed the E at the Guangdong-Hong Kong-Macao Auto Show. It's a great chance to get to know it better.
Exterior and Naming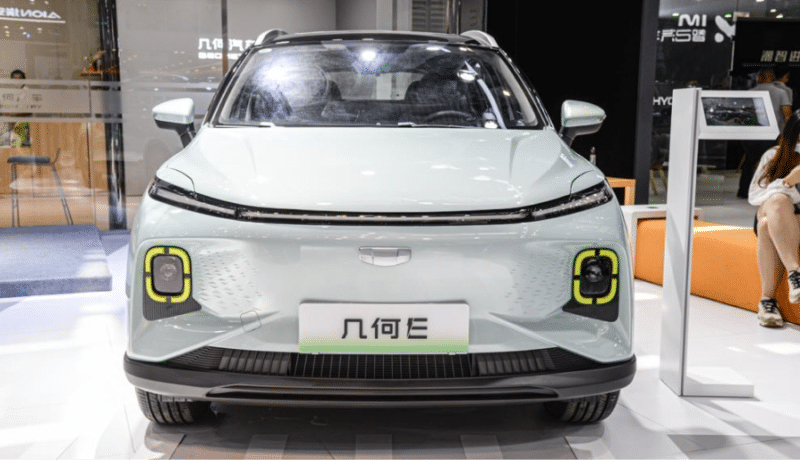 Let's start with a design of Geometry E. It looks hip with a continuous running light unit, square-shaped high beams, and a fuzzy bumper. From the back, it has quirky rear lights and a sporty spoiler. From the side, the E is bulky. But it has a sloped roofline which is a nice touch. Geometry presented a top-trim level at the show. We can see it from a color scheme with a black roof. But it still has some cheap details, like a lot of grey plastic around the body.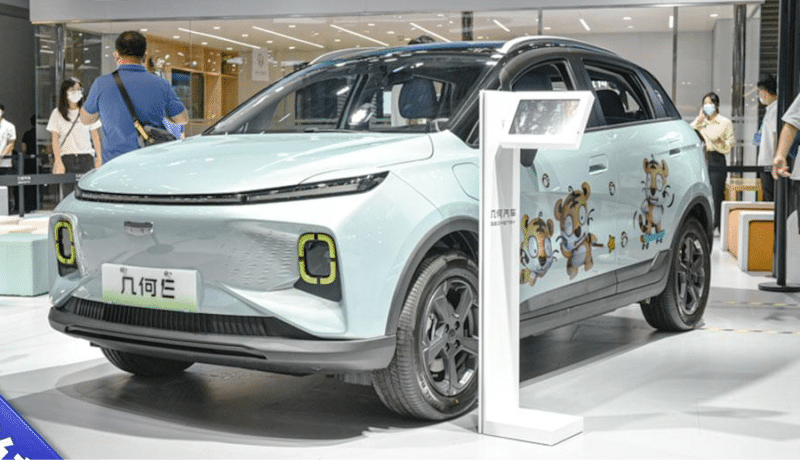 As we can see, the car at the Auto Show has tiger stickers on its body. It is a reference to a previous name of the E. In February 2022, Chinese MIIT shared this EV's images. In them, it was called 'X Thunder Tiger'. But later, Geometry decided to change its name. As a result, they've come up with the 'E'. But they still maintain marketing related to tigers. For example, in March 2022, Geometry shared pictures of the E in a yellow camouflage with orange stripes. So it looks like Geometry stick with these tiger-related things.
Interior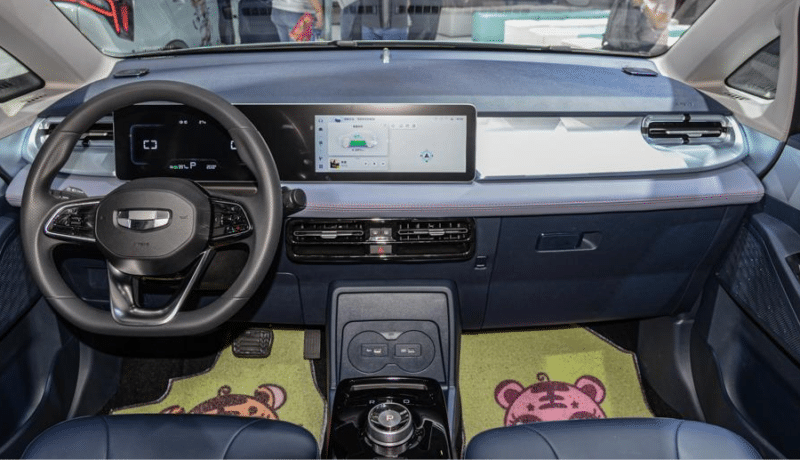 Inside Geometry E, we can spot tigers again. They are on the floor mats. Yep, those tigers are everywhere. But let's look at the rest of the Geometry E interior. If you don't know it is based on the old, petrol-powered Geely Vision X3, you will never tell it. The E keeps things simple and modern here. For example, we can see the twin-screen setup with 10.25-inch LCDs.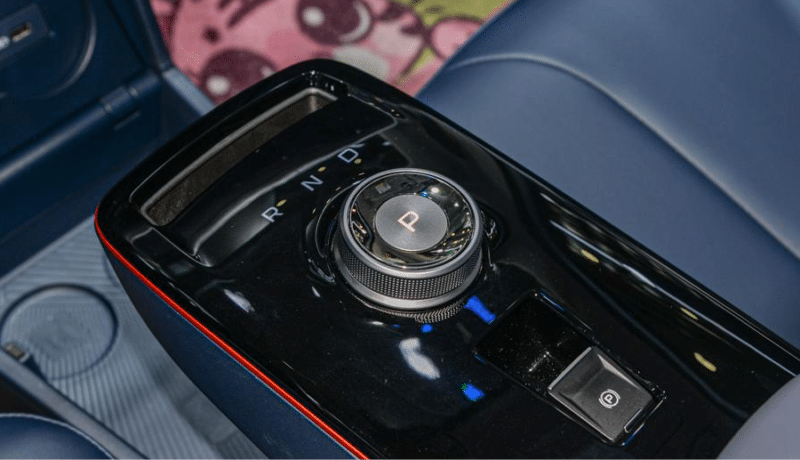 The center tunnel has a rotary gear shifter, a parking brake button, two USB ports, and two cup holders. To make sure your drinks are safe, you should put down a special element in the USB ports area. On the one hand, it is an odd thing. But on the other hand, it is a good way to save space.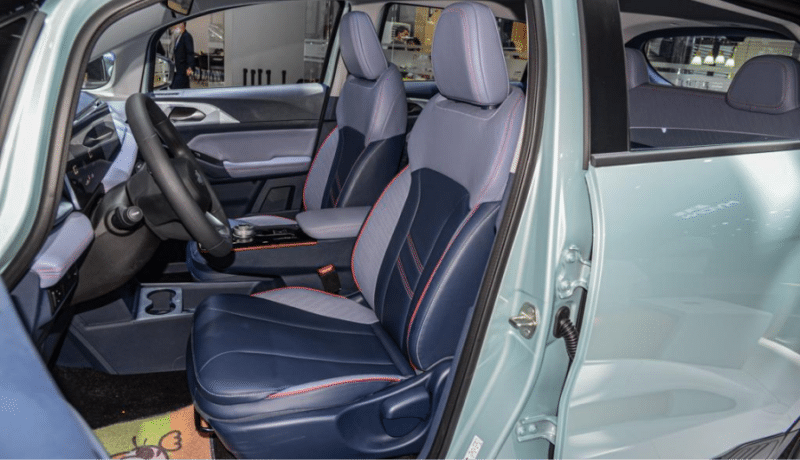 The seats of the E are wrapped with leatherette. Moreover, it has a three-color scheme on these seats. So it looks like Geometry wanted to make the E look more expensive. But the seats here can be adjusted only manually, so Geometry didn't quite succeed in it.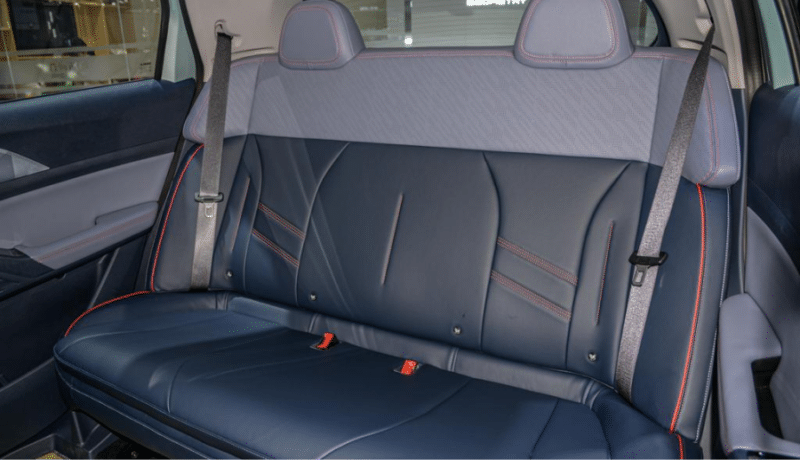 A flat bench represents the second row. It has only two headrests. So it is a little interesting about it. Behind the second row, we have a 295-liter trunk. The thing is, it was measured from the floor to the ceiling. In fact, you won't be able to fit that much stuff into it.
Specs
Now let's speak size of the Geometry E. It is a small car with dimensions of 4006/1765/1550 mm and a wheelbase of 2485 mm. It is interesting that the E is based on the petrol-powered Geely Vision X3. Before the E, the Geometry EX3 Kung Fu Cow and the Maple 30X shared this chassis. So the E isn't really a new car. But Geometry did a great job with the design of this vehicle. Moreover, later there will be the E with a swappable battery.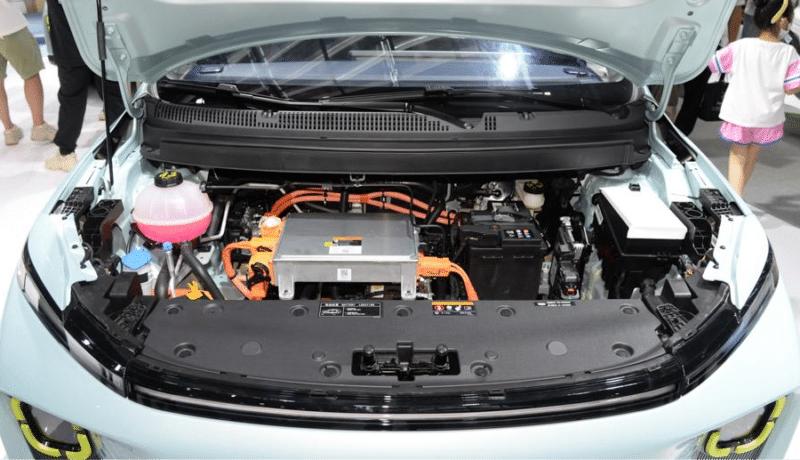 Speaking about batteries, the E got two. The first one is LFP and has a capacity of 33.5 kWh. With it on board, the E can run up to 320 km. The second battery is also LFP, and its capacity reaches 39.4 kWh with a range of 401 km. The E has a single electric motor on the front axle with an output of 81 hp. Later the more powerful E will hit the market. At least Geometry said there would be a version with a 39.4 kWh battery and 380-km range.
The Geometry E price range is 87,800-104,800 RMB (13,110-15,645 USD). So it is quite a cheap car with a hip look inside out. We will keep an eye on the E' way on the market.
Source: Autohome