Sany is a large Chinese truck and construction equipment maker. They are going into electric pickup trucks and they are going in hot, Cybertruck-melting hot. Newly leaked images from China's patent bureau show an impressive machine, with two doors, a massive front, a low roof, and a short bed. The tires are enormous and the vehicle has more ground clearance than Starship may ever have.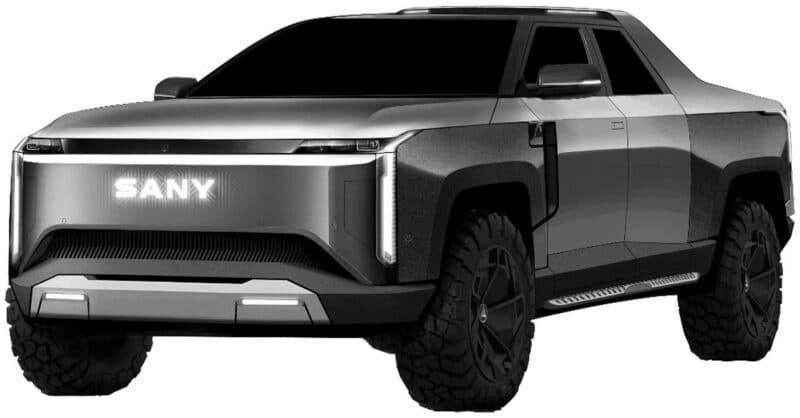 The truck monster is the second Sany electric pickup truck we have seen. Earlier on we met a slightly larger example, with blade-like body panels. The red truck seems more of a sports machine, whereas the gray one appears to be more of a luxury vehicle.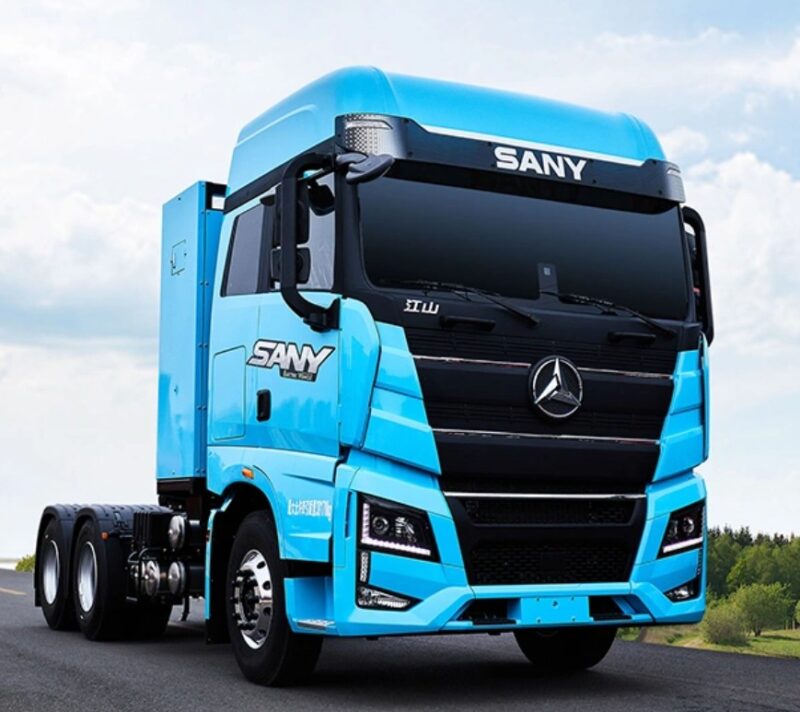 Sany already makes various electric heavy tractors and electric truck chassis. Their heaviest tractor trailer is the Jingshan EV550, launched on the Chinese electric truck market earlier this year. The top-version has a 423 kWh battery, a rated power of 270 kW/1150 Nm, a peak power of 405 kW and 2400 Nm, and a range of 240 kilometers. The battery pack is located behind the cabin. There are two options for charging: a fast-charge with dual charging ports, which takes 40 minutes (20-80%), or a battery swap, which takes five minutes. It is a nice looking truck but design doesn't quite match with the wild pickup trucks.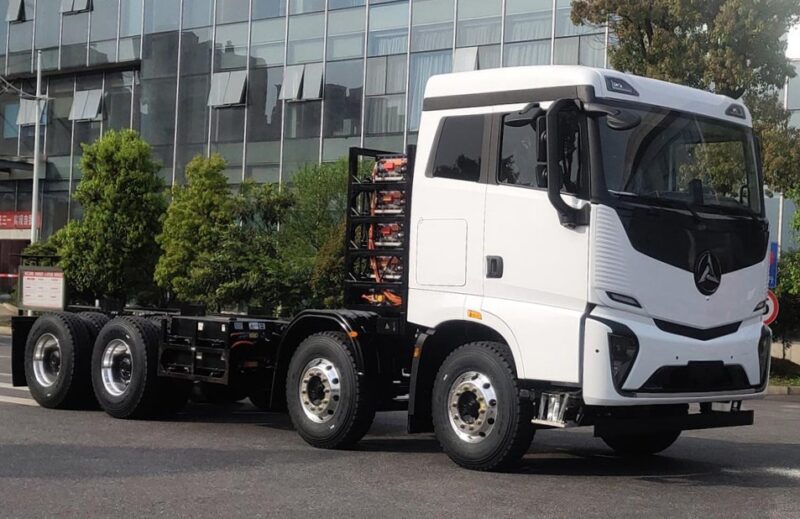 This does! Sanyi is preparing a new line of heavy electric trucks, set to launch later this year. They feature a more distinctive and modern design, with a fully closed front and LED lights. It doesn't have a name yet, only the designation: SYM3314T2BEV. It gets the same power train as the Jinshan EV550. The trucks have the Sany logo on the nose, the pickup trucks do not.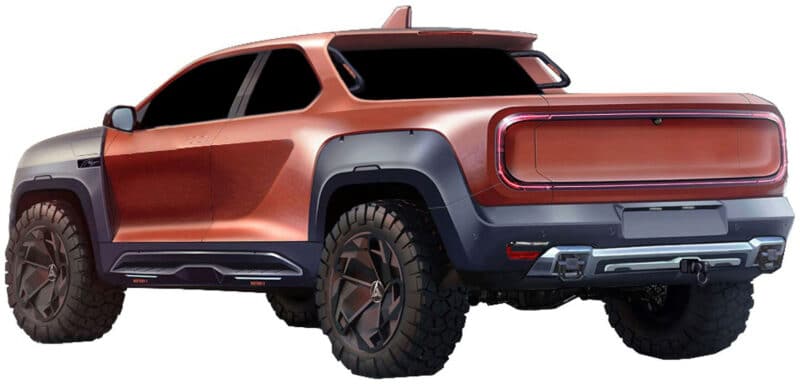 But the pickups do have the Sany logo on the hub caps. Design is brutal, look a Tonka truck from the future. The black cladding around the arches and bumper gives it a lot of presence. There are cameras in the front fender and one on the tailgate. There are handlebars attached to the C-pillar so folks can ride along in the cargo space. The shark fin antenna seems huge. And like we have seen on many recently unveiled Chinese electric cars; the Sany has a tow hook.

Most of the patent images show a two-door pickup truck (above) but there is one image of a four-door version. At first I thought Sany was going for some fuzzy one-door on one side and two on the other design, but the roof line and wheelbase are clearly longer too, so Sany will likely sell this truck in 2-door and 4-door versions.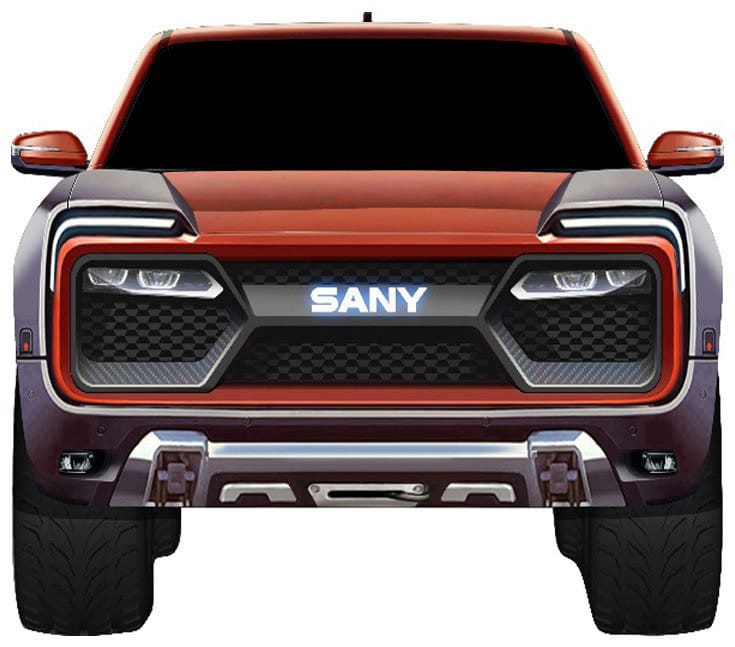 Large lightened SANY lettering up front. The fender cladding extends over the bonnet, with LED light bars underneath. There is no information about the power train, but with electric motors being so small and all, and the truck so big, there seems no reason why the trailer-truck motor won't fit in, 405 kW and 2400 Nm sounds just fine…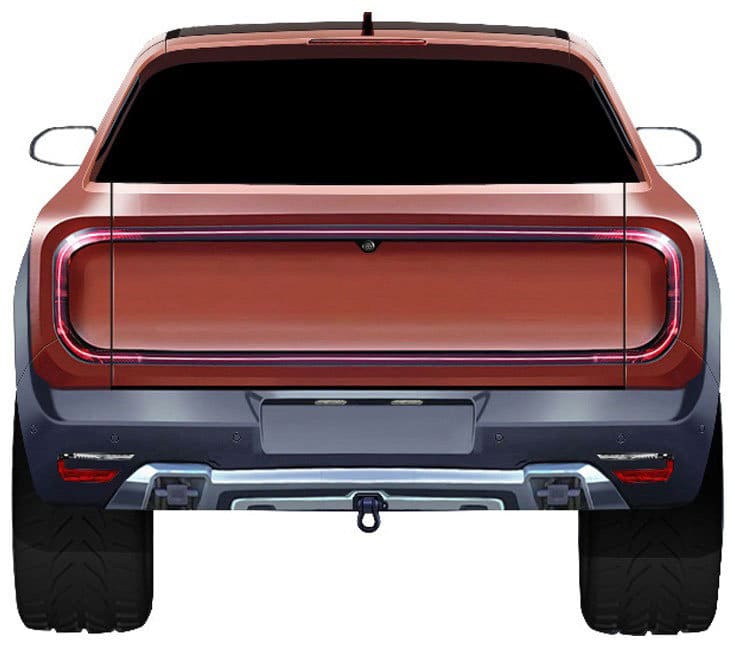 Sany will unveil its electric pickup truck range later this year, likely at the Guangzhou Auto Show. More as we get it…