On December 12, Nio held its annual media event, where Nio's President and co-founder, Qin Lihong, answered questions from journalists. Let's sum up the essential points presented.
All 866 models will be underpinned by the NT2.0 platform in H1 2023
Nio has a share of 77% in the EV segment over 400,000 yuan ($57,300)
No mentions if the third-gen PSS will debut at Nio Day 2022
The NEV (New Energy Vehicles) penetration rate increased from 12% in 2012 to 26% in November 2022. The trend is a friend for Nio
2022 car sales will be about 20 million units in China, Jan-Nov sales are 5 million NEVs (EV+PHEV) out of which 3.8 million are EVs
Nio will have 17 or 18 PSSs in Europe, not 20 as previously announced. 120 PSSs by 2023 goal remains unchanged
Nio ET5 will be the cheapest car under the Nio brand. Vehicles under 300,000 yuan will be launched under a new mainstream brand (probably Alps brand)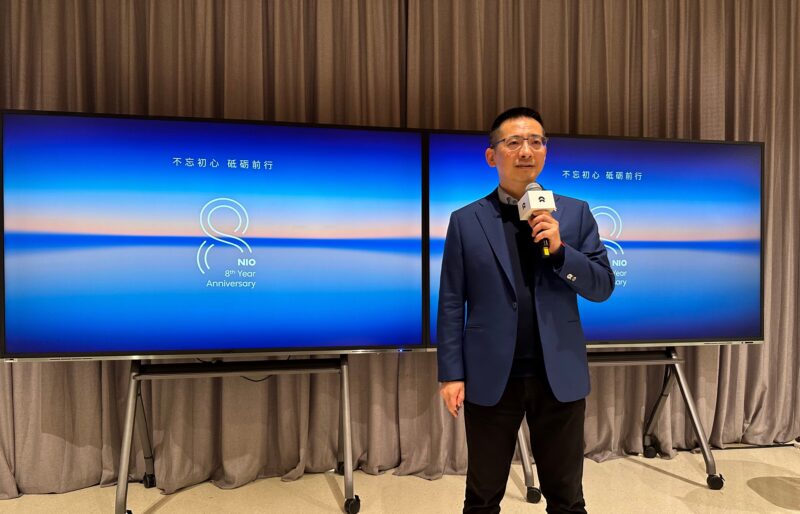 Let's start with the points our readers already know. Mr. Lihong confirmed that 866 models (this is what Nio calls its models based on the old NT 2.0 platform – ES8, ES6, EC6) would get a refreshed version underpinned by the NT2.0 platform and will be launched in the first half of 2023. Nio ES8 2023 with NT2.0 will be unveiled on December 24 in Hefei at Nio day.
In October, Nio launched its NT2.0-based lineup (ET7, EL7/ES7, ET5) in the European Union, offering a car subscription option or traditional buyout. "Because of various local regulations and costs, it may be difficult to achieve the goal of building 20 power stations in Europe this year. It is estimated that 17-18 power stations will be built by the end of this year, but the goal of building 120 power stations next year remains unchanged," assures Mr. Lihong.
Nio doesn't publish their European deliveries, but we know the company delivered 1036 cars in Norway in 2022 (981 ES8 SUVs and 55 ET7 sedans). "There will be ups and downs in the European market, and this kind of ups and downs is good for our growth," adds Mr. Lihong.
Aside from the EU, Nio reportedly aims for the sweet spot – the US market and Mr. Lihong reassure it, "we will not enter North America in the next year, but we have been preparing."
In China, the average price of the Nio car in October 2022 was 466,000 yuan ($66,800), surpassing Mercedes-Benz, BMW, and Audi, which were 450,400 yuan ($64,500), 423,000 yuan ($60,600), and 320,000 yuan ($46,600) respectively. According to CAAM data, Nio's share in the premium EV market over 400,000 yuan reached 77.6% in November. The starting price of Nio's lowest-priced model, ET5, is 328,000 yuan ($47,000).
"This actually shows our growth limits. Although the penetration rate of the high-end EV market can increase in the next five years, there is not much we can do, so we want to launch a new brand for the mainstream market," Qin Lihong said, hinting at the launch of the Alps subbrand, which will offer EVs under 300,000 yuan.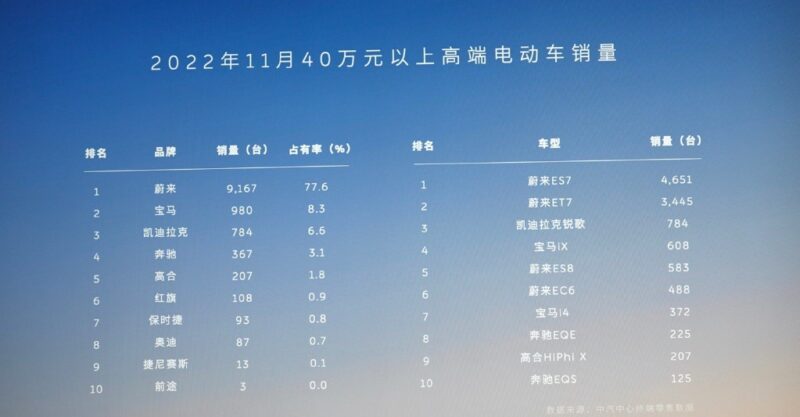 Mr. Lihong also summarizes the bigger picture numbers, as EV adoption is rapidly increasing. The total annual sales are expected to be 20 million cars in China; NEV sales from January – November are 5.03 million units, out of which 3.794 million units are pure EVs. November NEV penetration rate was 26.32% in China. Nio produced its 300,000th car on December 12 (Nio ET5) and 300,000th car will be delivered approximately on January 1 next year.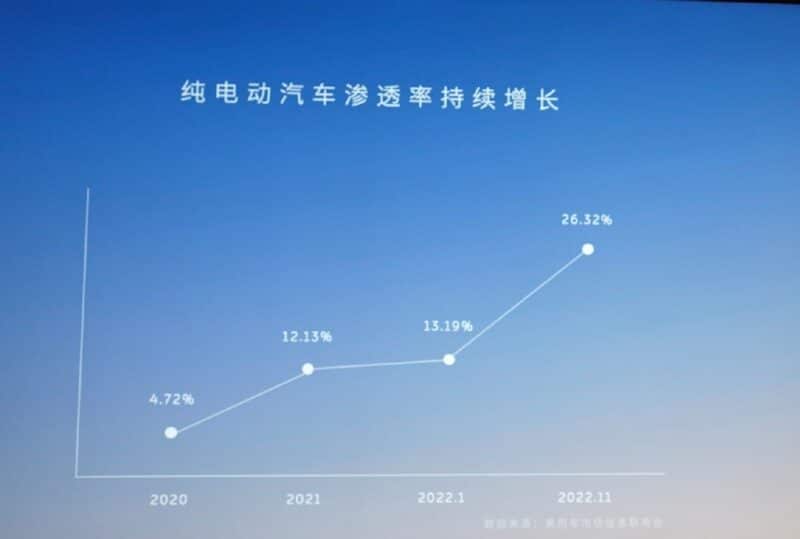 William Li, Nio CEO, once said that as a battery makes 40% cost of the car, stable supply is the key, and he hopes to make "70% of the battery inhouse and 30% outside" in the future.
Regarding battery swap, which Nio is the most prominent promoter, Lihong says: "What we need to do is to make the battery swap as common as possible across brands. Our technology is open to all automakers and other companies."
Last but not least, Nio will add 50-60 Nio houses in 2023. According to Lihong, Nio houses are located in tier-one and tier-two cities, while, for example, Xpeng is in tier-third or fourth cities, reflecting the price of the car. Nio will also move to those smaller cities, but the time has not yet come. The first Nio House in EU will be opened on Decemeber 17 in Berlin.
Finally, let's sum it up with Mr. Lihong's words. "Many things in this industry will become a consensus, and our opportunity is when there is no consensus."