On February 9, the Leap C11 EREV was officially announced in China with a comprehensive cruising range of 1024 km and a presale price range of 159,800 – 200,000 yuan ($23,560 -$29,500). According to Leap, the SUV will be tested in some cities in mid-February, launched in early March and delivered in mid-March.
The C11 EREV is based on the current C11 SUV which debuted as an EV in September 2021. The original C11 is available with two powertrains: a single rear motor RWD with 272 hp and 360 Nm and a dual motor 4WD with 544 hp and 720 Nm.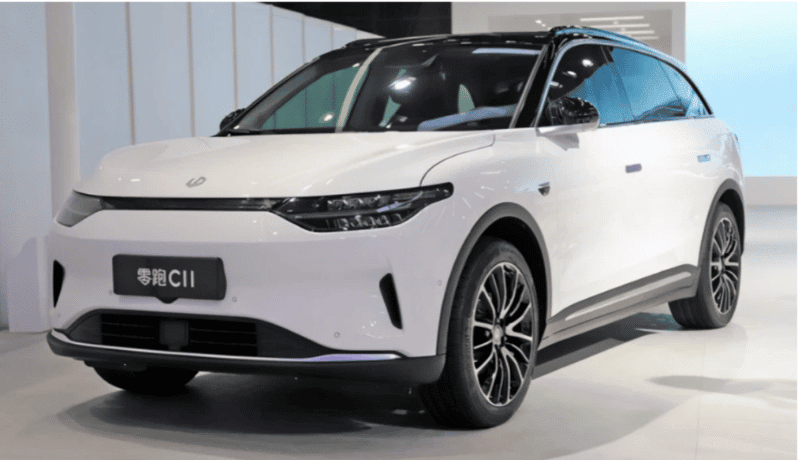 The C11 EREV adopts similar styling to the pure electric version with only minor details differentiating both. While the pure electric model has a closed grille, the EREV variant has a new mesh design in front. Additionally, the new version has a length, width and height of 4780/1905/1675 mm with a 2930 mm wheelbase, 30 mm longer than the pure EV version.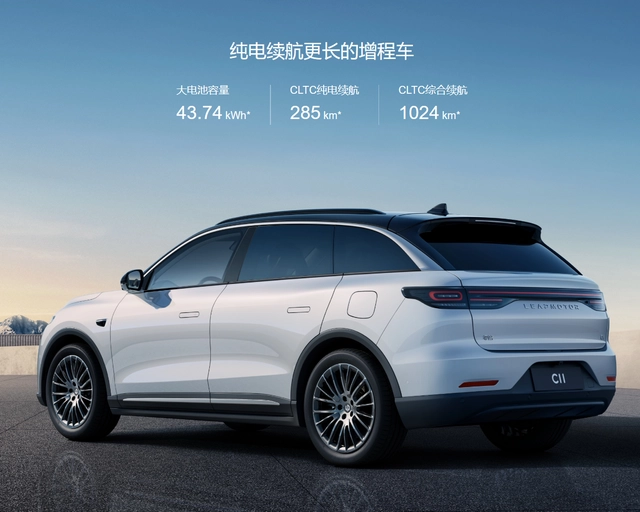 The 5-seater car has a 2030 kg curb weight. From the side, notable design elements include a two-color body, a suspended roof, blacken luggage racks on the roof, densely-spoked rims, and hidden door handles. Furthermore, the front adopts a closed grille with slender and sharp headlights.
Inside, the C11 EREV is similar to the pure Ev version. The interior adopts a triple-screen design made up of a 10.25-inch LCD instrument panel, a 12.8-inch central control LCD touch screen, and a 10.25-inch co-pilot entertainment screen. There's also a two-spoke round steering wheel. It will support L2++ driving assistance functions.
The C11 EREV is equipped with facial recognition and a Qualcomm Snapdragon 8155 chip. Some interesting features include heated steering wheel and front seat massage.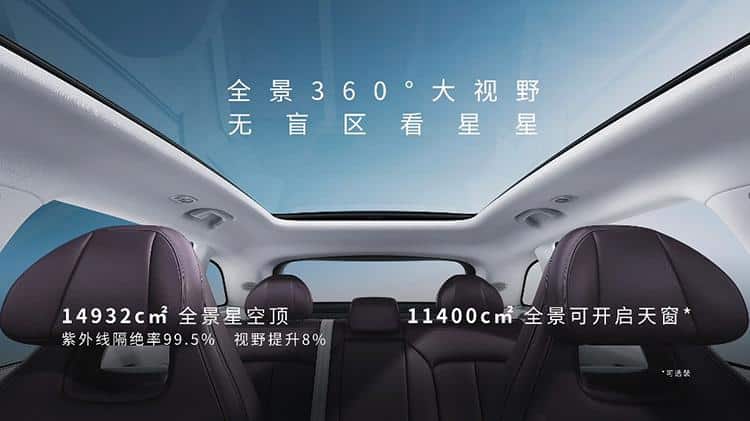 The Leap C11 extended range version is equipped with a 14932 cm panoramic star roof, and 6D ergonomic seats wrapped in Nappa leather. The driver's seat supports 6-way electric adjustment and 4-way lumbar support adjustment. At the back, the rear row provides a comprehensive multimedia control screen, which allows rear passengers to adjust seat heating, volume, air conditioning and other functions. The Leaprun C11 range-extended version is also equipped with a 12-speaker system as standard.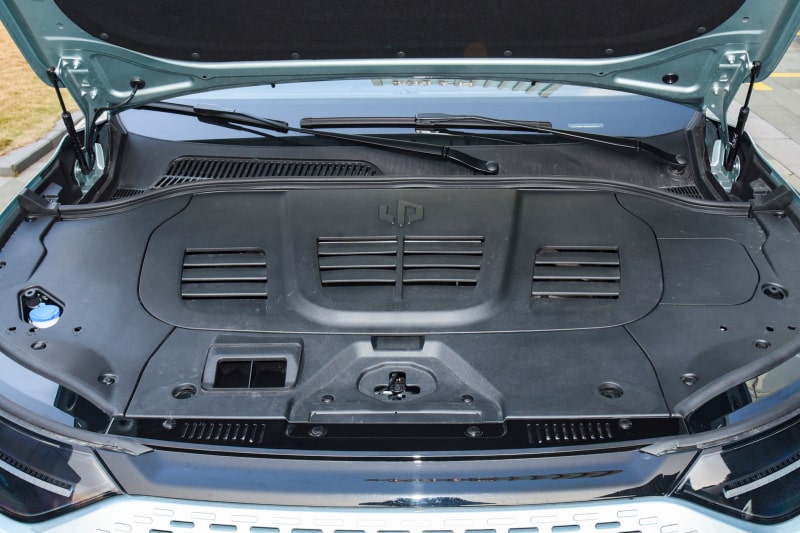 The C11 EREV gets a powertrain combining a gasoline engine with an electric motor, matched with a ternary lithium battery pack. The gasoline engine only charges the battery; it doesn't directly drive the wheels. The gasoline engine is a turbocharged 1.2T 3-cylinder producing 96 kW while the single rear-drive electric motor has 200 kW. The top speed is 170 km/h.
Equipped with a ternary lithium battery pack with an energy density of 43.74kWh, it supports fast charging and slow charging. Fast charging can juice up the car from 30% to 80% in 30 minutes. The pure electric cruising range is 285 km, while the comprehensive cruising range is 1024 km, and the WLTC fuel consumption is 6.8 litres/100 km.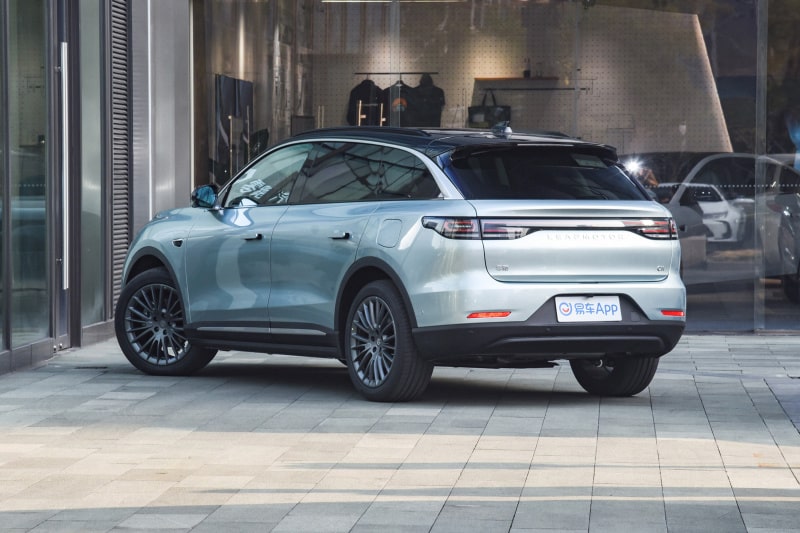 Extended range electric vehicles are popular in China. The best known EREV-maker is Li Auto, and many more car makers are selling EREVs or developing them. Only recently, Li Auto launched the Li L7 and an entry-level version of the already existing Li L8. These will provide the greatest competition for the C11 EREV Leapmotor is also working on an EREV version of the C01 sedan.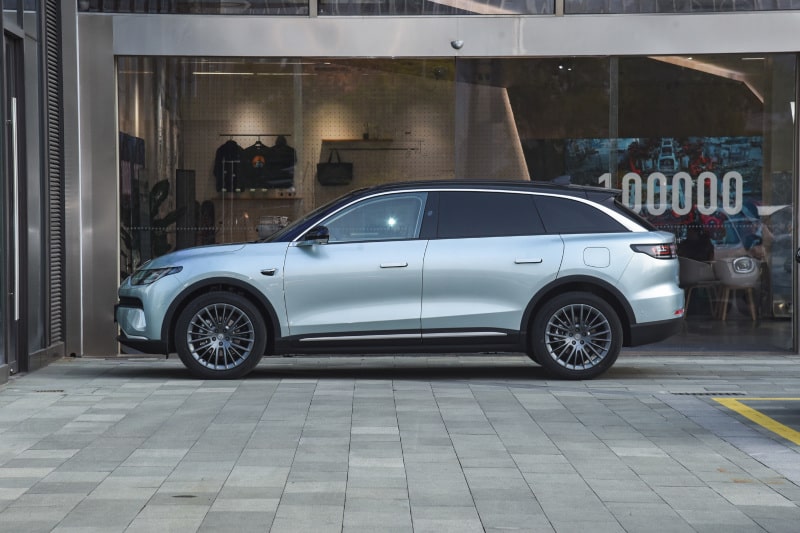 Leap (零跑) is a brand under Chinese car maker Leapmotor (零跑汽车). Leapmotor was founded in 2015 and is based in Hangzhou, the capital of Zhejiang Province. Leapmotor currently sells four cars: the Leap C11 SUV, the Leap C01 sedan, the Leap S01 sports car, and the Leap T03 hatchback.