This is the JMC Teshun EV, an electric panel van for China. It is the EV version of JMC's infamous Storm Trooper-faced van. 'JMC' stands for Jiangling Motor Corporation, best known for their joint venture with Ford. The Teshun EV gets a fancy blue EV badge on the grille and a set of super cool blue wheels.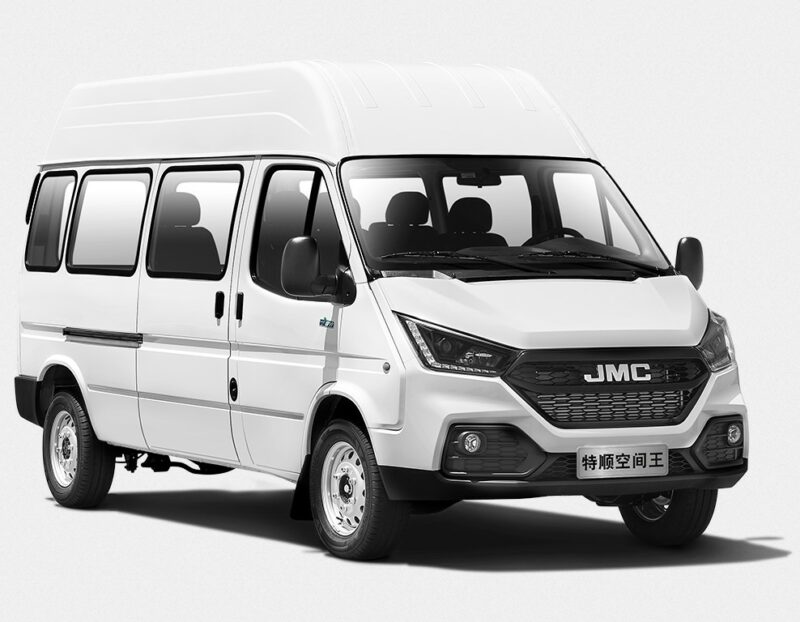 This is the petrol version of the JMC Teshun. It is available in dozens and dozens of variants: passenger van, panel van, short- and long wheelbase, low- and high roof, and whatnot more. And that is yet without counting in variants made by specialty-car makers. These include exotic machinery like an 'engineering vehicle' pick-up truck, an ambulance, and a prisoner-transport car. Factory price starts at 105,800 RMB (15,400 USD).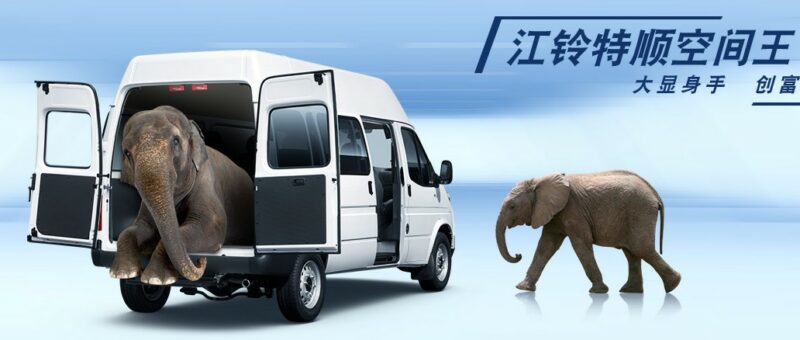 It can carry an elephant family. The petrol version is powered by a 2.8 liter turbocharged four-cylinder diesel engine. It has an output of only 116 hp and 285 Nm. The engine is mated to a five-speed manual gearbox. All very old school, but that's no wonder: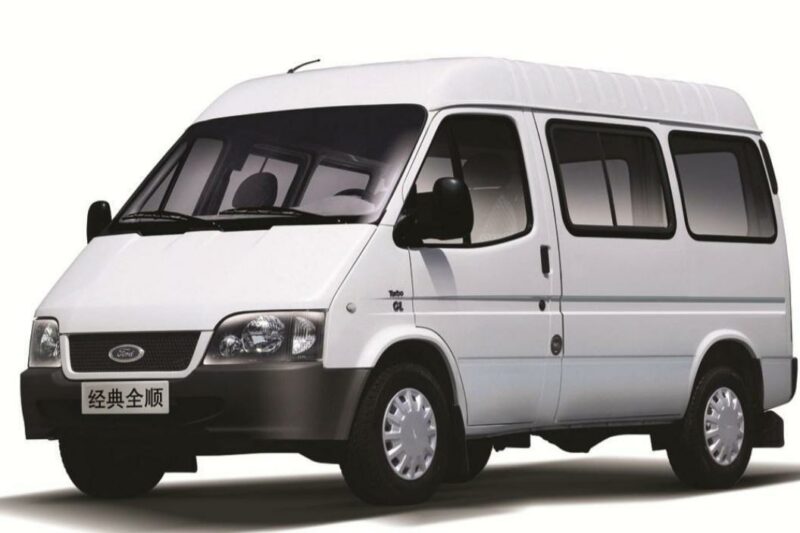 The JMC Teshun is based on the second-generation Ford Transit. The sec-gen Ford Transit was made in China by JMC-Ford from 1997 until 2016 (!), with a facelift in 2006. The photo shows a facelifted version. The Chinese name of the Transit was Quánshùn (全顺). In 2017, production of the sec-gen Transit was switched over to JMC. This sort of construction is not uncommon in China. JMC renamed the Transit to Teshun (特顺, Tèshùn) and added the Storm Trooper front. I say 'added' because that is literally what it is. Check: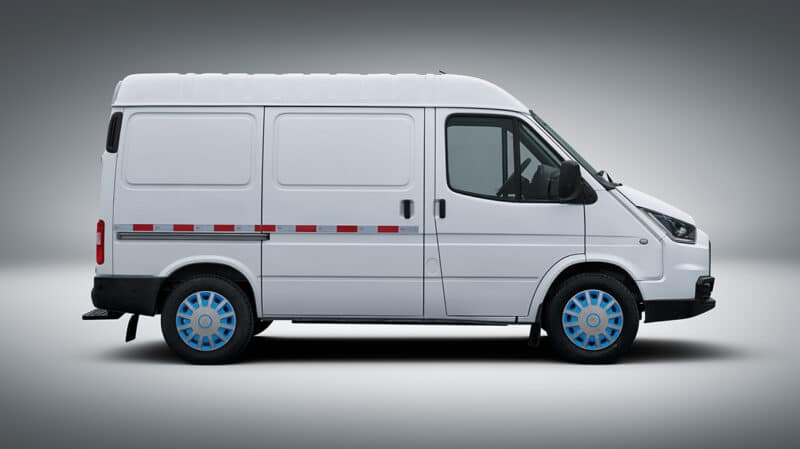 The Storm Trooper front is simply bolted over the existing front, and that is best visible from the side. This is the EV again, with the blue wheels. The reflecting 3M tape is obligatory by law on all Chinese commercial vehicles, including pickup trucks and vans. The JMC Teshun EV was first launched in 2019 but it really was a limited-production vehicle with only a few variants available. That has now changed. JMC has updated the EV and it now comes in many many more versions: passenger van long- and short wheelbase, panel van long- and short wheelbase, and low- mid- and high roof. The car on the photos is the short wheelbase mid-roof panel van. Size: 4944/1972/2215, with a 2835 millimeter wheelbase and a 2090 kilo curb weight.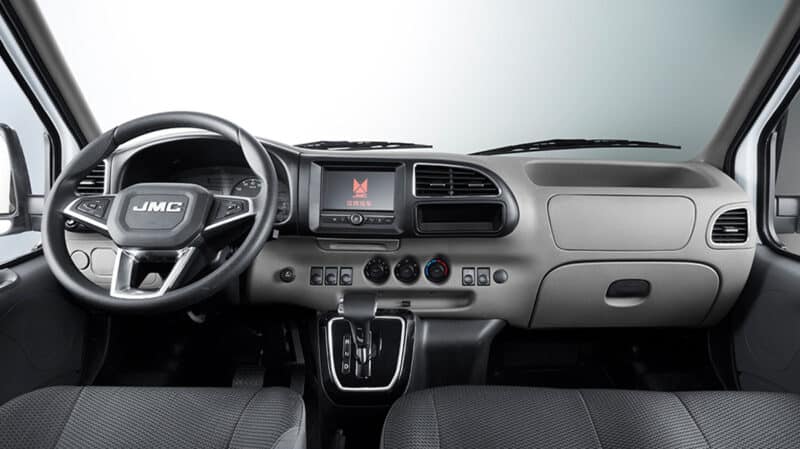 JMC didn't try to sex up the interior. All gray and beige, without any blue detailing. The screen is smaller than my phone's and the gear lever was taken from a petrol vehicle, likely one of JMC's pickup trucks, but 'geared' with only R N D. There are 3 seats, but the ones on the left are combined in one bench.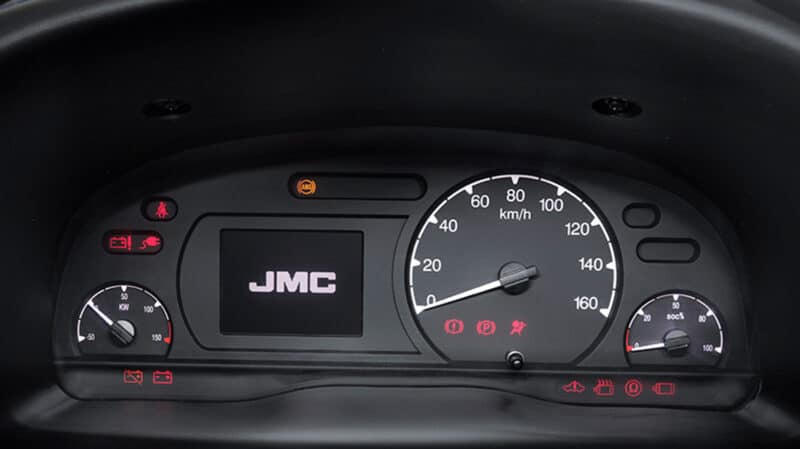 Dials with needles! We don't see that a lot anymore. The JMC Teshun EV is powered by a single electric motor located at the front. Output is 163 horsepower (120 kilowatts) with a maximum torque of 320 Nm. The electricity is stored in a 65 kWh CATL battery pack for a CLTC range of 300 kilometers. Fast charging takes 48 minutes to 80% battery. A full charge of 120 volt takes 11 hours. Top speed is 120 km/h and 0-100 takes 13.3 seconds.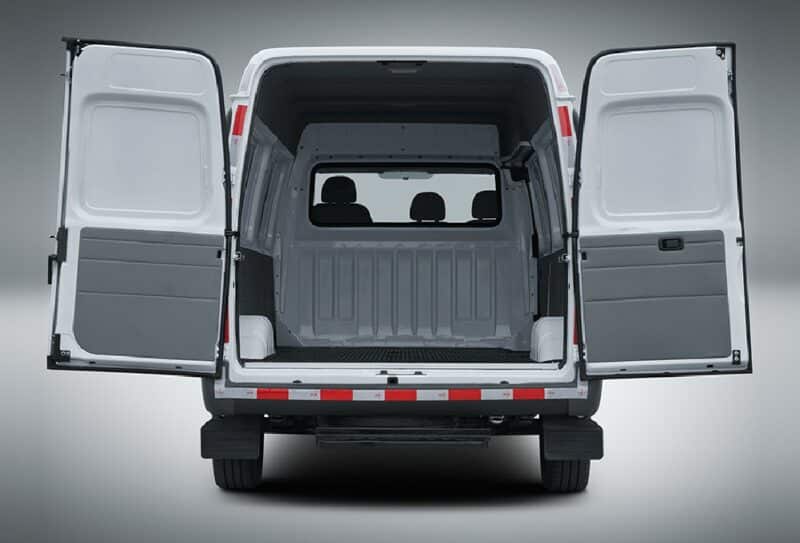 The doors open to the sides, the floor is totally flat, and the driver can keep an eye on the cargo. Max load capacity is a decent 1225 kilos.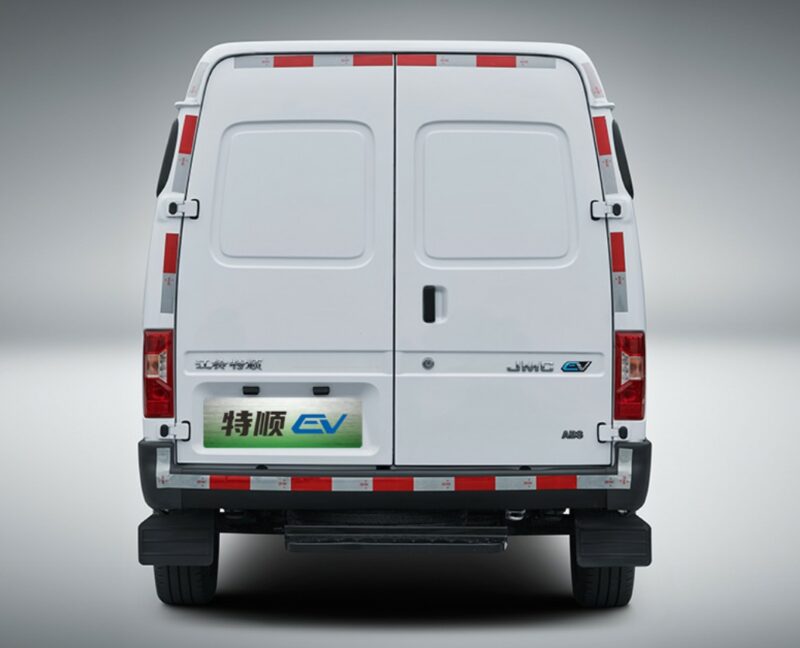 Got to love 3M tape! Oddly, the EV badge on the back is half blue and half gray, whereas the badge at the front is all blue. But at least it is the same font. Finally, price. The panel van version as seen on the photos costs 279,000 RMB (40,620 USD). That's 2.6 times the cost of a diesel version. Lot of extra money, but hey, saving the planet ain't free.