Chery and Huawei are jointly working on the electric sedan that will reportedly become a part of the AITO brand. It will make its market debut in Q4 2024. The AITO sedan likely stands on the E0X platform from Chery. As a result, it adopts air suspension, 800V DC charging and up to 700 km of range.
Huawei-Chery sedan spy shots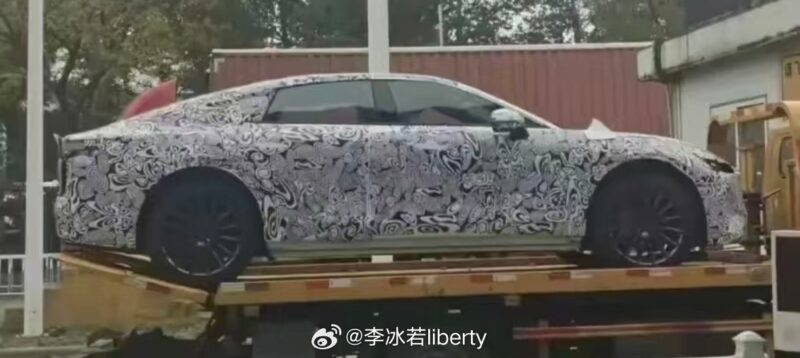 As we can see in spy shots, the sedan from Huawei and Chery is covered with heavy camouflage. We can see that its exterior design is quite typical for quite a lot of electric sedans, including BYD Han, Nio ET7, Voyah Passion (Zhuiguang), etc. It has a sloped roofline, slanted front pillars, a low belt line and retractable door handles. So, from the side, it is difficult to distinguish this sedan. But its taillight unit is another story. It has signature AITO design. It proves that it is a car for the AITO brand for sure.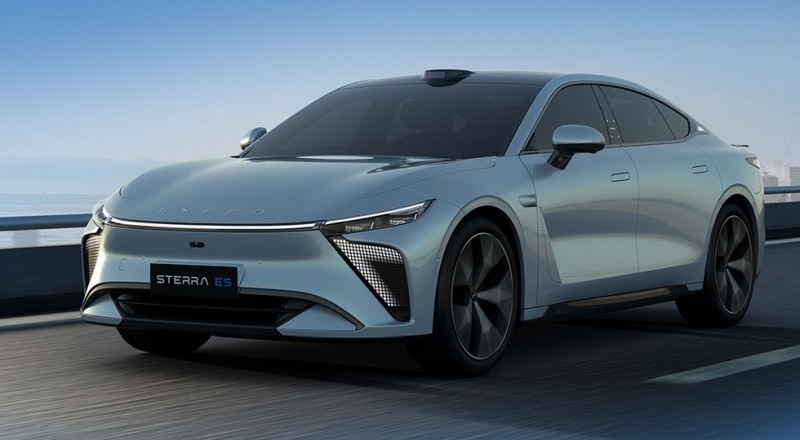 Moreover, this car looks quite similar to the Exeed Sterra ES (Exlantix) electric sedan from Chery. We may guess that they share the same E0X platform. It means that the AITO's sedan dimensions will be really close to the Sterra ES. We will remind you that the exact size of the Exeed's sedan is unknown. However, we do know that its body length reaches 4950 mm, and the width is 2000 mm. As for the wheelbase, it is 2900 mm.
It also means that the AITO sedan will share the same powertrain. So, it will have a CATL battery on board that supports 800 V charging. Its range will be around 700 km. As for the zero-to-hundred acceleration time, it is 3 seconds.
AITO sedan: just one of various Huawei's projects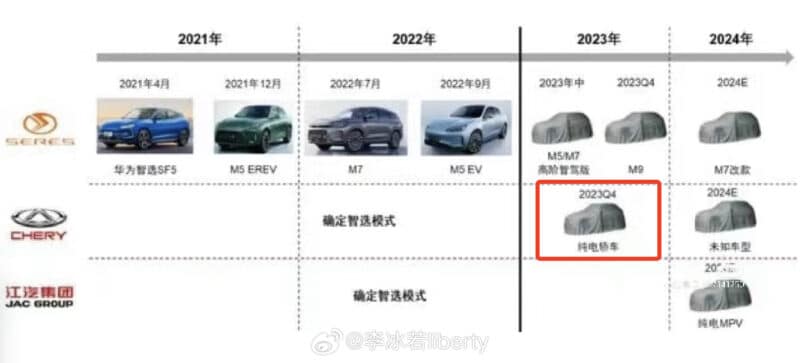 Previously, we have reported that Huawei works as a supplier with quite a lot of car makers such as Seres, BAIC and Changan. Moreover, Huawei has a joint project with Seres, which is the AITO automobile brand. However, Huawei doesn't want to put all the eggs in one basket, so it has two more strategic partners in the car business. The first one is JAC. With this company, Huawei will soon launch the production of the electric MPV. As for the second partner, it is Chery Group. Huawei-JAC and Huawei-Chery vehicles will become a part of AITO brand, selling in Huawei's stores.

As it goes from the future model line, the Huawei-Chery sedan will hit the market in Q4 2023. Later, there will be the second Huawei-Chery vehicle. At the same time, Huawei-Seres will launch the AITO M9 SUV. And the Huawei-JAC will make the MPV. So, we can see that Huawei is clearly focused on dominating in the segment.
Source: Weibo