On August 22, Li Auto released weekly sales data in China for week 33 of 2023 (August 14 – 20). The sales are rounded and derived from insurance registration monitored by CMBI, which Li Auto uses as background data.
Previously, the weekly insurance data were published every week by the blogger Zhu Yulong. However, he stopped sharing it in April. Fortunately, Li Auto, who also purchases the data from CMBI, took over. The data present the sales of new energy vehicles (NEVs), the Chinese term for BEV and PHEV. To be completely precise, it also includes hydrogen vehicles, but their sales are almost non-existent.
In week 33 (W33) of this year (August 14 – 20), BYD got the first spot by selling 48,300 vehicles, up 8.78% from the previous week (W32), when they sold 44,400 NEVs. BYD stopped production of internal combustion engine (ICE) vehicles in April last year, focusing only on NEVs since then. About half of their sales are PHEVs.
Tesla occupies the second spot with 13,900 sold electric vehicles in China, 100 less than the previous week when they sold 14,000 cars. Unlike BYD, Tesla doesn't sell any PHEVs.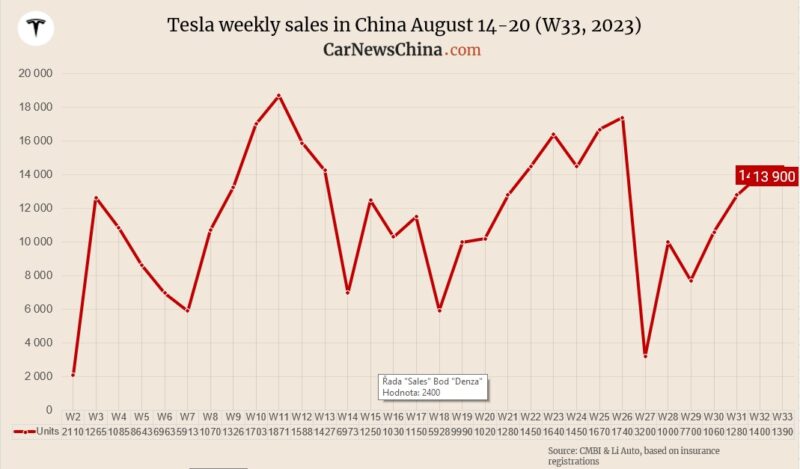 Nio had the most significant growth of 24.24%, selling 4,100 vehicles, 800 more than in previous week. In June, Nio launched the new generation of its best-selling car (ES6), and weekly sales culminated a month later in W30, when Nio delivered 5,400 units.
The new Nio ES6 contributed 50% of all Nio sales in July. By April, when the previous generation of ES6 ceased production, it contributed 40% of all Nio cumulative sales since it was founded. Previously, CEO and co-founder William Li said that if new generation ES6 didn't sell well, he would need to find a new job.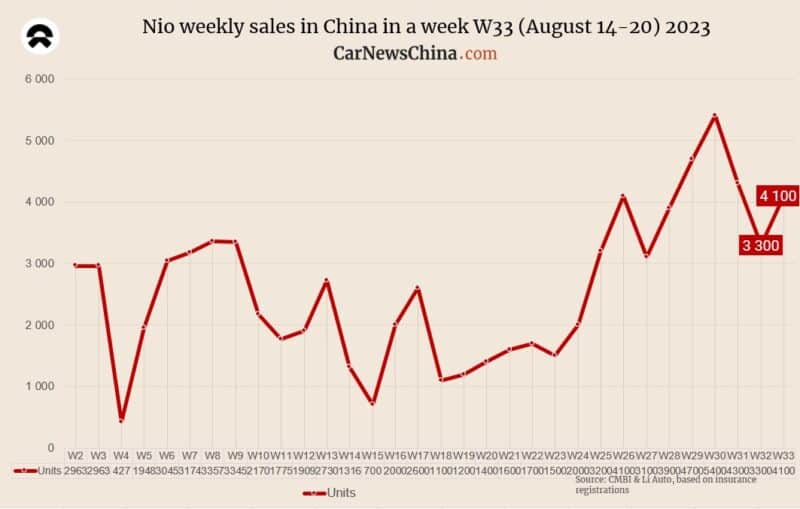 As Li Auto publishes the data, they also need a chart where they are on the first spot, so the graph below shows the "Chinese NEV startups" leaderboard. Li Auto leads it with 8000 sold cars, up 11% from week 32. It is worth noting Li Auto only sells range-extended vehicles (EREVs), which are EVs with ICE that are not connected to wheels and work as a power generator for the battery. Li Auto plans to launch the first all-electric vehicle next year.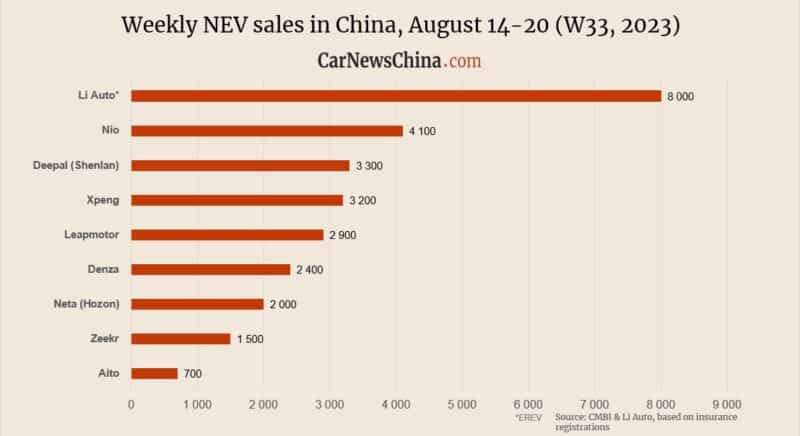 Xpeng sold 3,200 EVs in W33 in China, up 14.29% week-on-week. Xpeng recently launched its G6 SUV, which has excellent reviews and a friendly price tag and is a super important car for the Guangzhou-based automaker as the sales of their older models were struggling. Good to see G6 caught up.
The American-Chinese joint venture between GM and SAIC (SGMW) Wuling sold 7,100 EVs, 10.94% up WoW. The motor behind their sales is budget Wuling Bingo, a competitor to BYD Seagull.
Volkswagen ID. sales remained almost flat, with 3,300, 100 less than the previous week (W32), when they delivered 3,400 EVs. It is disappointing, as VW recently slashed the price of ID.3 by 16% to 119,900 yuan (16,500 USD) in China, but not surprising. ID. series has struggled in China, missing the already low sales target each year since delivery started in 2021.
Premium brand Zeekr from the Geely group sold 1,500 EVs, down 11.76%, and premium Denza from BYD sold 2,400 EVs, down 7.69%.
The dark horse here is GAC Aion. Despite not getting much attention outside China, they occupy the third spot with 10,400 sold EVs in W33, 5% up from the previous week. GAC is a state-owned automaker and a member of the Big 4 in China. Aion is their EV brand. They sell EVs exclusively in China. However, this week, GAC announced that Aion is becoming an international brand ready to export, with the first market being Thailand.