On September 1, BYD announced it had delivered 274,386 electric vehicles in August, making it the seventh consecutive month of growth. It is a historical record for the Shenzhen-based automaker and 57% up year on year.
145,627 sold vehicles were all-electric (BEV), and 128,459 were plugin hybrids (PHEV), which means 53% of cars BYD sold were BEVs and 46% PHEVs.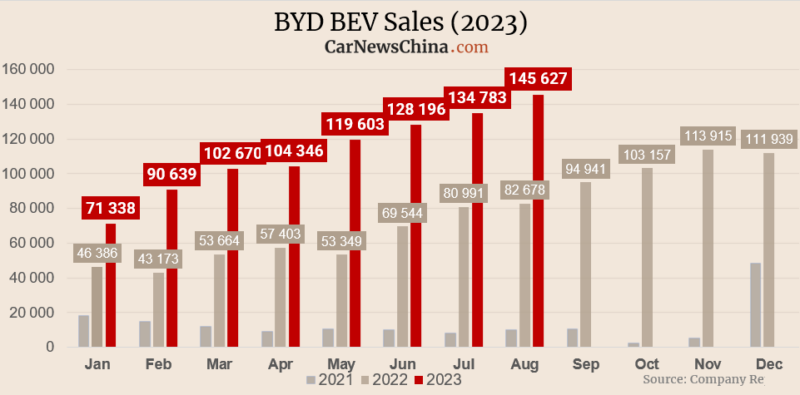 BYD also announced it exported 25,023 vehicles, more than double what it shipped two months ago in June. Yuan Plus (Atto 3 on some markets) is the main motor behind the growing export numbers.
BYD is pretty aggressive with its EV expansion, not stopping anywhere. It has already entered Europe (UK, Germany, Netherlands, Sweden), Latin America, where it recently launched BYD Seal in Brazil or delivered the first batch of 100 Yuan Plus to Mexico and the Middle East, where it became a sales champion in Israel and launched Atto 3 in the United Arab Emirates.
In Southeast Asia, Atto 3 held the title of best-selling EV for six consecutive months in Thailand. Atto 3 also got a sales champion title in New Zealand and sold pretty well in Australia.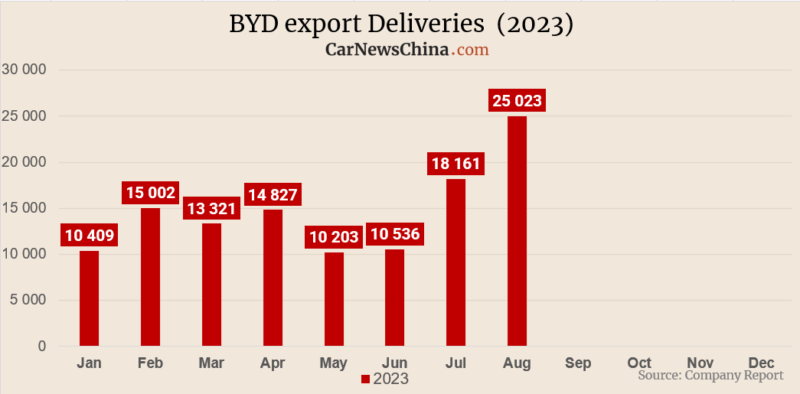 This year, the company delivered 1,792,184 vehicles, a YoY increase of 83%. BYD's goal is to sell 3 million cars in 2023, with the optimistic goal to reach 3.6 million vehicles.
Interestingly, BYD produced 155,967 BEVs, 10k more than it sold in August. As for PHEVs, it had 128,677 units and sold almost all of them, as you can see above.
Moreover, the company produced and sold 121 electric buses in August.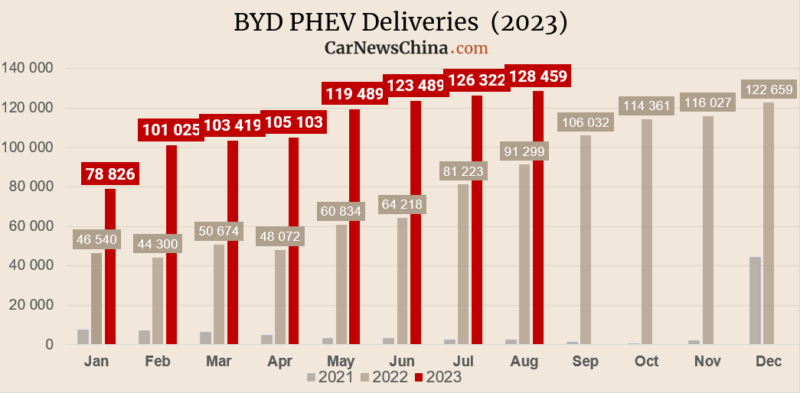 The battery installed capacity in August was about 13.928 GWh. The cumulative installed capacity for 2023 (January – August) was about 86.583 GWh.
In April last year, BYD ceased production of ICE vehicles, focusing only on New Energy Vehicles (NEVs), the Chinese government term for BEVs and PHEVs.