On September 12, Li Auto released weekly car sales data in China for week 36 of this year (September 4-10). The company doesn't specify the source of sales data, but apparently, they use insurance registration monitored by CMBI.
The sales are rounded and show sales of new energy vehicles (NEV), the Chinese government term for BEVs and PHEVs. To be completely precise, it also includes hydrogen vehicles (FCEVs), but their sales are almost non-existent.
In W36, out of all monitored NEV makers, Li Auto was the only one to grow. BYD's premium brand, Denza, was the only one to keep the same sales as last week (W35). All other manufacturers experienced a decrease.
BYD sold 45,900 cars, down 10% from the previous week. The data doesn't show the sales ratio of all-electric vehicles (BEV) vs. plugin hybrids (PHEVs). However, BYD's long-term ratio is about 50:50, BEV:PHEV. Recently, BYD started to sell slightly more BEVs than PHEVs. In August, BYD sold 274,386 NEVs, of which 145,627 were all-electric vehicles, so the ratio is 53% for BEVs and 47% for PHEVs.
BYD stopped production of internal combustion engine (ICE) vehicles in April last year, focusing only on NEVs
The second spot in W36 goes to Tesla, which sold 10,700 cars, down 9% from the previous week. Tesla sells only BEVs. Last week, the US automaker unveiled an updated Model 3 mid-size sedan, and the deliveries would kick in later in October.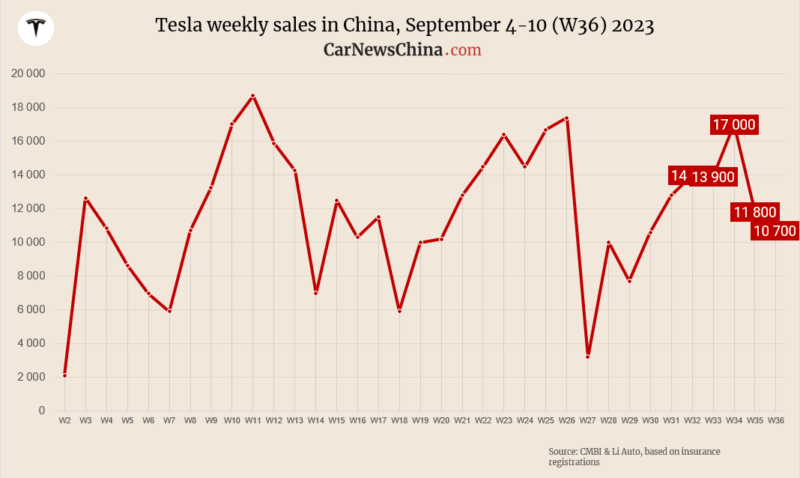 The third spot goes to Li Auto, which sold 8,500 cars, up 15% from the previous week. Li Auto sells only range-extended electric vehicles (EREVs), which are EVs with ICE as a power generator for the battery, not connected to wheels.
For more context, here is the leaderboard of the top ten NEV sellers and their price ranges.
| | | |
| --- | --- | --- |
| No. | NEV maker | Price range (yuan) |
| 1 | BYD | 73,800 – 342,800 |
| 2 | Tesla | 231,900 – 1,058,900 |
| 3 | Li Auto | 319,800 – 459,800 |
| 4 | GAC Aion | 119,800 – 469,600 |
| 5 | Wuling | 32,800 – 213,000 |
| 6 | Changan | 49,900 – 215,900 |
| 7 | Volkswagen ID. | 162,900 – 679,800 |
| 8 | Nio | 298,000 – 656,000 |
| 9 | Deepal | 145,900 – 699,990 |
| 10 | Geely | 29,900 – 253,700 |
Price range of TOP10 NEV brands lineup. Source: Autohome data
Looking at Chinese EV startup registrations in China, Nio registered 3,800 units, down 24% from the previous week. Most Nio sales are driven by the bestseller Nio ES6 SUV, which contributed 44% in August. ET5 mid-size sedan and its station wagon version ET5T (previously ET5 Touring) contributed 36%. The remaining 20% goes to the large flagship SUV ES8, EC7 coupe SUV, ET7 large sedan, ES7 and EC6 NT1. Two cars dominate Nio sales, contributing 80%.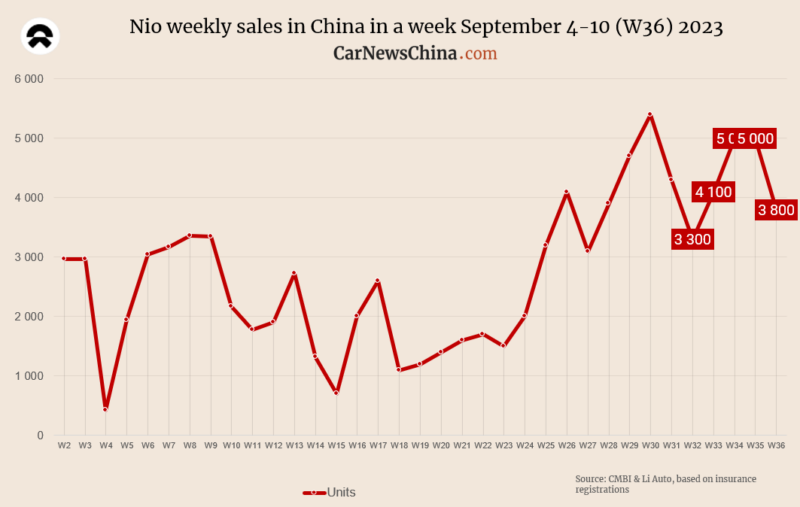 Nio will launch an updated EC6 coupe SUV on September 15 and finish its transition to the new NT2 platform for its whole lineup. According to company officials, at least under its main marque, Nio will not launch a new product in 2024. However, a new affordable brand, Alps, is expected to be unveiled next year.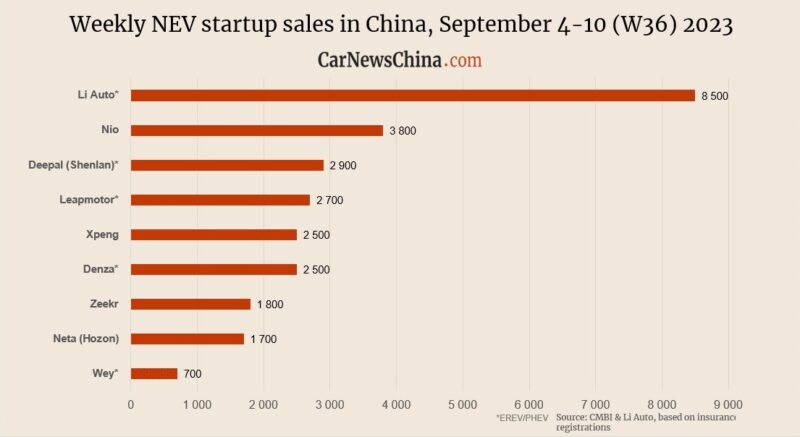 Deepal, a NEV brand under state-owned Changan, follows Nio. Deepal sells two cars, the SL03 sedan and S7 SUV, and registered 2,900 units in W36, down 9% WoW.
Leapmotor sold 2,700 cars, down 7% WoW. Leapmotor shined last week at the Munich IAA auto show, where they unveiled a new car, the C10. Like its predecessor, the C11, the new vehicle will offer all-electric and EREV versions. Leapmotor recently got lots of attention as they agreed with Volkswagen to supply its tech to their China-only brand, Jetta. The company announced a second global auto partner who will use their tech soon.