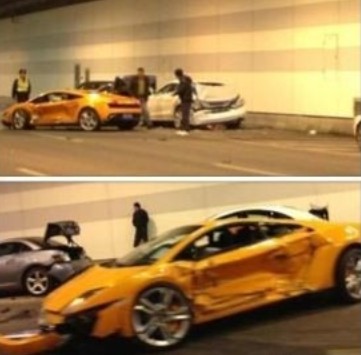 A Lamborghini Gallardo crashed badly in a tunnel up mountain to the north of Beijing. The front and rear shows heavy damage. There were two other cars involved in the accident; a Mercedes-Benz SLK and wants seems to be a Mercedes-Benz CLS. Fast cars, a race gone wrong…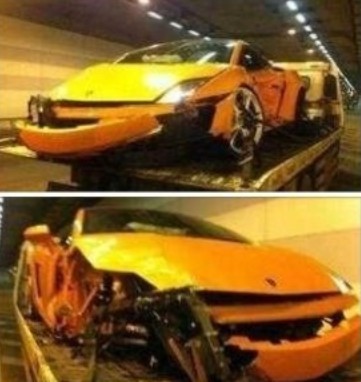 The right side of the Gallardo is simply gone, vanished in the bang. The rear of the car where the engine sits loox undamaged so the supercar can probably be repaired, but it won't be cheap. This yellow Lambo is the second Gallardo we see crashing in a very short time, only last week we saw an orange example hitting trees.
The rest of our China-Gallardo Collection™: orange with Mac, tree-crash, matte black, license plate, pink, Balboni, LP550-2 GZ8 Edizione Limitata, : shiny green, chrome, Reventon, crash, GZ8 Edizione Limitata, shiny-blue, matte-black & orange, water melon, red wheels,  HK20, pink, matte-black, gold, pink, another pink, lime-green, in gold, one purple, another purple, Gold Edition, and a Spyder Performante.