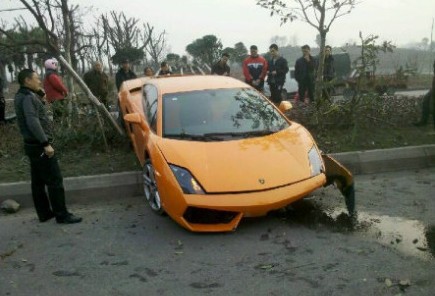 An orange Lamborghini Gallardo crashed into trees on a rainy road in the countryside near the great city of Neijiang in Sichuan Province. The Lambo was launched into the bushes, hit several trees, spun, and finally came to a stop. Fortunately nobody got seriously injured.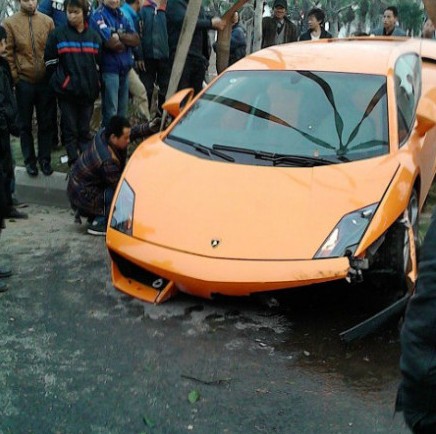 Air bags did not deploy. Lambo's front heavily damaged but repairable.  Bodywork needs to be replaced, which will cost a lotta money. The road seems rather rural, wet and dirty. A dangerous place to go fast, 4×4 or not.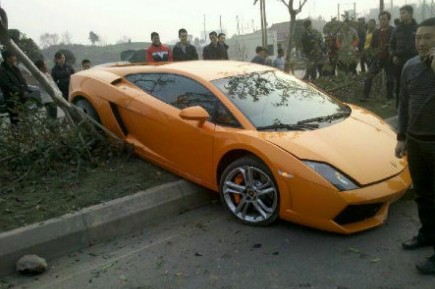 Crashed Lambo attracting lots of locals who will tell the story of that crashed supercar to their children who will tell it to their children and so on for many generations to come. Not much normally happens, in the countryside in China.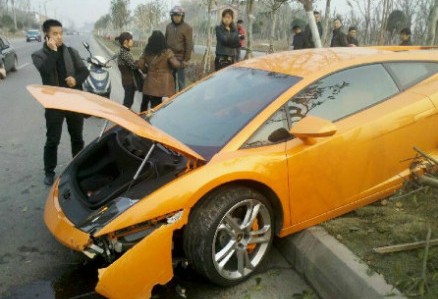 Man in black far too hip for the area, he must be the owner, calling the babe he will be late.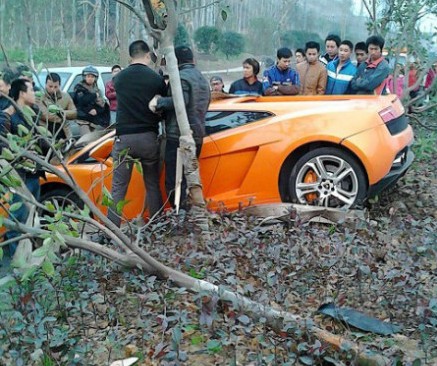 Rear sits deep in the Sichuan mud but seems undamaged. Via: Weibo.
Much more Lamborghini Gallardo in our famous collection: matte black, license plate, pink, Balboni, LP550-2 GZ8 Edizione Limitata, : shiny green, chrome, Reventon, crash, GZ8 Edizione Limitata, shiny-blue, matte-black & orange, water melon, red wheels,  HK20, pink, matte-black, gold, pink, another pink, lime-green, in gold, one purple, another purple, Gold Edition, and a Spyder Performante.