An extremely speedy Koenigsegg Agera R, painted in trende matte blue, seen arriving on Shanghai Pudong Airport on Saturday. The blue Agera R is brand new, straight from the factory on an airplane to Shanghai City to a no doubt very happy customer. The Agera R is the fastest not-one-off Koenigsegg, the mighty 5.0 V8 poops out a stinky 1140hp and 1200nm.

Very beautiful in blue! China is fast becoming the single biggest market for Koenigsegg. Wealthy Chinese car buyers are not at all afraid of the astronomical prices, they are instead willing to pay even more if their Koenigsegg is just a bit more special than all the others. Koenigsegg knows where the money is and splashes out one China-special after the other. So far we saw: Agera Zijin, green Agera S, the upcoming One:1, and the infamous R BLT.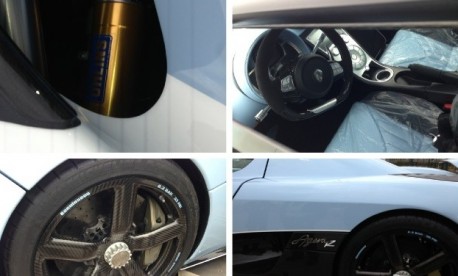 Black alloys really good! Flat-bottomed steering wheels were once for supercars only. No more so, even cheap Chinese sedans got those now (Guangzhou Auto GA3).