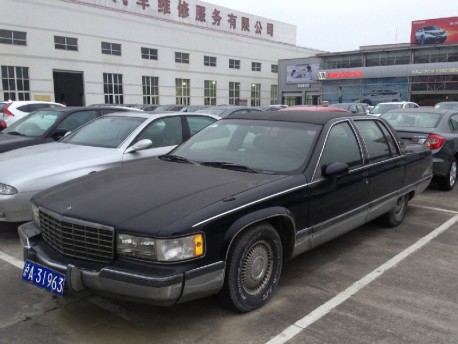 An almost perfect Cadillac Fleetwood in brown with a bit of black, seen in the great city of Shanghai by reader Chiprdan, thank you for the pictures! New tires do the old Caddy a surprisingly lotta sporty good. Not quite race car, but fast for a Caddy. Complicated-to-make-and-to-clean alloys are period, and they need a good clean-up to shine again.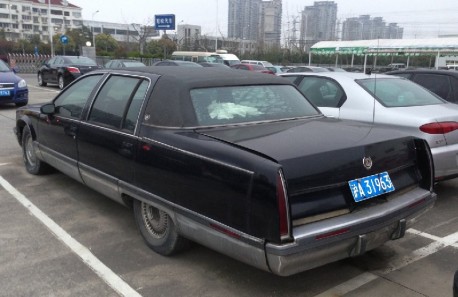 Wadda beauty! The 8th generation Cadillac Fleetwood was made from 1993 until 1996 and was powered by a 260hp 5.7 liter V8. An icon of the 1990's indeed, showing a brilliant car doesn't need too much power to shine; the Fleetwood was all about 'class' which it had by the boatloads. Come with that today with those childish 500+ horsepower Cadillacs, which are ugly to the max and have no idea what the are, trying to look and be like a BMW, therewith forgetting the brand's heritage completely…
We have seen more than a many old Caddy's and related automobiles around. Here is our collection: Buick Roadmaster Limited, Fleetwood Brougham in black, wedding car, blue, Buick Roadmaster, super stretched, Fleetwood Brougham and another black Fleetwood.