An Aston Martin Rapide parked in front of a Ferrari dealer in downtown Shenzhen, seen by me when I was in the area earlier this month. The Rapide was brand new and apparently very lost, nobody was paying any attention to the poor car, especially not with a bunch of Ferrari supercars nearby.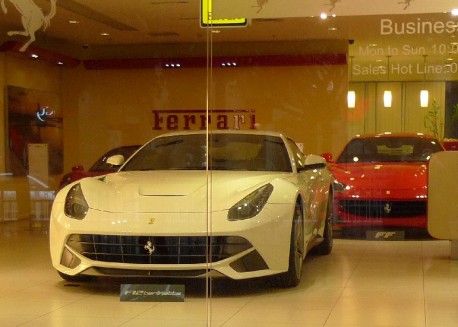 An impressive stock; Ferrari F12berlinetta, Ferrari 458 Italia, a Ferrari FF, a new Maserati Quatreporte and a Maserati GranTurismo.
The F12berlinetta is still a very rare car in China, this is only the sixth we see, after these: on the move in Wenzhou, a blue example in Xiamen, a dusty car in Wuhan, a red car in Guangzhou that later crashed, a black car in Chengdu, and a truck full of the things on a highway near Shanghai.