For quick weddings only. Here we have a white Bugatti Veyron wedding car, seen late at night in front of an expensive hotel in the great city of Shanghai. The wedding being over, the newly weds upstairs in their room having tea, and the mighty Buug guarding the premises, guarded by three traffic cones and some men in black.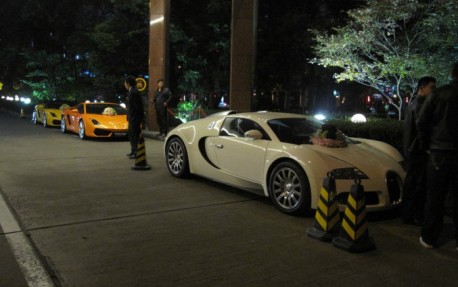 The Veyron with a festive wedding bouquet on the bonnet. During a Chinese wedding the bride and groom drive by themselves from the house of the bride's parents to a hotel for the wedding ceremony. The car of choice is always as expensive as possible (check Porsche check SLS) to impress friends, family, and farmers who happen to be on the same road.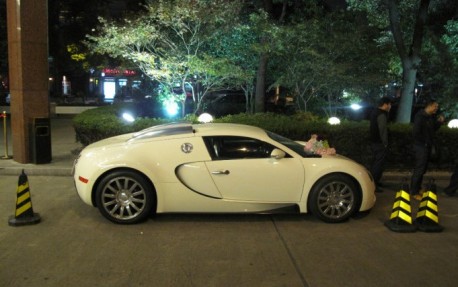 This white Bugatti Veyron however is by far the most expensive wedding car we have seen in China so far. Price when new started at 24.5 millon yuan or 3.88 million USD.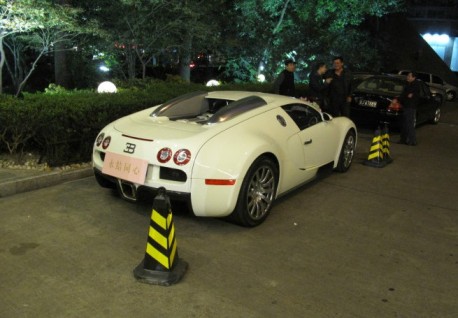 Bugatti launched two China limited editions of the Veyron that were even more expensive: Bugatti Veyron Super Sport Edition Merveilleux, spotted, Shanghai, and the Bugatti Veyron Grand Sport Special Edition. Last week's Shanghai Auto Show saw the world-debut of the very limited Bugatti Veyron Grand Sport Vitesse WRC. Only 8 will be produced and we heard 3 will come to China, for 28.8 million yuan a piece.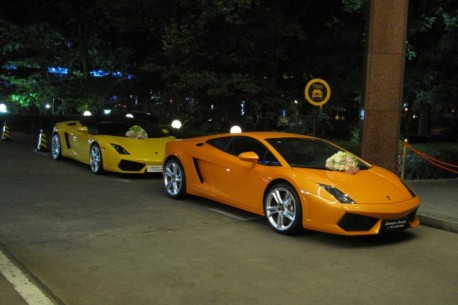 The secondary wedding cars, usually driven by the best maid and the best man, are not unimpressive either. Two fine Lamborghini Gallardii, one open and one closed, waiting the night go by behind the Bugatti.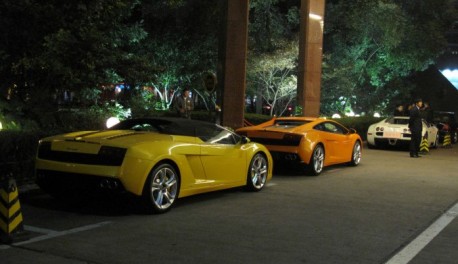 May it be a happy marriage…