Been in Beidaihe in the weekend, a small beach city about 300 km east of Beijing. Been on the beach, a short walk from the nearby hotel. Others came by car, parked it on the beach. Beach = sand = off-road -> need big off road cars. On first a majestic matte black Toyota Tundra with tiny wheels and matte black alloys, towing a ridiculously small flatbed for jet ski, which was at sea somewhere.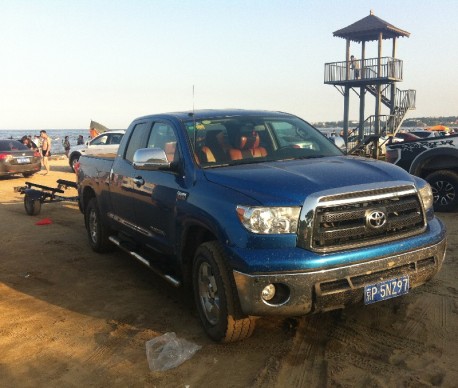 Another Tundra in blue, coloring nicely with sky and sea. The blue Tundra had a red leather interior. The made-in-America Toyota Tundra is not officially imported into China, it comes dealer-to-dealer via the gray market, mostly from dealers on the U.S. West Coast.
Both Tundraas in Beidaihe were powered by the 5.7 liter V8 with a TRD supercharger bolted on, good for a beach burning 504hp and 750nm. Current price for a Tundra in China starts around 600.000 yuan or 97.000 USD. Earlier on we met a real off-roader and a patriot.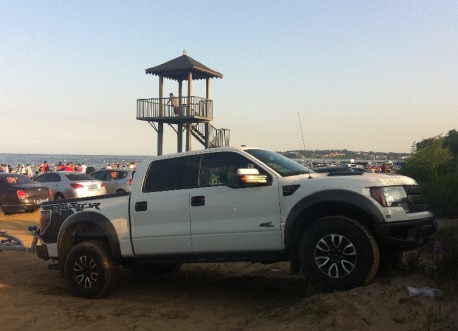 A white Ford Raptor Crew Cab. There was another Raptor around, in blue, but the tattooed owner looked at me like a Chinese mafia guy would look at me, so I shitted out. The white Raptor had a girl inside, on the back bench, all alone. I didn't dare to shoot because Tattoo Wang was still around. The Raptor's engine wasn't running so there was no airco so the girl much have been very sweaty which is probably how Mafia Mang wanted her to be.
The Raptor is not officially imported in China either, just like the Tundra. And again just like, it mostly arrives gray via the West Coast. Current price hovers around 550.000 yuan or 89.000 USD. Price has gone down very fast recently, because many more Raptors arrive. A few years back when supply was tight a Raptor could fetch a million. The Raptor is powered by a mighty 6.2 liter V8 that poops out 411hp and 590nm.
Earlier on we met a many: police car, crew-cab, in red, with a hot babe, with army babes, and the famous JAC. When I drove back to Beijing yesterday I was overtaken at very high speed by yet another Raptor, a red two-door with very shiny alloys. Too fast; no shot.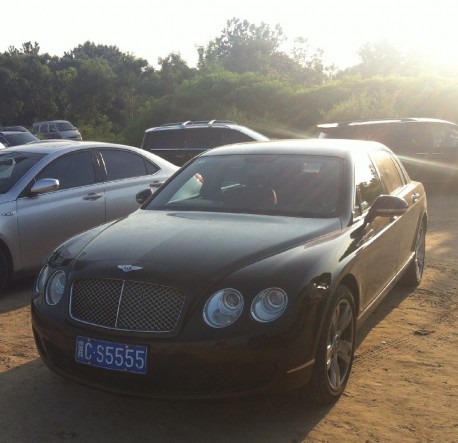 Bentley was popular for the beach as well with two examples parked on close proximity. The giant Flying Spur is a truck in all-but its ride height. This black example came with a special license plate. Five ain't no very lucky number in China, so it must have a special meaning for the owner. Maybe he got four other Bentleys, or five wives.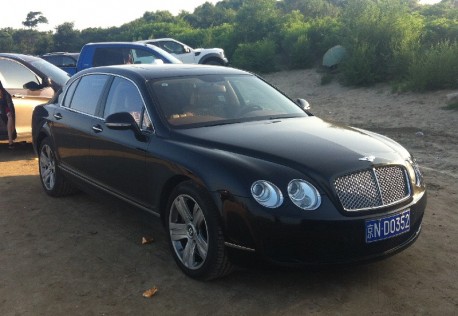 Alloys bog standard on both cars. Boring. The Flying Spur is officially imported into China, and more popular than the GT. An SUV would even be more popular, but the Germans keep China waiting. Price starts at 3.9 million yuan or 634.000 USD.
Time now for our Famous China-Bentley Flying Spur Collection™: crash, five-some with Agera R, dual tone, crash, Mansory, Speed for China, and the Linley for Bentley.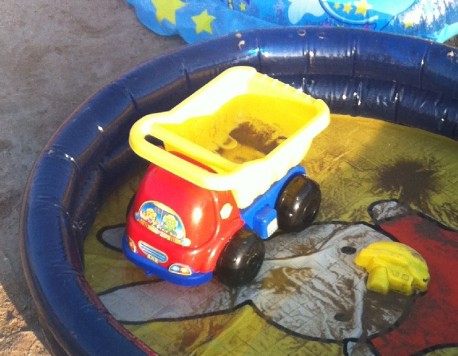 All fine cars for on the beach indeed, but the Biggest & Baddest was my son's new super truck.