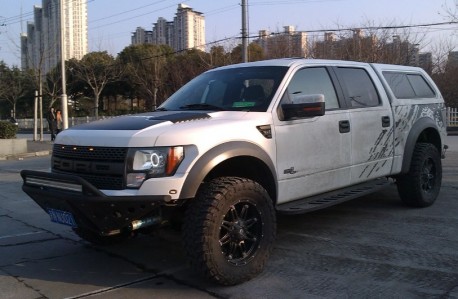 Fantastic photo's of a badass Ford F-150 Raptor Crew Cab, seen in the Changning Distric of the great city of Shanghai by reader 'Ho Li', thank you for the pictures! Interestingly the massive Raptor has Beijing license plates, which very likely means it drove the whole 1300 kilometer from the capital to Shanghai.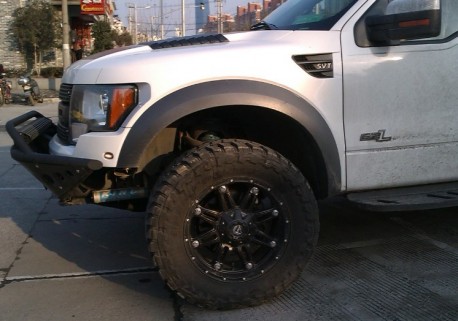 Up front an interesting construction with a bull bar that seems movable. The Raptor is powered by a mighty 6.2 liter V8 that poops out 411hp and 590nm. Top speed on flat highways, such as between Beijing and Shanghai, is about 200km/h. The Crew Cab is the biggest variant of the Raptor, it can seat six and a farm.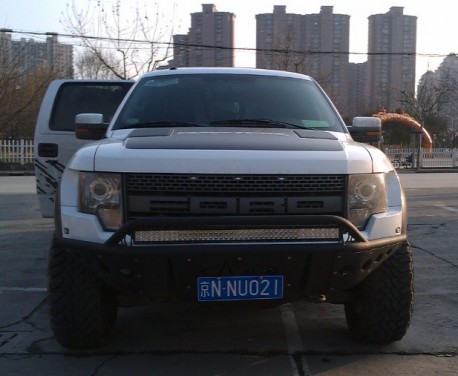 Ford does not officially sell the Raptor in China, but the gray market does, with a lot and for a lot of money. The Raptor costs anywhere between 650.000 and a million yuan, and that is q05.000 to 160.000 USD. A big mark up for the gray boys! We told Detroit about this but nothing seems to happen yet, and it is very much the same story with the Ford Mustang. Wealthy Chinese car buyers really want these cars, but Ford seems to be blind.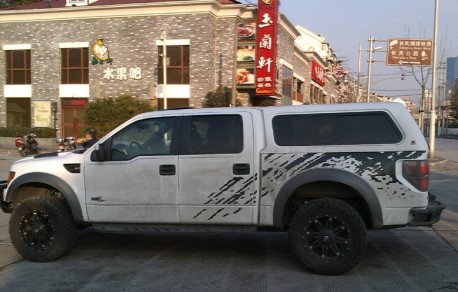 A few other Ford Raptorii we met in China: in red, with a hot babe, with army babes, and the famous JAC.