A very punkyfunky Volkswagen Golf GTI, seen just ouside the Third Ring Road in east Beijing. The good Golf is wrapped in Pink and black, and further sexed up by Pink bars in the grille, a black Volkswagen logo, a Pink GTI badge, black headlights, black mirrors, and huge racy tires with special shaped alloys.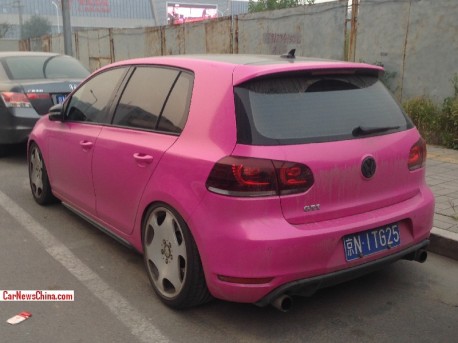 Volkswagen logo in matte black on the back. The license plate however is most the most cool thing on this car. ITG reads for GTI, 25 for 52, although I am not sure what that is all about. The Volkswagen Golf GTI is made in China by the FAW-Volkswagen joint venture, price starts at 235.800 yuan.
Time now, for our Famous China-Volkswagen Golf Collection™: MK2, shiny orange, matte black & matte purple, not a cabriolet, lowrider, MK4 Cabrio, matte black, pink-alloy Cabrio, pimped-red Golf, matte orange Golf, lowrider Golf, pink Golf,  blue-pink Golf, Citi Golf, pantzer Golf, Bora-Golf.