Today in China Car Girls three very pretty girls and a Mercedes-Benz SLS AMG super car, trying to lure innocent rich people into buying very expensive apartments in the great city of Shenzhen in Guangdong Province. The girls are dressed in beach attire, and not much more. The Mercedes-Benz SLS is painted in red.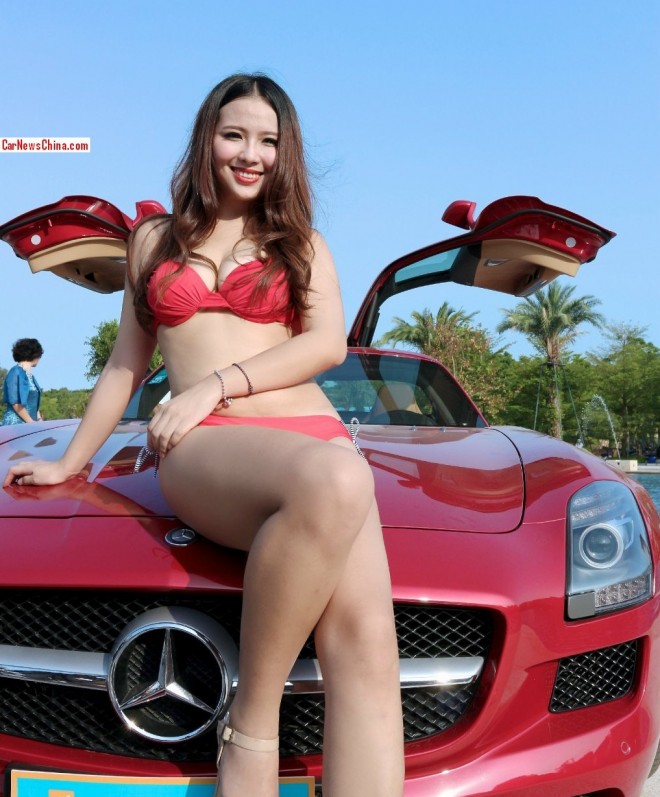 Using super cars to sell houses is pretty common in China, especially in second and third tier cities. Earlier on we saw a Mitsuoka Orochi in Zigong, Ferrari Enzo in Putian, a Bentley Mulsanne & Gallardo & Hummer on a red carpet in Wuhan. Super cars are also used to promote all sorts of other businesses, like karaoke bars and wine shops.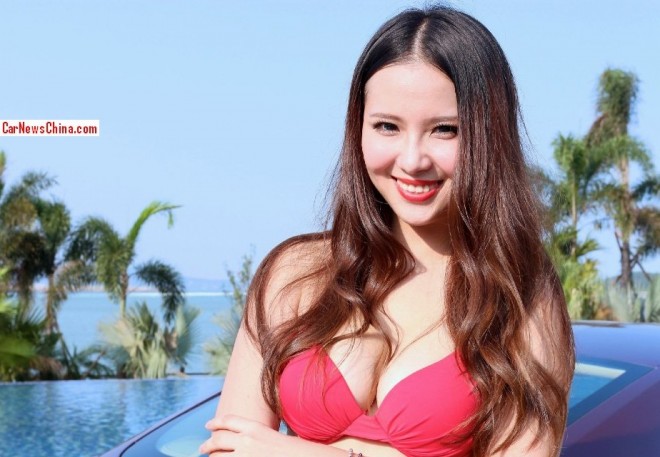 She knows all about the piping. And such a sweet smile. One might think it is only this real estate company combining tits with the SLS. Wrong, Mercedes does it too, and shamelessly. Because of all that, the Mercedes-Benz SLS AMG is a very popular super car in China. Price starts at 3.62 million yuan or 590.000 USD. But power! The mighty 6.8 liter V8 poops out 560hp and 650nm, top speed is 317km/h and 0-100 is gone in 3.8 seconds.
Time now, for our Famous China-SLS AMG Collection™: license (AMG991), with Aston, yellow or green, gold, with babe on bonnet, purple, pink, bag trousers, pink-silver, bling (scroll down), crash, and a  Mansory Cormeum.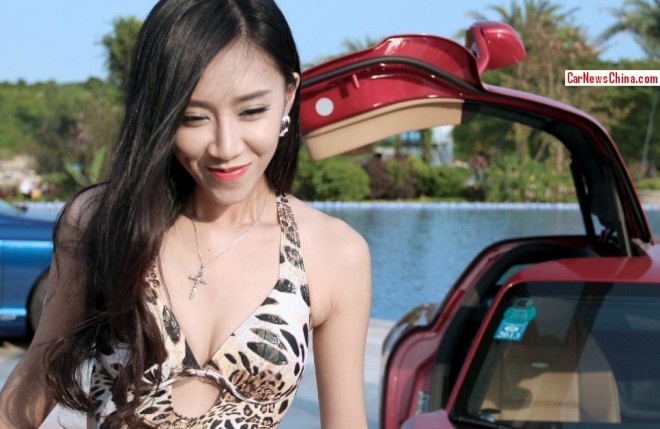 Second girl is religious. Or is she… Look at that smile!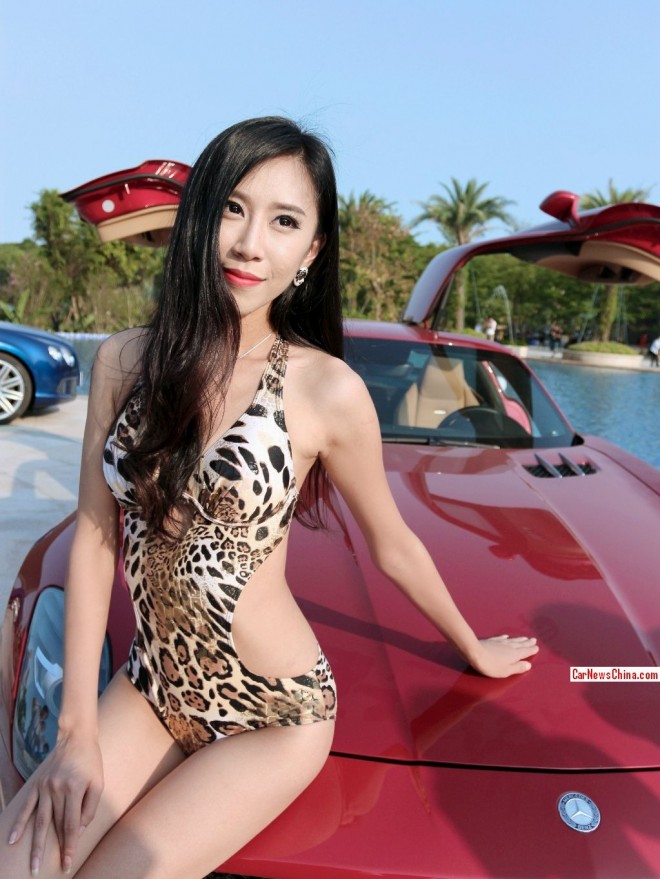 She also tiger.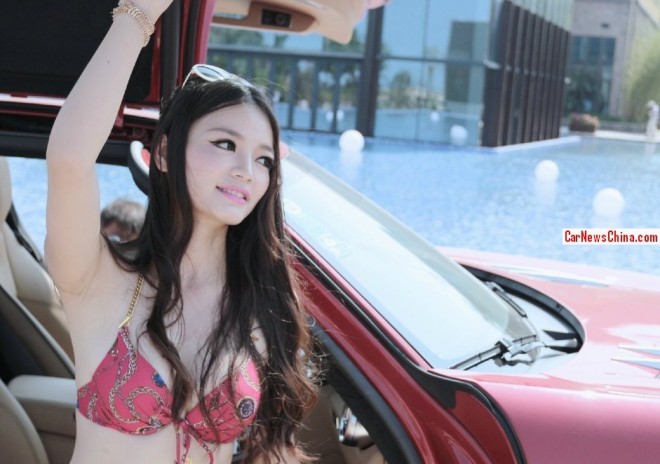 Third girl somehow seems out of place. Sh seems inteligent. However, color of her bikini matches perfectly with Benz.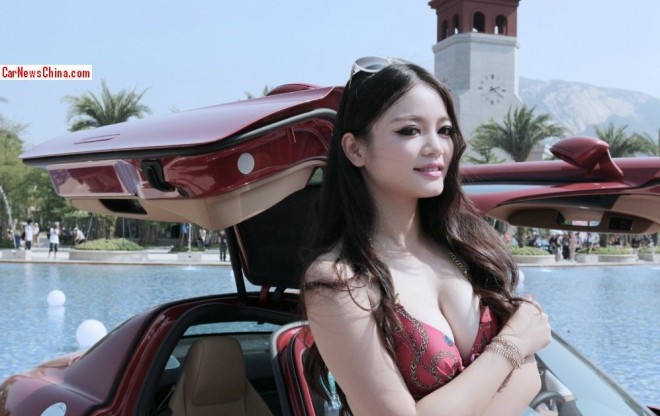 Brown leather.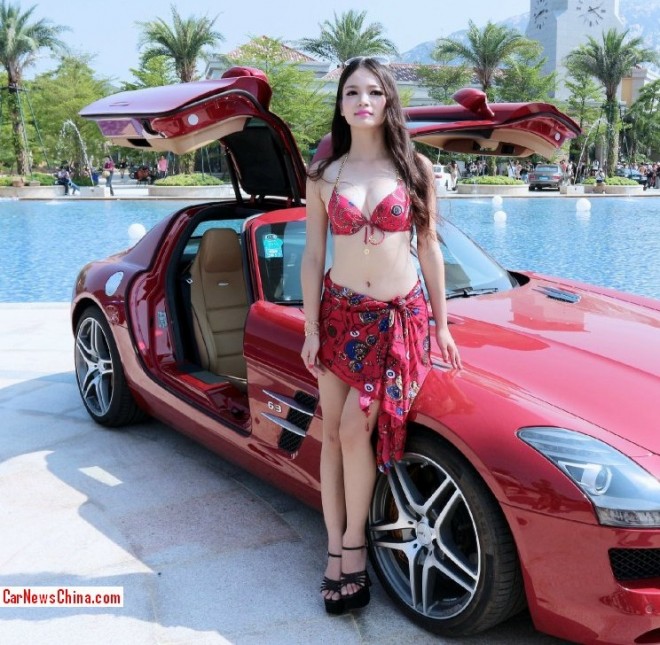 Brake pads fit with bikini too. AMG yeah baby.