A big crash in southwest Beijing. A Toyota Corolla hit a Rolls-Royce Ghost full on the right-rear wheel. The accident happened on a zebra crossing in front of a hotel. The Roller has Shanghai license plates, indicating it had a long ride behind. Note hood ornament in gold. And we got a GIF from a security cam:
The Ghost is double at fault. It should wait for ongoing traffic and it rides straight over mentioned zebra crossing. The Toyota, at about 80km/h, hits the Rolls quite hard.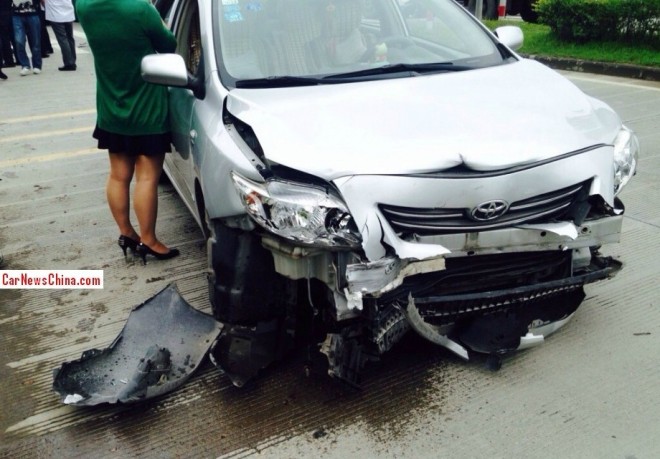 The driver of the Corolla, a woman, wearing high heeled shoes, a short black skirt, and a green vest. Damage doesn't seem that bad. Toyota's are strong…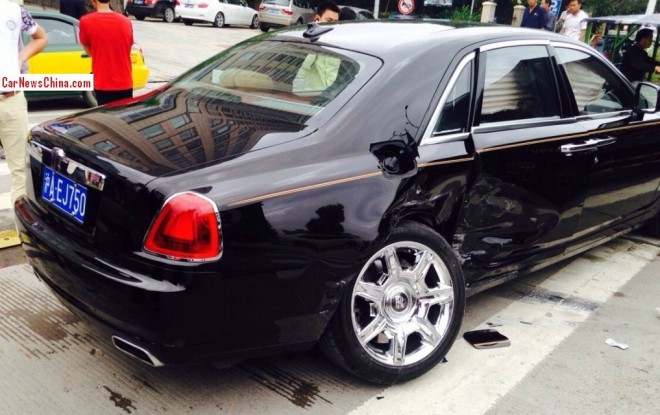 … but Rollers are not. Suspension seems broken. Door is gone. Damage probably structural. In that case, this Ghost is dead.
The Ghost is a very popular super sedan in China, price starts at 4.19 million yuan or 685.000 USD.Power comes from a twin-turbocharged 6.6 liter V12 with 570hp and 780nm. Time now, for our Famous China-Rolls-Royce Ghost Collection®: almost-grounded, license, crash, Canton Glory, Royal Horse, Art Deco, lucky, kareoke, bit bling, cake, dual tone, Six Senses, crash, crash, crash, crash, EWB and a special China Edition.