A fantastic Alfa Romeo 166, Spotted in China in the Beijing Tuning Street, looking absolutely stunning in Alfa Red. As it happens, I was just there when the vehicle arrived, its beautiful lines playing with the early summer sun. And out came a Chinese man looking so incredible extremely utterly cool, wearing black trousers an all, that I almost disappeared.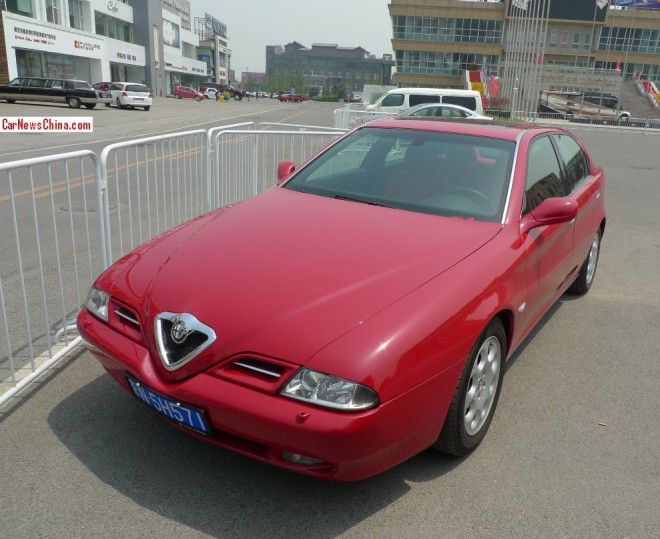 Almost, that is. Note Cadillac Brougham stretched limousine on the left just above our logo. The Alfa Romeo 166 was manufactured from 1998 until 2007 with a facelift in 2003, this beauty is a pre-facelifted car. The 166 was never officially exported to China so how this Italian super sedan ended up in the capital is somewhat of a mystery. It is the second 166 we see in Beijing, after a black example in Sanlitun.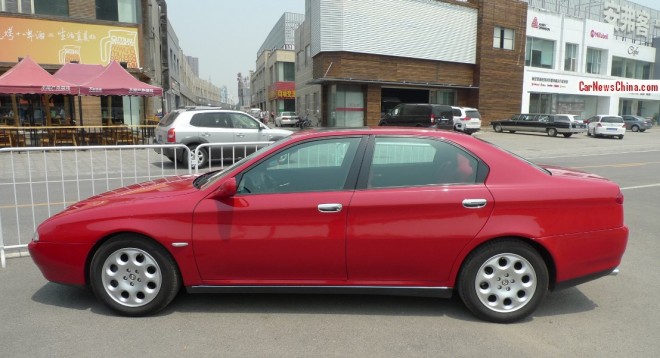 Chromed doorhandles are just perfect with red body and black window frames. Alloys are original and typical Alfa for the period. The interior was clad completely in red leather! I didn't dare to take a picture, fearing the alarm might set off making that cool man coming back for me. The 166 was available with various engines including the famous 2.0 Twin Spark four-cylinder, a 2.0 V6, a 2.5 liter V6, a 3.0 liter V6, and a 3.2 V6. This particular example had a deep growling thrilling sound, so I guess it has one of the larger V6 engines under the bonnet.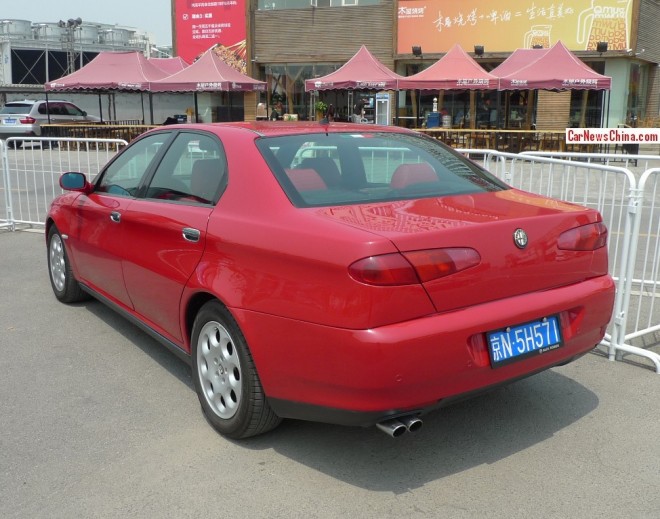 While the 166 is virtually unknown in China is has a very strong connection with this country nevertheless. When production ended in 2007 Fiat sold the platform and the 2.0 Twin Spark engine to Guangzhou Auto. The Chinese got to work and used the platform for the 2010 Trumchi (facelifted!) and the 2012 Trumpchi GS5 SUV. Both vehicles are still available with the Alfa 2.0 Twin Spark, now manufactured in China.
In the meantime Guangzhou Auto and Fiat had become good riends and in 2009 they agreed to form a joint venture which currently makes the Fiat Viaggio and the Fiat Ottimo, and will make many more Fiat-branded cars for the Chinese market.
Sadly, there are no plans to make any Alfa's in China. Alfa Romeo currently doesn't sell any cars here. The brand launched with much fanfare on the 2011 Guangzhou Auto Show but didn't follow up with any actual cars. Sounds familiar..? But there is a chance, but a small chance, that China will get the 4C somehow and sometime in the future. Maybe.