A very speedy Volkswagen Golf GTI, Spotted in China on a car market just outside the north-eastern section of the Fourth Ring Road in Beijing. The good Volkswagen was painted in virgin white and further porned up with lowered suspension for low riding, a hefty body kit, darkened windows, a partially black grille, a black Volkswagen logo, black mirrors, a black rood, and racy tires with black 7-spoke alloys with red brake pads.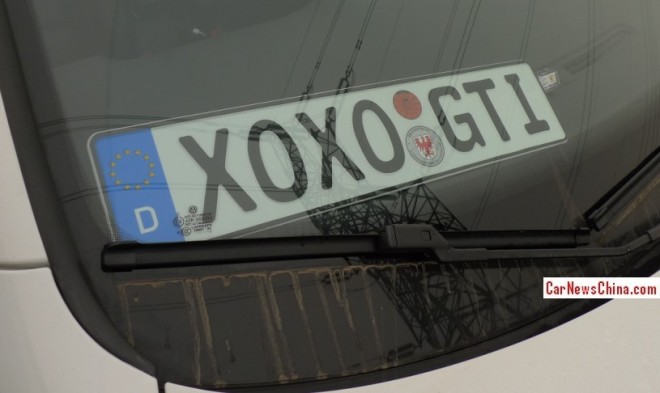 Fake German license plate reads XOXO GTI, real license plate reads MOXO2.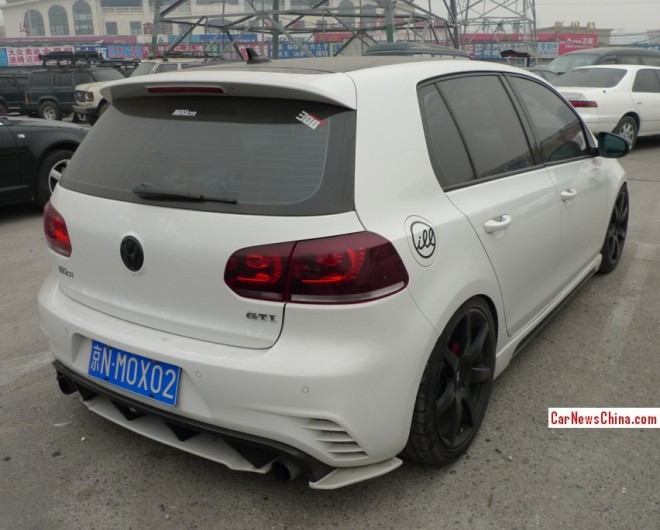 Much more fun & fuzz at the back with a rear wing on the window and a huge diffuser with integrated exhaust pipes down below, and some wings and vents. Volkswagen logo in black again. Window frames all in black too for a maximum contract with white body work.
The Volkswagen Golf 6, including the GTI, was made in China by the FAW-Volkswagen joint venture and has since been replaced by Golf number 7. The GTI was powered by a 2.0 turbocharged four-cylinder petrol engine with 210 hp, but we bet this Beijing car has a few horses more.
Time now, for our Famous China-Volkswagen Golf Collection™: asshole, psychedelic, Pink, MK2, shiny orange, matte black & matte purple, not a cabriolet, lowrider, MK4 Cabrio, matte black, pink-alloy Cabrio, pimped-red Golf, matte orange Golf, lowrider Golf, pink Golf,  blue-pink Golf, Citi Golf, pantzer Golf, Bora-Golf.