A very hip BYD F0 hatchback, Spotted in China on the Beijing Asian Games Village car market in Beijing. The good BYD is wrapped in an eye smoothing matte Pink wrap, and further sexed up with darkened windows, racy tires, and sporty nine-spoke white alloys that are in urgent need of a clean-up.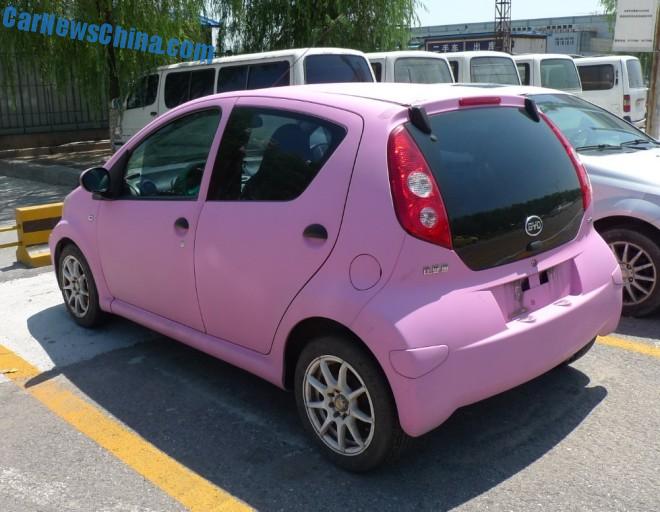 The matte Pink wrap is of very good quality and neatly covers the mirrors and the bumpers. The door handles however are left in black for extra contrast, and that works very well in this particular case. The vehicle was for sale for a hefty 25.000 yuan, including the white alloys. Not a deal for me, that day.
The BYD F0 was launched on the China car market in early 2009 and it just received its first facelift.  Pinky is a pre-facelifted car. Current price starts at 36.900 yuan and ends at 46.900 yuan, making the F0 a bargain mini car on the Chinese auto market. Power comes from a 1.0 liter 3-cylinder petrol engine with 70hp and 90nm. Top speed is 151km/h.