A brutish Mercedes-Benz G55 AMG, Spotted in China in the rain in the Lido area in Beijing. The great G is painted in white and buzzed up with black windows, blue bumpers, blue wheel arches, blue mirrors, a blue front-window frame, a blue grille, blue headlight frames, a blue window, and blue 5-spoke alloys, all made even more pretty by orange lining on the blue bonnet and blue wheel arches.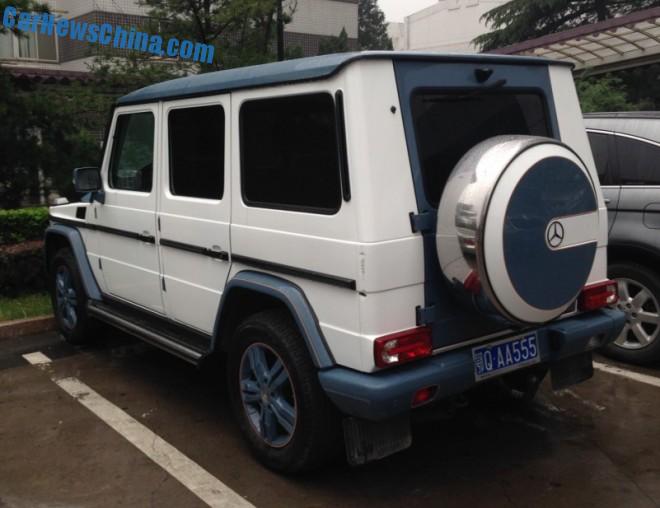 More blue at the back with a Blue door and partly blue spare wheel cover. But even better is the licnese plate, blue license plate, reading AA555, and that indeed is one of the best license plates we have seen on a Benz G in China.
The mighty G is very popular in China, especially the AMG powered versions. When new the G55 did a staggering 2.1 million yuan or 340.000 USD. Lotta money but lotta vehicle. Power comes from a 5.5 liter supercharged V8 with 500hp and 700nm. White & Blue Speed!
Time now for our Famous China-Mercedes-Benz G-Class Collection™: ART Cabrio, silver & black, license (N9G55), Kleemann, license (40G55), matte black, Pink, black & Pink,  ACE limo, matte black, SWB in white, crash, and ART Streetline.