A very flashy Mazda MX5 Miata sporty car, Spotted in China in the faraway Dongba area in east Beijing. The good Maz' is wrapped in an eye pleasing matte Pink wrap, and further dressed up with darkened side windows and a Pink dashboard. I was waiting for the traffic light on the other side of the road, and wondering about the babe driving this MX5…
… but it was a man! What a hero. We pay respect. The wrap is of a top quality and neatly applied over the bumpers, mirrors, and door handles, the only trio we consider exciting. The Mazda MX5 Miata is a very rare car in China, as the market considers it far too small and underpowered for the money. There is only one version available, fully specced and powered by the 158hp 2.0 petrol. Price is 279.000 yuan or 44.000 USD. Wrap of this kind will add another 10.000 yuan.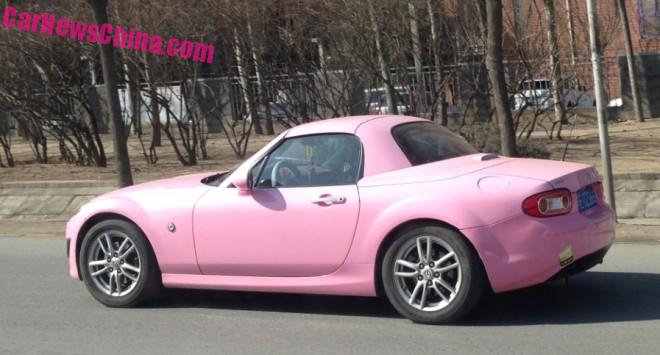 Alloys are bog standard. Too bad. Black or gold would have been much better for contrast with body. This fine Pinky  is actually the very first Mazda MX5 Miata we have on this site, but we did see one Miata-based Mitsuoka Himiko elsewhere in the capital.