Spy Shots showing the final final production version of the Beijing Auto BJ80, looking very rough 'n ready in black with shiny silver mirrors and silver six spoke alloys. The production-ready BJ80 debuted in April on the Shanghai Auto Show, launch on the Chinese car market is scheduled for Q4.
The BJ80 debuted in concept form on the 2014 Beijing Auto Show but development started way back in 2011. There is a civilian version and various military versions, although the exact designations have changed a lot over time. The latest developments indicate that this civilian version will indeed be called BJ80C, and the military version BJ80J.
Design of the BJ80 is inspired by the Mercedes-Benz G-Class. Beijing Auto and Daimler-Benz are very close; they have the successful Beijing-Benz joint venture and in 2013 Daimler bought a 12% stake in BAIC, the parent company of the Beijing Auto brand.
Persistent rumors say Daimler was very unhappy with the BJ80 and tried to convince BAIC to kill it, which the main reason the BJ80 is still not on the market, according to the same rumors. It now appears parties have reaches some sort of compromise, and the BJ80C is a go.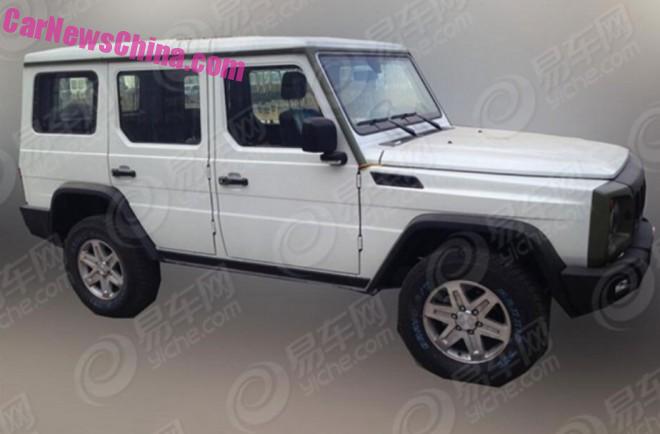 This white example appears to be a basic variant, without all the chrome and with a simple black front.
New news on the engines, as usual: up until now we heard that the BJ80C was going to be available with a 2.4 liter four-cylinder petrol and a 4.0 six-cylinder petrol. The latest reports in Chinese media however indicate the B80C will get a Saab-developed 250hp  2.3 turbo under the bonnet.
Beijing Auto Industrial Corporation (BAIC), the owner of the Beijng Auto brand, bought the rights to the Saab 2.0 turbo and Saab 2.3 turbo from GM in 2009, along with the rights to the platforms of the Saab 9-3 and first generation Saab 9-5. The 2.3 turbo also serves in the Senova D70 and will serve in the Beijing Auto BJ40.
Size of the BJ80C: 4780/1850/1975, and wheelbase is 2800.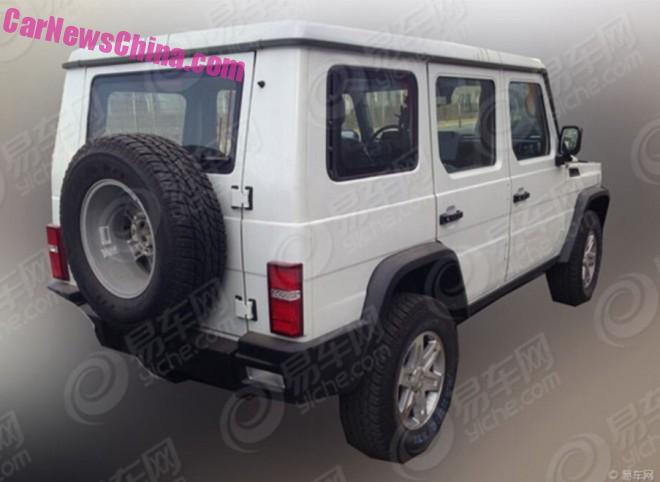 Spare wheel uncovered on the simpleton, but taillights and alloys are the same.