A very sweet Beijing-Jeep Cherokee emergency medical vehicle, Spotted in China in the the faraway eastern suburbs of Beijing. The vehicle had a red cross on the bonnet, on the front doors, and two on the back. On the roof an impressive unit for the warning-light and siren. Behind the windshield a white sign writing Jiuhu (救护), which means 'administer first aid' or 'rescue'. A jiuhuche (救护车) is an ambulance.
Siren in the middle, blue flash lights on each side.
The Jeep Cherokee XJ was manufactured in China from 1984 until 2009 by Beijing-Jeep, a joint venture between the Beijing Auto Industry Corporation (BAIC) and AMC/Chrysler.
When Chrysler pulled out of the joint venture in 2009 Beijing Auto decided to continue production of the Cherokee alone under the Beijing Auto Works brand name, and production is still going on today.
The China-made variant of the new Fiat-developed Jeep Cherokee will be launched in October, manufactured by the Guangzhou-Fiat joint venture.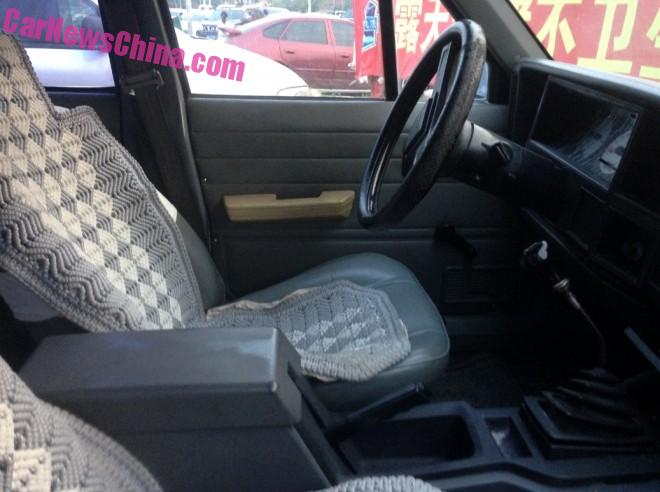 This particular car is an early 1990's example with the 'Super Space' raised roof. The interior was in good shape and bog standard bar for the fancy seat covers. Most China-made XJ Cherokee's were rear-wheel drive powered by the 2.4 liter four, and this emergency vehicle is one of those.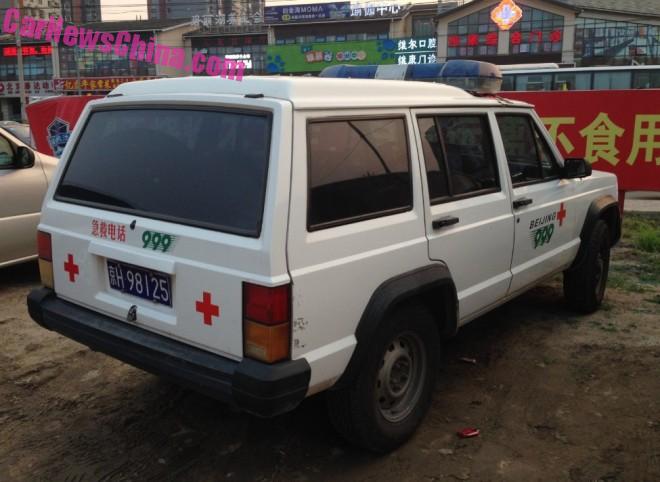 Rear wheel misses know. 999 is the alarm number for ambulances. I didn't see any emergency kit inside, except for a few extra shelves in the back that were empty. It thus seems that this good Cherokee has long been retired from active duty, but we are very happy that somebody keeps it alive. The helper helped. May she ride a long…