A beastly black Suzuki Vitara JXL, Spotted in China on a second hand car market in Beijing, but sadly and badly this 'Tara was not for sale. The good old Suzuki was in very good shape, and dressed up to the max with a raised suspension, extra large wheels, a bull bar, darkened windows, a roof rack, and four search lights above the windshield.
Interior messy with ugly red seat covers and an after-market infotainment system. But the giant lever for the four-speed automatic gearbox is brilliant!
The first generation Suzuki Vitara, also known as the Suzuki Escudo or Suzuki Sidekick, was manufactured from 1988 until 1998. The JLX was the top-spec trim level. It was never officially sold in China but some arrived via the gray market or diplomatic channels. Up until now we met only three: a pristine white car, a pimpy white example and a yellow bird.
The Vitara was available with a wide range of petrol and diesel engines. The smallest engine was a 55hp 1.0 liter four-cylinder petrol, and the largest engine a rather advanced 134hp 2.0 V6 petrol. This black car in Beijing had a 1.8 liter petrol under the bonnet.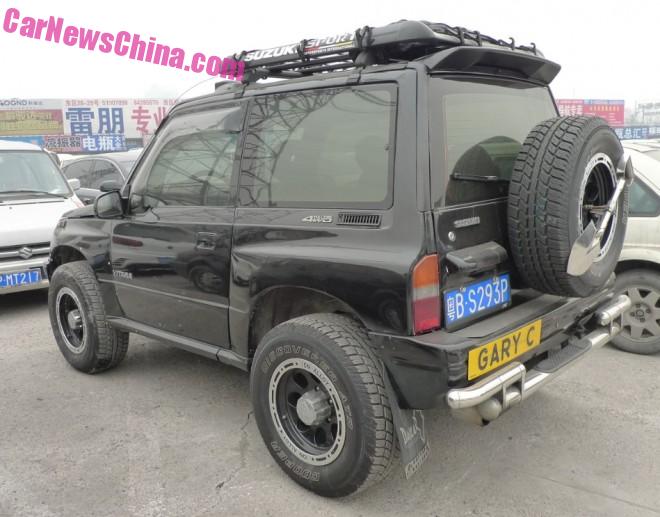 Window spoiler won't do much good sitting behind roof rack. Heavily chromed rear bumper extension. Who is 'Gary C'? Chinese license plate from the sunny southern Guangdong Province, more than 2000 kilometers away. That must have been a hell of a ride in this great little Japanese monster!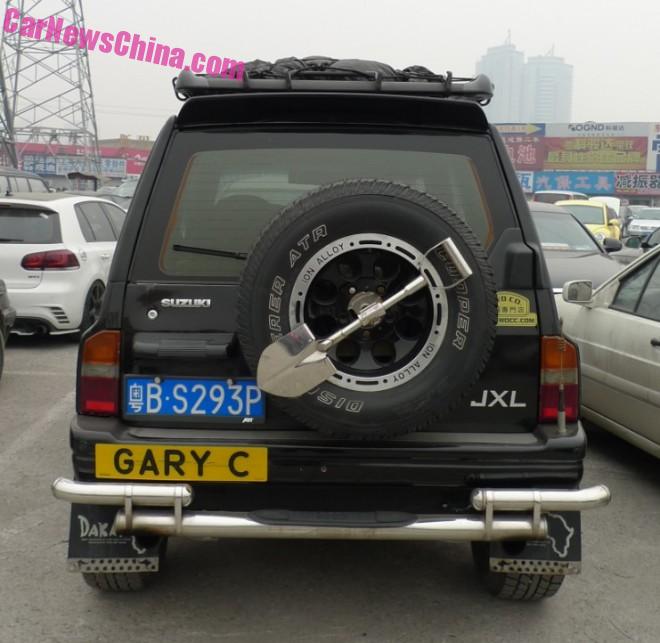 And if you get stuck in the mud, there is always a chromed spade on the spare wheel. Mud flaps with Africa and 'Dakar', referring to the famous Paris-Dakar rally, which this Suzuki would have won, had it joined.