Aston Martin has unveiled the RapidE, with a capital E, a concept car previewing a full electric variant of the petrol powered Rapide sports saloon. The RapidE will see production within two years. It will be build by a new company partly owned by Aston Martin and partly by ChinaEquity, a Chinese investment firm.
The 'motor' of the concept car is obviously fake but the promised specifications are impressive: 1014 horsepower, four-wheel drive, and a range of 322 kilometer. The electric drivetrain will be build by Williams Advanced Engineering, a company under Williams F1.
To get things started ChinaEquity has chipped in 50 million pounds ($77 million) for the initial development of the RapidE. Most of the eventual production cars will be shipped directly to China where many expect the market for high-end electric vehicles to boom. Price is expected to start around 1.96 million yuan or 200.000 USD. Expensive, as a fully dressed Tesla goes for 950.000 yuan.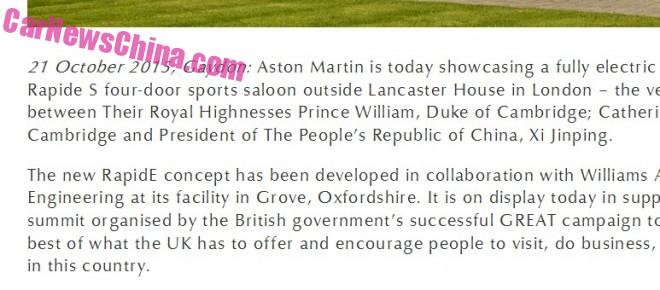 Now for that wuzzy name. The above screen shot comes from the official Aston Martin press release. The name is spelled RapidE, with a capital E, and all is in black.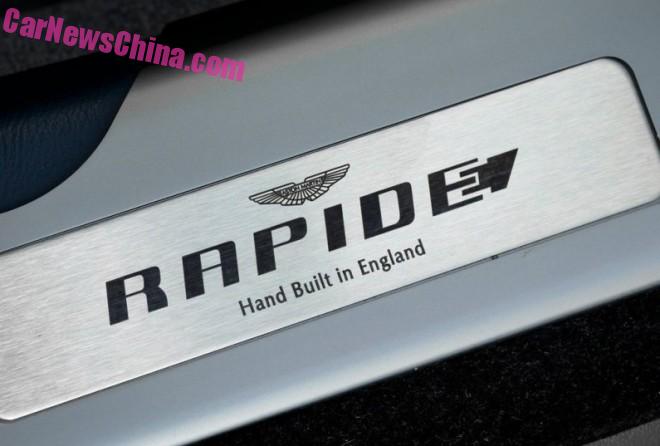 The door sill: the name is completely in capitals, and all is in black. The E is plugged by a black plug.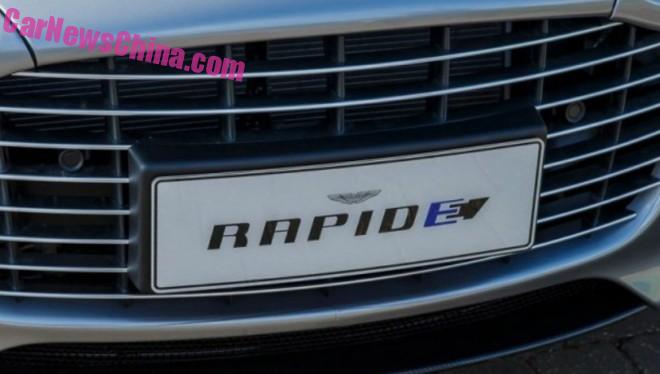 The license plate plate. The name is completely in capitals, but the E is in blue. The E is plugged by a black plug. That's three different names. That's messy. We don't like messy. How hard can it be? Let's hope they get the motor right. Was that 101.4 hp? Or what?!?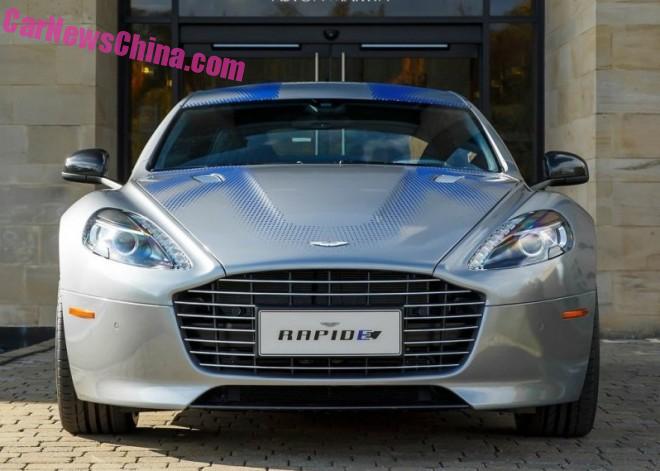 The RapidE⊃ was unveiled during the visit of Chinese president Xi Jinping to England, who also had to smile with a Geely taxi cab. Blue stripes on the poor Aston are for clean, because blue = the new green.