A beastly black Nissan 350Z drift racing car, Spotted in China in the Beijing Tuning Street, in front of the same shop where we also met a Nissan Laurel Altima 2.4 GTS-R,  a Nissan R32 Skyline GT-R V-spec II and a third generation Mazda RX7, among many others.
The good 'San was fitted with a wild body kit including vents in the bonnet, vents in the fenders, side wings, and an enormous spoiler on the back. Suspension was lowered to the floor and the windows were darkened. Wheels were wide and racy with black six-spoke alloys and shiny brakes.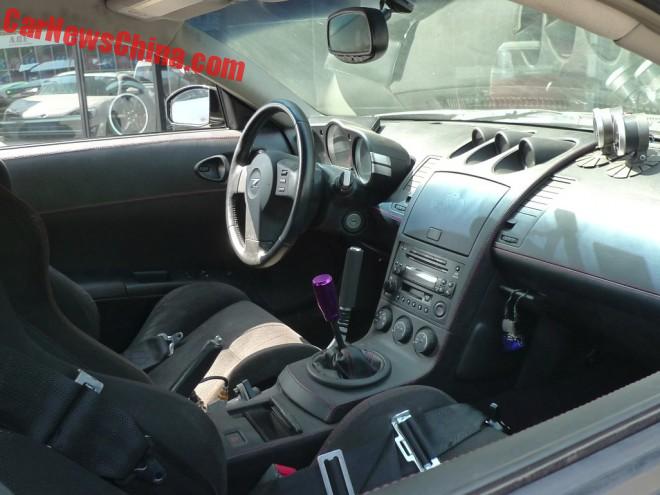 The interior looks pretty much street standard bar for the extra handbrake, the extra dials, the racing seats and the purple gear lever.
The Nissan 350Z was made from 2002 until 2008, it was never officially exported to China but some examples arrived via the gray market and other misty channels. In base form the Nissan 350Z was powered by a 3.5 liter V6 with 300hp and 353nm, but I bet this drifter has a few horses more.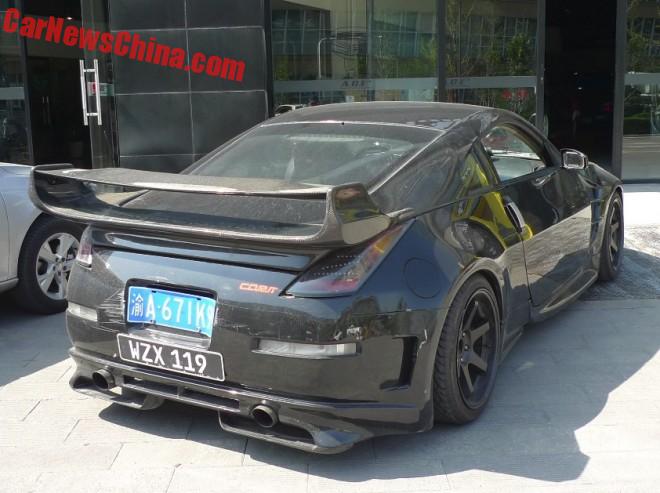 An extra wide bumper with even more air vents. Pipes are surprisingly small. Blue license plate is of Chongqing city. The license plate area is too small for the Chinese plate, indicating this black Nissan was originally exported to the United States. May she ride, may she drift.